Antique acquisition alert! 
The Wake Forest Fire Department has re-acquired their old 1947 Chevrolet 6000/Southern pumper[1].  It was delivered in 1948, and replaced a 1934 Chevrolet pumper, which was given to the town's second fire department, Wake Forest Fire Department #2.
They were an all-black department, that operated separately from WFFD. And were one of the few all-black fire departments in our state, in modern times.[2] 
See pics of this truck, plus a couple historical images, at https://www.flickr.com/photos/legeros/albums/72157709108683743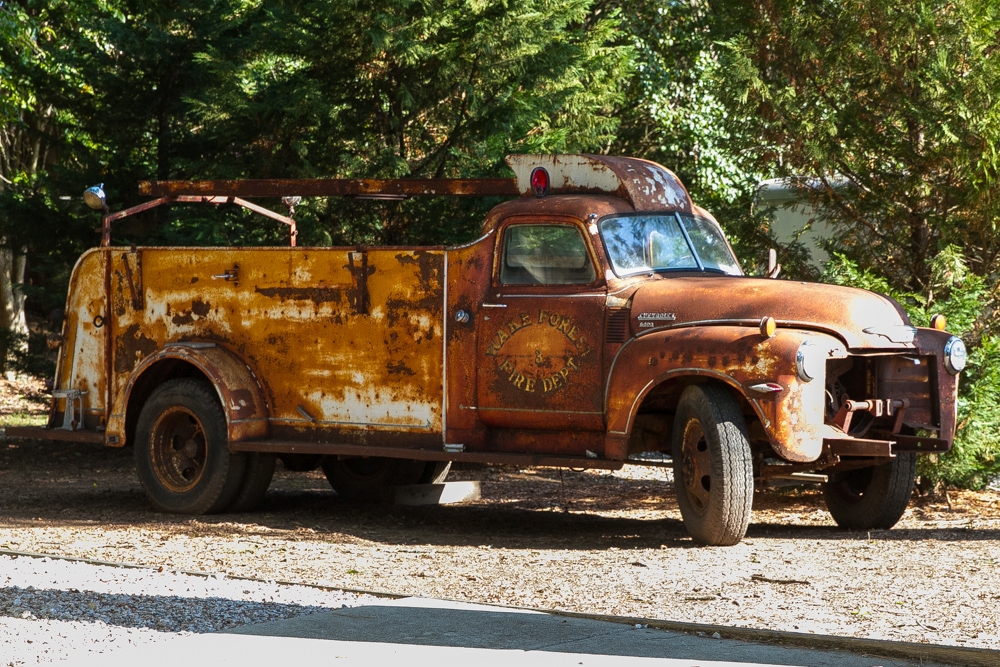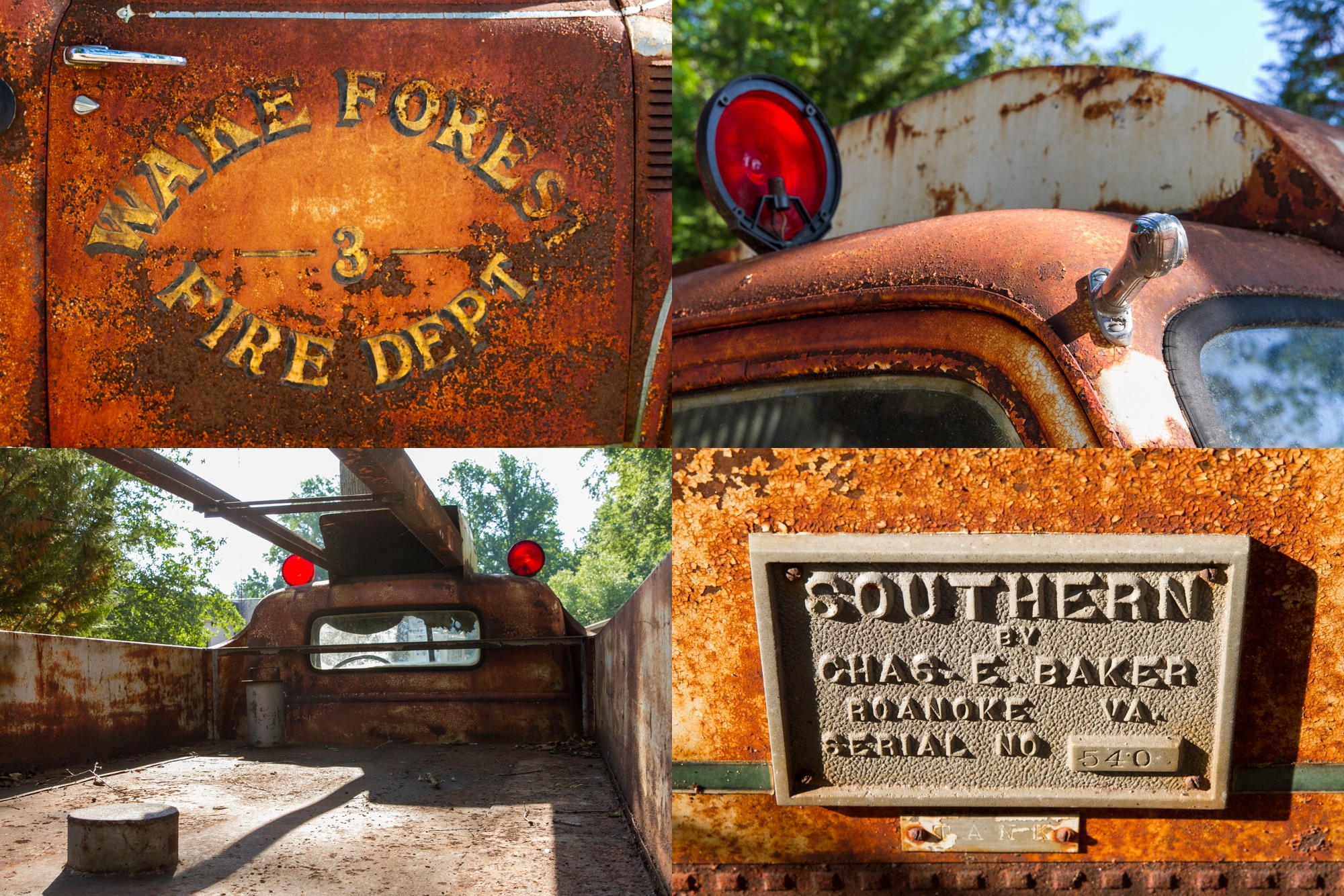 Moved in 1953
In 1953, the town received another Chevrolet pumper with front-mounted pump, that one a 1951 model year and built by American, according to Legeros.[3]
Upon the 1953 delivery of the 1951 pumper, the 1947 pumper was moved to Wake Forest Fire Department #2. And their 1934 pumper was sold to the town of Sanford, and eventually ended up in a small town near Spartanburg, SC. 
And was still in service in South Carolina of February 1972, records Legeros at https://legeros.com/ralwake/wake/history/wake-forest.shtml.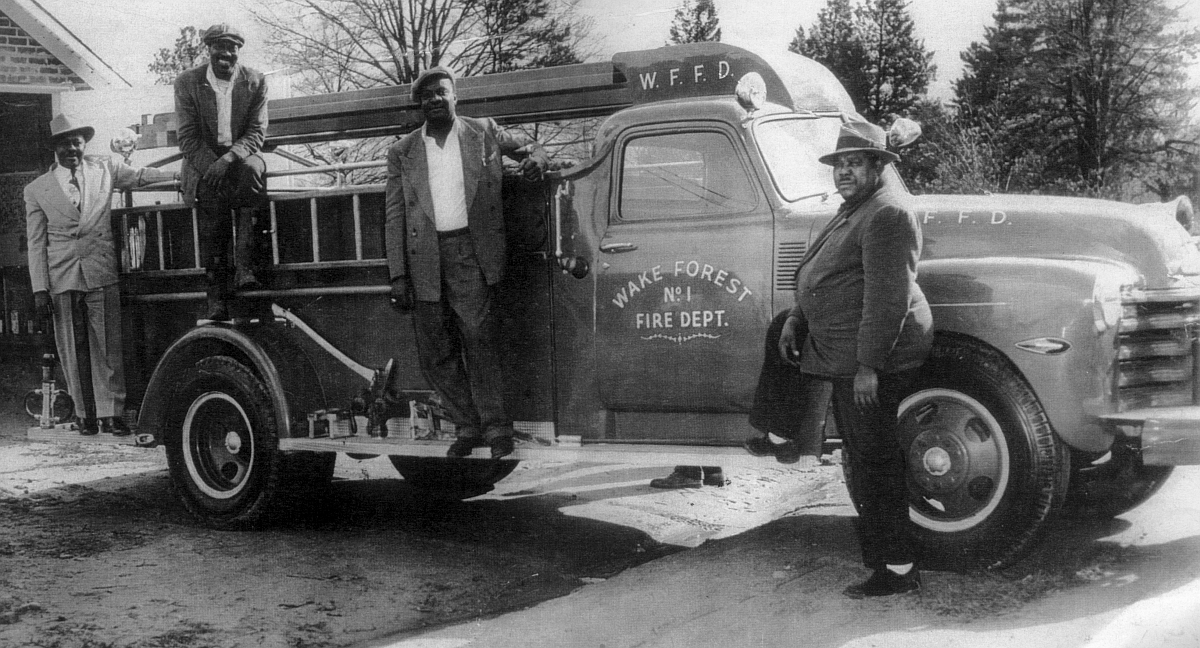 Photo courtesy Wake Forest Birthplace Society
Then What Happened?
How long did Wake Forest Fire Department#2 operate their 1947 pumper? Good question! Based on these later photos, WFFD #2 also operated the 1951 Chevy pumper, which also had a front-mounted pump.
The picture on the right is dated January 1977. By that time, the Wake Forest Fire Department had upgraded their pumpers a couple times. Most likely, the 1951 Chevy pumper was transferred to WFFD #2. Did they keep the 1947 Chevy pumper on the roster? Good question.

Wake Weekly photographs
The department disbanded in 1982, with its few remaining members merging with WFFD. The 1947 Chevy pumper eventually ended in the hands of a private owner, in Broadway, NC. It returned home this month.
Recall that Wake Forest Fire Department recently acquired another earlier engine, the original rural fire truck. That 1942 Chevrolet with a home-built body was returned in 2016. It's presently undergoing a restoration. See pics of that truck at https://www.flickr.com/photos/legeros/sets/72157673628037806.
About Southern
Southern Fire Apparatus was located in Roanoke, VA, and operated by fire equipment dealer Charles E. Baker, who built a number of motor apparatus in the 1930s and 1940s, notes Walter M. P. McCall in his book "Illustrated Encyclopedia of American Fire Engine Manufacturers."
[1] Legeros previously recorded the builder as American Fire Apparatus, with a 500 GPM pump by Barton, and a 500 gallon tank. That information is incorrect. The truck has a name plate from "Southern by Chas. E. Baker – Roanoke, VA" which includes the serial number "583". 
[2] Other all-black fire departments in modern times included Warrenton FD and Soul City FD. There were also many black fire companies back in the day, both in big cities in the 1950s and 1960s, and across the state in the early 1900s and mid- and late 1800s. Learn more on this page of Early Black Firefighter history: https://legeros.com/history/ebf 
[3] Okay, Legeros was wrong about the builder of the 1947 Chevy. Is he also wrong about the builder of the 1951 Chevy? Good question. He hasn't dug into his source records (yet) to check. Southern Fire Apparatus, noted above, operated only through the 1940s, says Mr. McCall. And American Fire Apparatus did build a couple other trucks for departments in Wake County, including Rolesville FD and Six Forks FD.