This is a version of an earlier Facebook posting.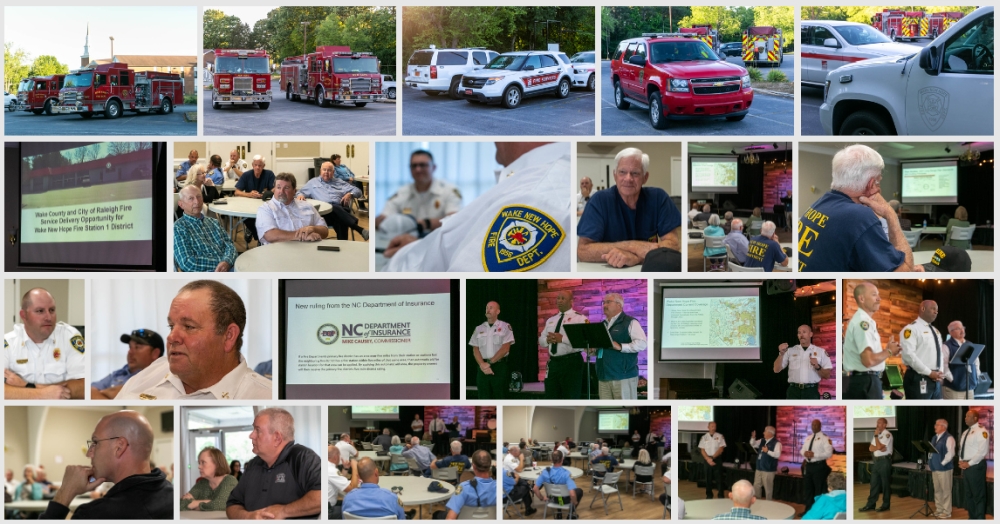 Scenes from a community meeting at New Hope Baptist Church on Monday night, May 9, 2022, to inform and answer questions about a new city-county partnership. On July 1, 2022, the city of Raleigh will begin covering the response district of Wake New Hope Station 1. Wake County Fire Services Director Darrell Alford gave a great presentation on same, and fielded questions along with Wake New Hope Fire Chief Lee Price and Raleigh Fire Chief Herbert Griffin.
The response district dates to 1958, when Wake New Hope FD started service. The current Station 1 service area has undergone dramatic changes since the late 1950s, and most of the area has been annexed by the city of Raleigh.
Less than five square-miles of unincorporated area remain in the Station 1 district. By the numbers, that's 4.69 square-miles with 1,244 occupied housing units and a population of 3,280 people. The property value is estimated at $489M and it had 247 fire/EMS calls in calendar year 2020. And, of important note, there are five Raleigh fire stations within five miles.
Since 1994, a number of consultant studies have recommended that the city expand their service area to serve their surrounding unincorporated areas. In 2003, for example, a Tri-Data study of fire and EMS station locations recommended that a closure process be initiated for WNHFD Station 1. Fast-forward to today, and data analysis from GIS and CAD demonstrates a clear benefit for district residents, and many of the property addresses are closer to an RFD fire station than WNHFD Station 1.
Until present day, there have been obstacles to address those consultant recommendations as well as the general service needs in the district. For example, there were unknown implications for RFD and their ISO fire protection rating. There's also the heritage of WNHFD and pride, tradition, and sweat equity in their decades of service. Helping to facilitate this change was a new ruling from the state department of insurance, that allows the city to cover the WNHFD Station 1 district and without impacting the RFD ISO grade.
NCDOI has thus approved a multi-year auto-aid agreement with the city for fire/EMS service delivery. Areas more than five miles from WNHFD Station 2 will receive an RFD response. This change will commence on July 1, 2022. On or after that date, the staffed WNHFD engine company and other resources will move from WNHFD Station 1 to WNHFD Station 2.
The latter will become a dual-company staffed station. This will add the advantage of extra personnel to respond to calls with a tanker or rescue truck, in addition to an engine. WNHFD Station 1 will be closed, and the building's future use determined by the WNHFD corporation. (It is a private-owned facility.)
Testing of the new Raleigh response plan will start on/around June 1, 2022. City units from RFD stations 11, 19, 21, 27, 28–as well as ladder companies from RFD stations 12, 15, and 22–will be covering the district. For structure-fire related calls, the city units will be augmented by a WNHFD engine and a county tanker response.
Other sundry notes. Residents of the WNHFD Station 1 response area will not become city taxpayers, nor will those properties be annexed. There will be no additional cost to taxpayers. The added second staffed company at WNHFD Station 2 will help strengthen the response and resources to the eastern side of the county. Also, a second dual-company station is planned at Zebulon FD, the director mentioned.
View the presentation slides as PDF as originally linked from this Wake County project page.