This is a version of an earlier Facebook posting.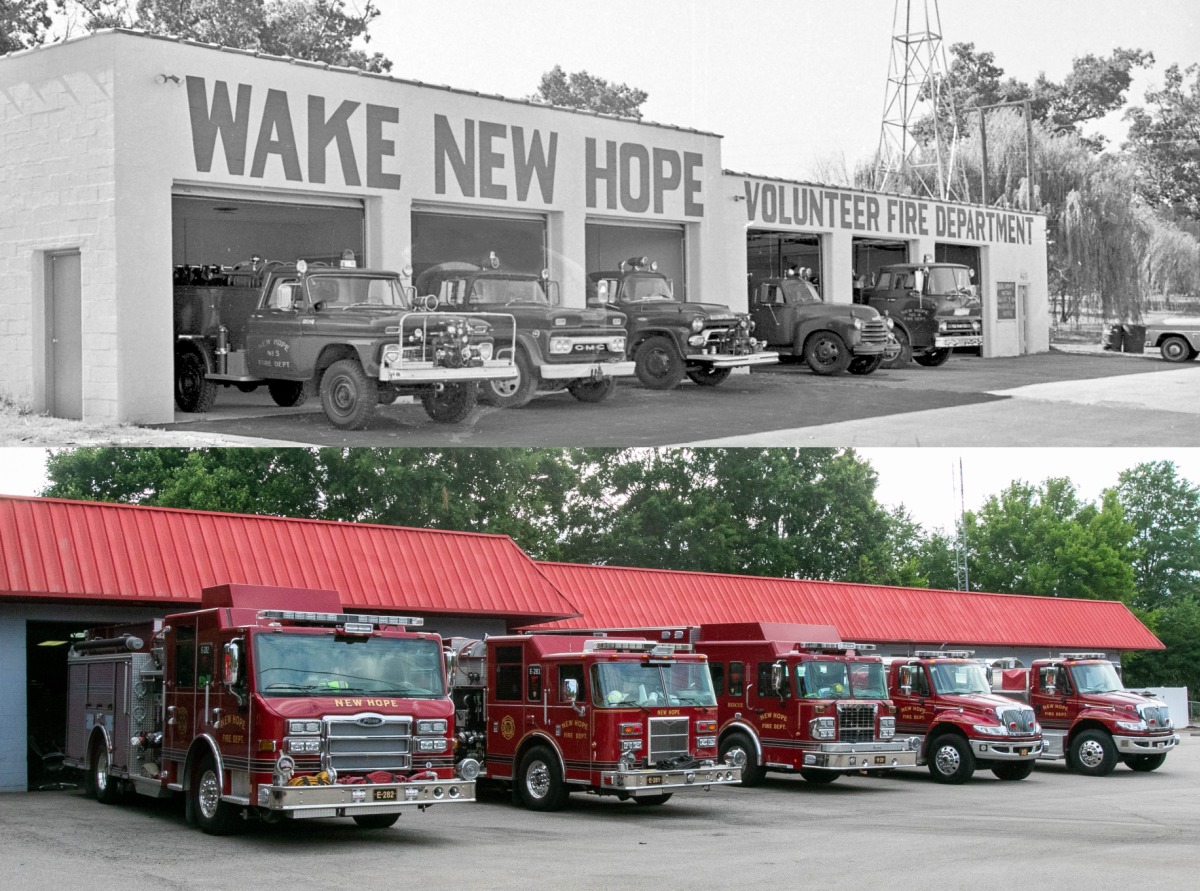 Fifty-seven years later. Top is Wake New Hope Fire Department in 1965, as photographed for a News & Observer story titled "Rural Fire Units Have Financial Struggle." Bottom is New Hope's fleet today, parked at Station 1 last night, for a dinner and reunion of past members.
They gathered to share fellowship and celebrate the station, which will close on July 1, 2022, when the city takes over the response area, and the full-time crew at Station 1 is moved to Station 2. 
Opened in 1958, the station was one of the earliest fire stations in Raleigh to serve "suburban" unincorporated areas.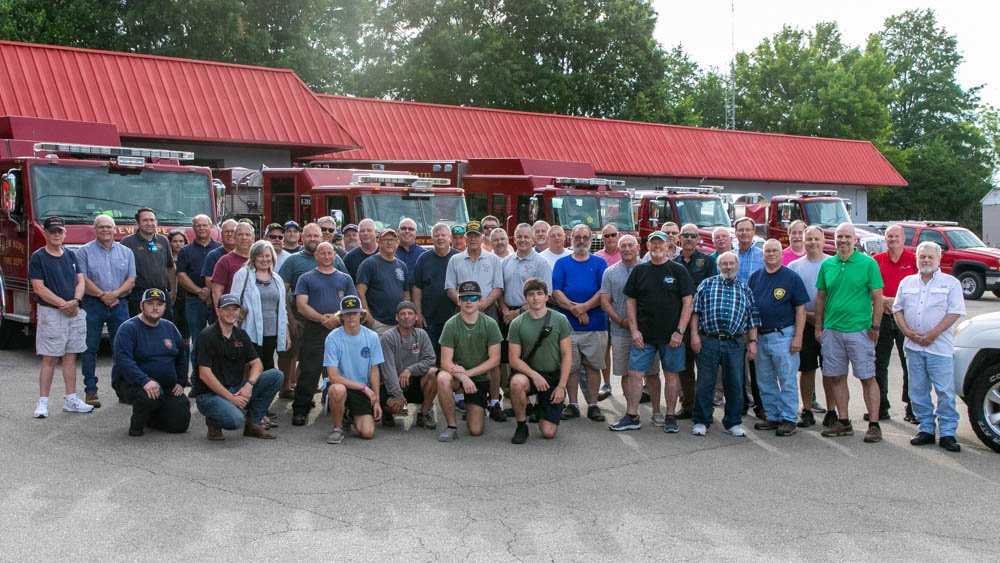 See more photos by Legeros
Early History
In 1965, the department was a mere nine years old. WHNFD organized in 1956, with some 700 families of the New Hope community realizing the need for suburban fire protection. (Their homes and businesses were still many miles outside the city limits of Raleigh, and Station 11 in Brentwood wouldn't open until 1971.)
They began operating in March 1958, using a metal building on the northeast corner of New Hope and Louisburg roads. It was owned by charter member Ervin Haithcock, who operated Haithcock's Store next door. WHNFD soon erected their first fire station across the street, on the southeast corner of the intersection.
New Hope Station 1, as it's known today, was built by members, on Saturdays and after work. The three-bay block building included a blackboard beside the front door, for the addresses of fire calls in chalk. Atop a tower was a siren and air horn.
Also that year, a majority of the community resident voted to approve the establishment of a tax district for fire protection. County commissioners approved its creation in January 1959. Property owners would be taxed ten cents on every $100 of their appraised property value. The department would also begin receiving $4,000 annually from the county.
In April 1959, the residents of the fire district became eligible for reduction in fire insurance premiums, after the department was inspected and rated by the North Carolina Fire Rating Insurance Bureau, and received a 9A rating.
At that time, they operated a 1958 GMC/Barton/American pumper, bought new, and a pair of tankers.
Later Years
Then what happened? Decades of service by volunteer members, and the later addition of paid part-time personnel, and, eventually, full-time staff. They expanded their station and, later, their district, with a second station added on Watkins Road in 1988.
Newer and larger apparatus was added, such as their current Spartan/Hackney heavy rescue, which a world removed from their original panel van rescue truck. They also expanded their services into EMS and first responder and technical rescue. WNHFD was one of the earliest agencies in Wake County to obtain Hurst extrication tools around 1974.
But as their district and department grew, so did the surrounding city of Raleigh. And today, the response area of Station 1 is surrounded by the city and, for a majority of parcels therein, closer city fire stations. Thus the coming closure on July 1, when Station 1 will shut it doors, and its full-time crew move to Station 2. The Raleigh Fire Department will take over as primary response, with WNHFD added for any structure fires in the district, along a county tanker task force response.