This is a blog version of a Facebook posting.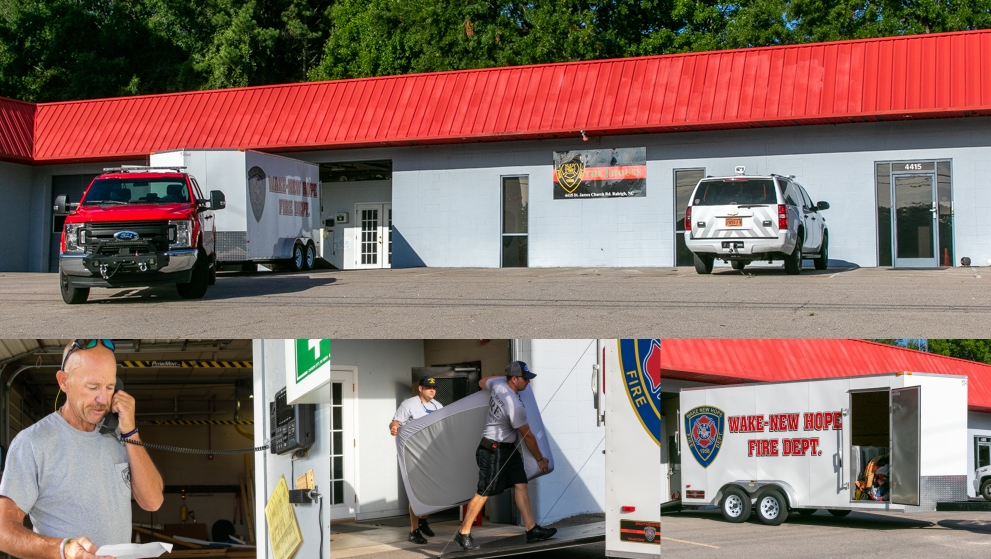 End of an era. At 0800 hours this morning, Friday, July 1, 2022, Wake New Hope Fire Chief Lee Price marked Station 1 at 4415 St James Church Road out of service. Engine 281 and its full-time crew was subsequently relocated to Station 2, at 4909 Watkins Road.
Listen to Chief Price's radio message.
Also at 0800 hours this morning, the Raleigh Fire Department started their contractual service for areas greater than five miles from Wake New Hope Station 2, e.g. the former response area of Station 1.
Incidents in those areas will receive the same response plans as those in the city, plus with augmented responses for structure fire-related calls. The Raleigh response will include the addition of one Wake New Hope engine and three county tankers.
Both departments have been training and preparing for this enhanced service delivery and have been operating under the new dispatch model for the past month. (Those listening closely to the talkgroups may have noticed the change.)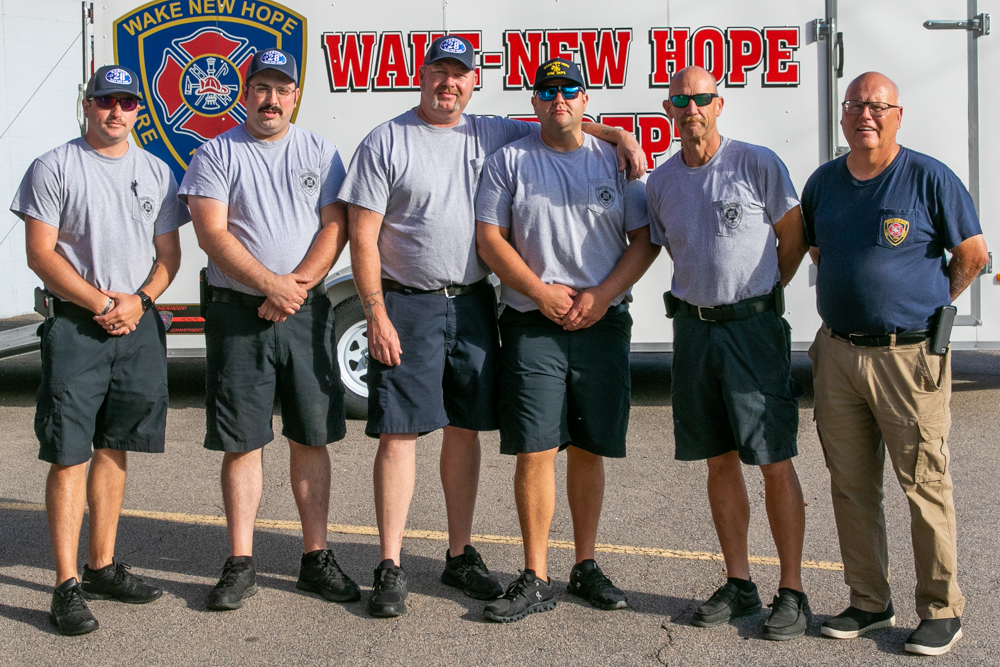 Historical Perspective
Wake New Hope Station 1 opened in the spring of 1958. The volunteer fire department, a private organization created by community members, organized in September 1956. They began operating from temporary quarters across the street in March 1958. Within a few months, their first fire station was completed.
Wake New Hope Station 1 was originally a three-bay, concrete-block building that housed a 1958 GMC/Barton/American pumper and a pair of tankers. There was a siren and an air horn over the roof, and a blackboard beside the front door, for writing the address of fire calls for arriving volunteer firemen.
Learn more early WNHFD history in this blog post.
Wake New Hope FD was one of several community FDs that were organized in the suburbs of Raleigh in the 1950s and 1960s, to provide fire protection to those unincorporated areas that were just outside the city limits. They were WNHFD, Six Forks FD, Western Boulevard FD, Fairgrounds FD, and Durham Highway FD. Other nearby "rural departments" at the time were farther outside the city limits, such as Bay Leaf FD, Falls FD (in the 1970s), Swift Creek FD, and Yrac FD. Plus, those based at municipalities, such as Cary Rural FD and Garner FD.
These departments were comprised entirely of volunteer members at the beginning. In later years and later decades they were supplemented by paid daytime personnel, and (in most cases), eventually by full-time firefighters.
Impact of Annexations
But as the years and decades passed, the size of the city grew larger (through annexation), and the size of these rural fire districts grew smaller. The departments adapted in different ways. Western Boulevard FD lost so much of its fire district that they disbanded in 1961. The members reorganized as Fairgrounds FD and relocated a few miles to the north.
Following annexation on the north side of the city, Six Forks FD moved their first station a few miles north in 1962. Then moved it again, twelve years later, when annexation again overtook their engine house.
Other departments expanded their overall response area, by adding second or third stations. Durham Highway started on Davis Circle, then added a station on Pinecrest Road, and then added a station on Norwood Road. (And the original station, on Davis Circle, closed many years ago, follow annexations in the 1980s.) Wake New Hope FD added a second station on Watkins Road, which is their lone active station after July 1.
Consideration of Closures
By the 1990s, some of these volunteer fire stations were surrounded on three or four sides by city areas, and were serving smaller and more fragmented response districts than were originally conceived. This, and other factors, prompted county officials to evaluate the countywide fire system and consider changes to improve service.
Three consultant reports were produced during this period, in 1994, 1999, and 2004. Among their recommendations was the closure of county stations with smaller districts and lower call volumes, if/where a neighboring fire department could provide protection at an equal or lower cost, and with no change in the level of service.
Those recommendations were expectedly controversial, and the county implemented exactly one such closure, after the 2004 study. It ended funding for Western Wake Station 2, formerly the Yrac FD, effective June 30, 2008, and contracted with Cary Fire Department to provide service. The department closed their station on that date.
The county continued evaluating four other stations for potential closure, and in FY2010, engaged the city of Raleigh in discussions to provide service for the response areas of Western Wake Station 1, Wake New Hope Station 1, Bay Leaf Station 3 (formerly Six Forks FD), and Falls FD. Those talks didn't produce any actions, nor did the county continue the station closure evaluations for much longer (as memory serves). The process was subsequently suspended.
During later decades, some of the departments further evolved their organizations, to combine resources and improve their ability to deliver service. In 1998, Fairgrounds FD and Yrac FD consolidated to create Western Wake FD. In 2002, Six Forks FD merged with Bay Leaf FD, and the Six Forks fire station became Bay Leaf Station 3. Two decades later, the station became Northern Wake Station 5, after Bay Leaf FD and Stony Hill FD consolidated. (And NWFD Station 5 has since evolved, based on service needs, from a staffed station to a fully volunteer station.) In 2012, the city limits had overtaken the Falls FD district, and they merged with Wake Forest FD.
New Opportunities
Fast-forward to 2020, and WNHFD and the county began talking about improving the service delivery to the Station 1 residents, and, particularly, analyze the response data and travel distances to Station 1 calls, and compared against five surrounding city fire stations to that response area.
This analysis aligned with work in recent years by the county fire services offices to collect and analyze data across all county fire departments, as part of a larger project to determine service-level needs and requirements.
There was also a recent ruling by the Department of Insurance that would negate any impact on the fire protection rating of Raleigh or Wake New Hope, thus ensuring no rise in fire insurance rates to property owners.
Thus began the partnership with Wake County, Wake New Hope FD, and the City of Raleigh, and led to the changes effected on July 1, 2022.
Read more about the end phase of the closure process in this blog posting.
More History
See a visual history of Wake County fire departments, on this page.
See a historical map of Wake County fire station closures and relocations in this blog posting.
Read a detailed history of Wake County fire services governance in this blog posting.
Fun Facts
Wake New Hope Deputy Chief Tim Guffey was also present on July 1, 2020, when he marked Eastern Wake FD out of service, upon their merger with the Town of Knightdale. He was Chief of Department.
And on July 1, 2002, he marked the fire division of Knightdale Public Safety in service, the town's newly created fire department. (It was previously served by the volunteer Knightdale FD, which later reorganized as Eastern Wake FD.) He was Chief of Department, their first.