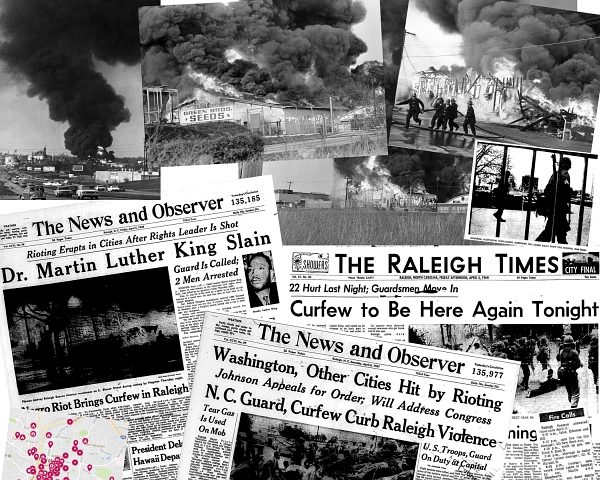 This month marks a grim anniversary–fifty years since the assassination of Dr. Martin Luther King Jr. on April 4, 1968. He was shot at a motel in Memphis and pronounced dead at 6:05 p.m. EST.  Riots soon erupted across the state* and nation**. It was the greatest wave of social unrest in the United States since the Civil War, notes Wikipedia.
Beginning on April 4, the Raleigh Fire Department responded to dozens of reported fires over several days, and most of which were intentionally set. They were assisted and protected by the Raleigh Police Department.
Every available on- and off-duty city officer was deployed, along with dozens of state troopers, and other local law officers. The National Guard also responded, with 1,200 soldiers eventually patrolling city streets.
Daily curfews were enacted and enforced until April 10. The city also declared a state of emergency, which prohibited the sale of firearms and ammunition, and prohibited parades and demonstrations. The Governor also enacted a statewide ban on selling alcoholic beverages. 
Continue reading a new retrospective of the events, through the lens of the fire and police response: https://legeros.com/history/stories/riots.
*See this blog archives posting which recounts riot-related incidents faced by fire departments around the state and a subsequent state training curriculum that was created.
**Rioting impacted over 100 cities across the country between April and May 1968. Over 45 people were killed and over 2,500 people were injured. Over 15,000 people were arrested.