From the North Carolina State Archives comes this picture of the Spencer Shops Fire Department (competition) reel team in 1924. They're posed "in town" and beside the Methodist church at the corner of Fourth Street and Yadkin Avenue. The industrial fire brigade protected the Southern Railway's Spencer Shops, once the railroad's largest steam locomotive repair center.
The facility opened in 1896, and employed between 2,500 and 3,000 people at any one time. The original buildings included shop buildings, a storehouse, an office building, and the famous thirty-seven bay roundhouse. Also originated from the site was the town of Spencer, incorporated in 1901.
The shops closed in 1960, and the site stayed active as a rail yard for freight into the late 1970s. Today, the facility is occupied by the North Carolina Transportation Museum. The railway began donating parcels in 1977 and eventually the entire site.
As for the fire department, it operated from at least 1913 until after 1972. Presuming they were exclusively volunteer, with workers pressed into service for emergencies.
Sanborn Fire Insurance maps cite the department in 1913 as having three hose companies of eleven men each, and about 2,000 feet of 2 1/2-inch hose. Presuming hand hose reels for each. Did they operate motorized apparatus in later decades? To be determined. How many hydrants did they have, and what was the system's capacity? To be determined.
The adjoining towns of Spencer and East Spencer also had fire departments as early as 1913. The railroad firefighters assisted the town fire departments as needed. Notes the 1913 map, they "received pay for all calls in Spencer.") The fire alarm system for all three departments was the whistle at the Spencer Shops, at least through 1939.
This photo also appears in the book Southern Railway's Historic Spencer Shops by Larry K. Neal Jr., as published by Arcadia Publishing in their Images of America series. Notes the author in the caption to this photo, citing a 1920 news story, the shop fire company "could run water in forty-five seconds at any time from any shop building on a surprise alarm."
What's the story on the uniforms they're wearing? That's likely tournament garb. The shop firefighters competed in state firemen's competitions in the 1910s and 1920s. As these compiled scores (PDF) note, they won the hand reel contest in 1916, 1920, 1926, and 1928. Among other contests. Click to enlarge: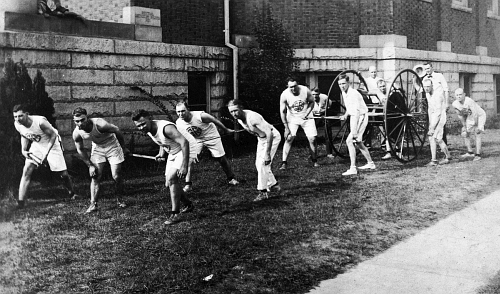 Courtesy of the North Carolina State Archives