Two alarms were struck in Raleigh on Thursday, June 16, 2023, at a challenging high-life hazard structure fire at 1810 N. New Hope Road, at an assisted living facility. One-story brick and frame structure with 30,567 square-feet. Built 2001. Dispatched 2:49 p.m. EMS unit already on scene for another call reported smoke showing to the units en route.
Engine 21 was the first to arrive and found an exterior fire in the rear of the structure with extension into the attic. Initially marked under control about 3:15 p.m., there were extended operations for extinguishment, due to the difficulty accessing the attic spaces. No aerial streams, all interior ops. Engine 12 had the first water supply. Lines were all pulled from Engine 21.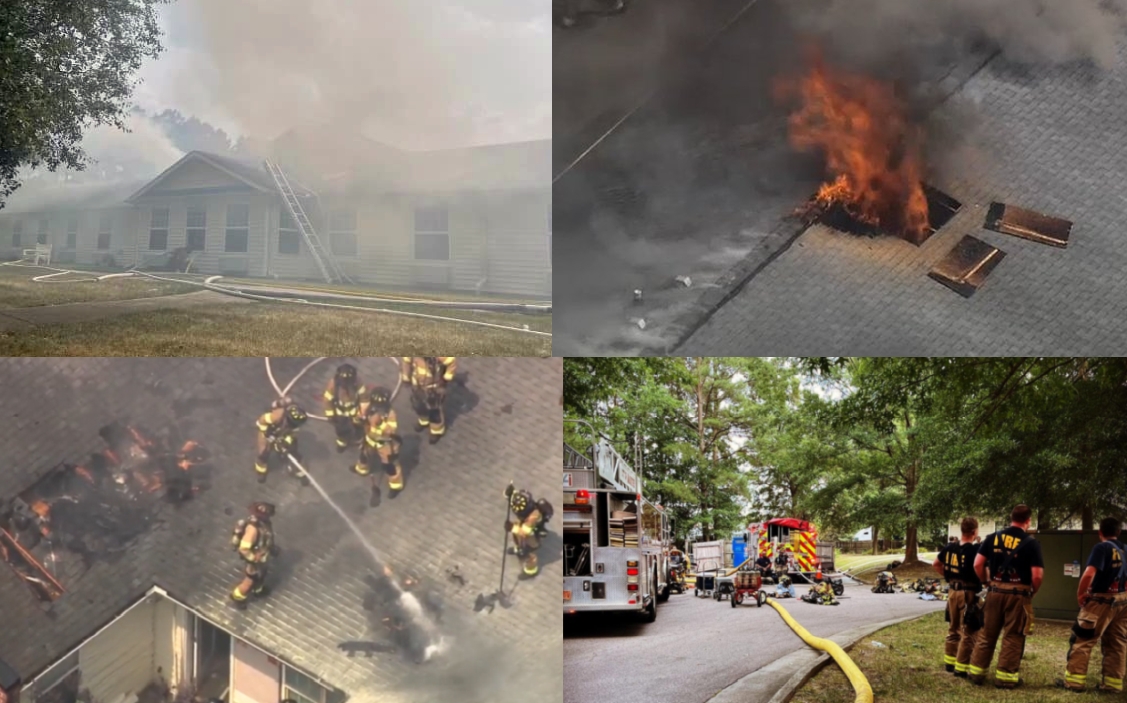 Photo credits, top to bottom, left to right: Raleigh Professional Fire Fighters Association (via Facebook), ABC11, WRAL, Raleigh Fire Department (via Facebook).
On the medical side, the incident required the initial evacuation (and some transports) of 52 residents from one wing of the building, and subsequently the complete evacuation of the facility. Wake County EMS EVAC 1 was special-called along with GO RALEIGH bus, to both provide shelter for the evacuees and transport to other facilities for relocation. The high heat/humidity conditions also meant more intensive rehab for the crews.
The second alarm for fire was dispatched just minutes into the incident, with later special called units for additional manpower. EMS requested a second alarm at the start of the incident and numerous later additional units. Fire staging had a couple locations, the final of which were the northbound lanes of New Hope Road. Medical staging was in the parking lot of an adjoining apartment complex. See below map.
Crew were on scene for over five hours. Scene was cleared about 8:14 p.m.
Run Card
Fire
First alarm: E21 E12 E27 E15 L12 L15 R16 B2 B5 ISO14 
Added: E19  
Working fire + second alarm : E26 E3 E9 E10 E28 L1 L22 L14 Sq14 A28 B4 B3 DC1 Chief Fire Investigator
Added: E26 E6 L6 (~3:51 p.m.) (special called)
Also: E18, Chaplain + others?
Medical
EMS11 EMS14 EMS40 EMS41 EMS59 EMS60 EMS62 EMS64 EMS68
M93 M95 M96
D1 D6 D7
T1
EVAC1
MD3
Others?
Incident Map