Two alarms were struck on Sunday night, March 13, 2022, at 8604 Olde Station Drive in Raleigh. Dispatched 7:13 p.m. Two-story, wood-frame, garden-style apartments, with 16 units and 9,680 square-feet. Built 1990.
One person reported trapped in first-floor unit, and people reported jumping off balconies, as units were en route. Working fire dispatch and EMS response upgraded, due to multiple callers, as units were en route.
Battalion 4 then Engine 4 first-arriving.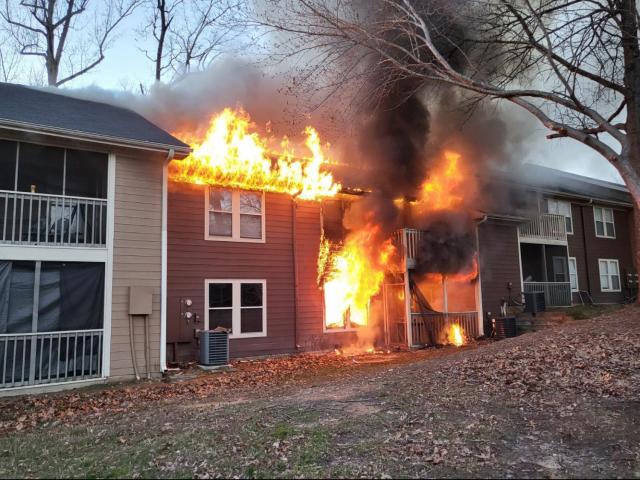 Waldo Brown photo via WRAL
Second-alarm requested one minute later by Battalion 4, ~7:18 p.m. Rescue initiated with occupant of first-floor apartment rescued, and transported by EMS. Heavy fire with extension into attic. Interior attack with three (or more) lines, with Ladder 4 deployed for aerial stream.
As supply line to Ladder 4 was being hand-jacked, Engine 4 deployed deck gun, to stop fire spread in second-floor unit/attic area. (Did Ladder 4 also flow?). Crews resumed interior work, to attack remaining burning arras. Ladder 15 and Ladder 23 also deployed, at either end of the building.
Staging on Forum Drive. Crews also performed evacuations of units in the building.
Controlled 7:48 p.m. Twelve people displaced, from radio traffic. One resident transported, who later died at the hospital. At least two other residents injured, plus two firefighters treated on scene for burn injuries. Cause determined as unspecified electrical failure.
First alarm: E4, E18, E15, E22, E16 (added?), L4 (on reserve), L15, R16, B4, B5, SO14
Plus: E16, added
Working fire: DC1, INV1, A28
Second alarm: E9, E23, E29, L23, L6, B3, Professional Development Chief
Plus: Safety Chief
Medical
EMS10, EMS14, EMS33, EMS34, EMS61, EMS64, M93, D3, D4, T1 (didn't respond?)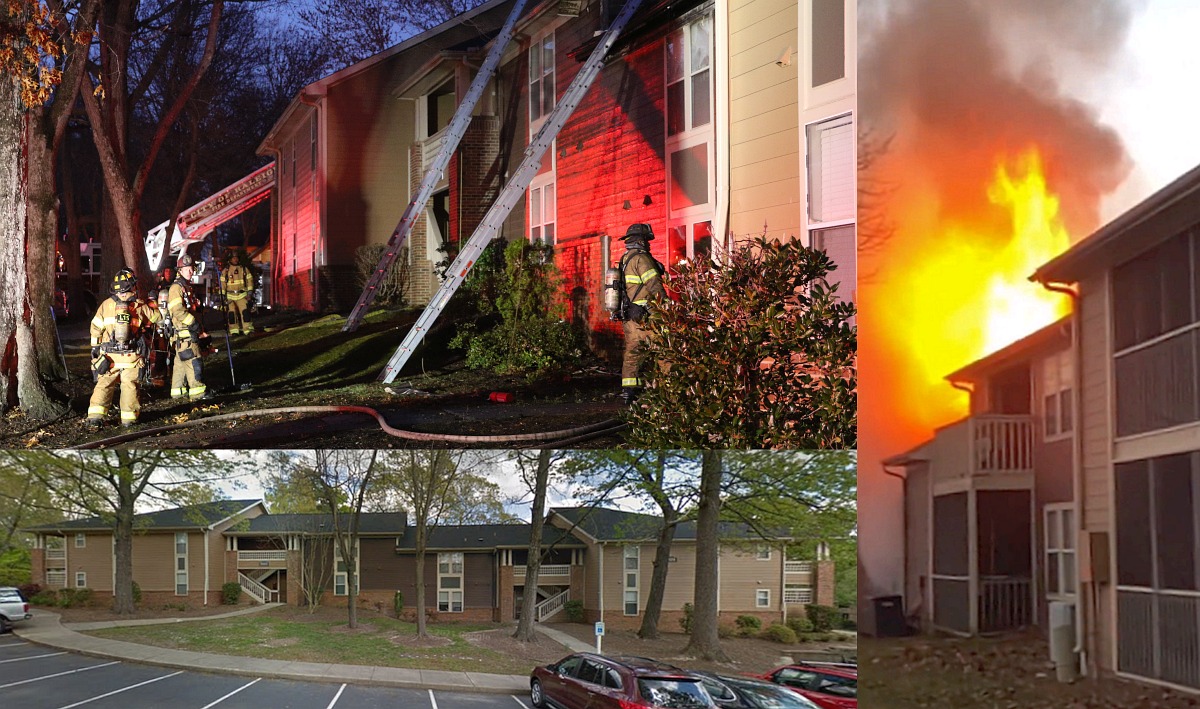 Photos by Google (top left), Marcus Gray on Twitter from video (right), Legeros (bottom)