On Thursday, March 10, 2022, the Cary Town Council voted unanimously to spend $324,000 to outfit nine of the town's fire trucks with idle reduction technology. 
Here's the complete text of the meeting agenda action item, from this Town of Cary web page.
Town of Cary
Purchase of Fire Truck Idle Reduction Technology
Speaker: Danna Widmar, Assistant Town Manager
Executive Summary: After exploring performance and estimated cost savings, staff recommends installing Idle Reduction Technology (IRT) on nine existing fire apparatus for a total cost of $324,000. The Cary Fire Department anticipates utilizing IRT technology as a transition to a fully electric fleet. IRT is a battery-operated system that provides operational capacity of various equipment while at a call destination. Given current replacement schedule and information available from the manufacturer, this retrofit work on nine existing vehicles will augment a full transition to IRT and electric technologies by FY 2035, with full electric projected by FY 2040.
Recommendation: Staff recommends that Council approve the use of $324,000 of already appropriated general fund dollars for the idle reduction technology retrofits discussed in this staff report.
Body
Background: Cary operates and maintains a fleet of 23 large fire apparatus, which includes pumpers, ladder trucks, and heavy rescue trucks. These apparatus operated an average of 12,311 hours during FY 2020 and FY 2021, primarily idling during fire calls. As part of Council's environmental initiatives, the Fire Department and fleet staff researched options to reduce energy waste, lower emissions, and reduce carbon footprint. Fire apparatus offer an opportunity to have a significant impact because they consume 1.5 to 2.5 gallons of diesel fuel per hour depending on the unit.
In April 2021, Pierce Manufacturing introduced Idle Reduction Technology (IRT), which was designed to reduce the amount of energy used when a truck is idling. Fire apparatus are used primarily in the idling state when the fire pump or aerial ladder is not being utilized. When the engine is not needed, IRT powers down the engine while maintaining power to perform other functions. Much like other accessories and lighting, this is achieved using power from lithium-ion batteries.
Pierce Manufacturing has made a commitment to developing alternate fuel vehicles and to meet the demands of its customers in the fire apparatus market. In 2021, Pierce introduced the Volterra, a pilot program apparatus, and it is working with Madison, Wis. and Portland, Ore. to test the first electric apparatus to determine their reliability for the fire service. Although the Volterra is not currently in production, the Cary Fire Department reached out to Pierce Manufacturing about becoming a part of their pilot program when the opportunity exists. In the meantime, IRT is a very good option to support Cary's environmental initiatives.
Cary has two new pumpers on order with a projected delivery date of June 2023, and IRT was included in their apparatus specifications. On a new vehicle, the cost for this technology is $20,000, with a projected return on investment in under four years. There is also an estimated reduction of 8.23 metric tons of emissions per vehicle per year. This is equivalent to emissions for two passenger vehicles per year or the emissions related to energy consumption from one home for a year. The Fire Apparatus Manufactures Association (FAMA) reports that every hour of idling causes 33 miles of wear and tear on a fire apparatus. This reduces the payback period by 1/3 or more when maintenance cost reduction and asset life reduction are factored into the payback calculation. Diesel Particulate Filter (DPF) regenerations often are cut in half and manual regenerations are usually eliminated.
Discussion:
The Cary Fire Department has evaluated its fleet to determine which apparatus may be well-suited to idle reduction technology. Considerations included current age, years remaining as front-run apparatus, and existing features on the apparatus, including strobe versus light emitting diodes (LED) for emergency lights and halogen versus LED for scene lights. Fire determined that current apparatus that have LED emergency and scene lighting are best suited for IRT due to the low amps that the lights draw and the reduced need of a generator to power the scene lights.
In considering the use of IRT in apparatus in the Fire Department, staff have identified nine existing fire apparatus that are best suited to be outfitted with this technology. These apparatus have enough front-line usage and subsequent reserve usage remaining to show a positive return on investment if they are upfitted with IRT. The upfit of IRT will be performed by Atlantic Emergency Solutions, the department's regional Pierce dealer, at a projected cost of $36,000 per unit, for a total projected cost of $324,000 and a projected return on investment of four to eight years, depending on utilization. It is anticipated that the cost of this installation may be reduced once the first one is completed, and a better understanding of the total work involved is understood. The reduction in emissions is anticipated to be 8.23 metric tons per vehicle per year. This is equivalent to emissions for two passenger vehicles per year or the emissions related to energy consumption from one home for a year.
Idle reduction systems are important to support environmental initiatives and service life longevity for emergency response vehicles. Reducing or avoiding idling time altogether has several benefits:
§ Savings in fuel and diesel exhaust fluid (DEF) costs.
§ Decreased engine maintenance costs.
§ Increased time intervals between required preventive maintenance.
§ Extended fire truck engine life.
§ Improved operator well-being due to reduced noise levels.
§ Decreased emissions that cause harm to the environment.
§ Reduced overall operational cost of the apparatus.
Although the need exists to charge the lithium-ion batteries, this is accomplished through normal operation of the fire apparatus, and through existing infrastructure available in all fire stations so no additional infrastructure costs will be incurred.
After conversion to IRT, staff will monitor performance of the system; cost savings associated with fuel consumption, reduced service, and maintenance; and reduced emissions associated with the apparatus. It is anticipated this conversion will become increasingly beneficial due to increasing costs associated with diesel fuel and service/maintenance of apparatus, thus providing more savings than originally projected.
Fiscal Impact:
Operating
There are no operating costs associated with the initiative discussed in this staff report.
Funding
Total projected cost to upfit the nine identified apparatus with IRT is $324,000. Staff recommends that Council direct $324,000 of the $1 million appropriated within the FY 2023 general fund operating budget for mid-year needs to this work. This will be the first use of FY 2023 available for mid-year funding leaving $676,000 available for future use. If approved, the $324,000 will be transferred to a newly established capital project for expenditure purposes.
Next Steps: Staff will work with Atlantic Emergency Solutions to complete the retrofit to IRT. Staff projects a 12-month timeframe for completion of this project.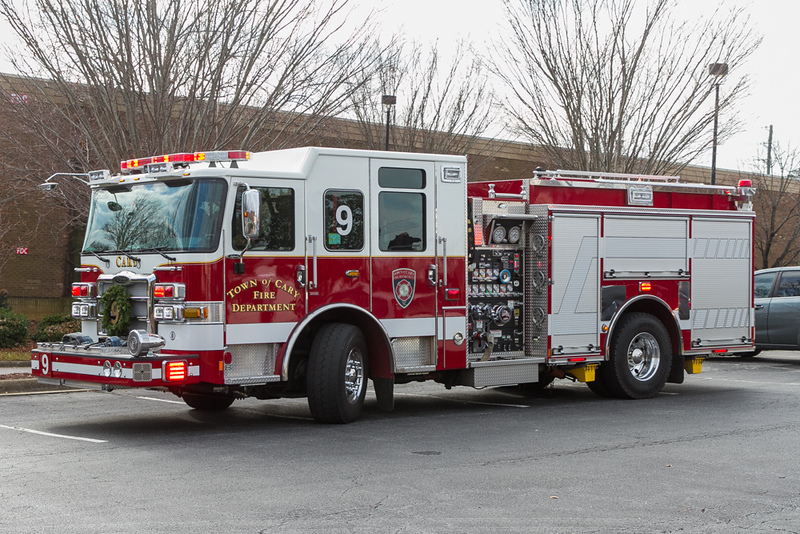 Mike Legeros photo