Two alarms were struck Friday morning at 9511 Prince George Lane. That's near Six Forks and Strickland roads, in north Raleigh. Dispatched ~12:07 p.m.
First-due Engine 4 was out of quarters, on another call. With multiple callers reporting the fire, the dispatcher upgraded the incident to a working fire, while the fire department was still en route. Engine 4 also cleared their other call, and responded. They arrived about a minute ahead of second-due Engine 18.
Engine 4 arrived with heavy fire showing from a brick-and-frame, garden-style multi-unit apartment building.[1] 10,440 square-feet, built 1986, say tax records. The middle units of the building were fully-involved.
They "laid in wet", stopping first at the fire hydrant, and laying their own line to the building. With the volume of fire and reports of subjects possibly trapped, the Engine 4 officer requested as second alarm within about a minute.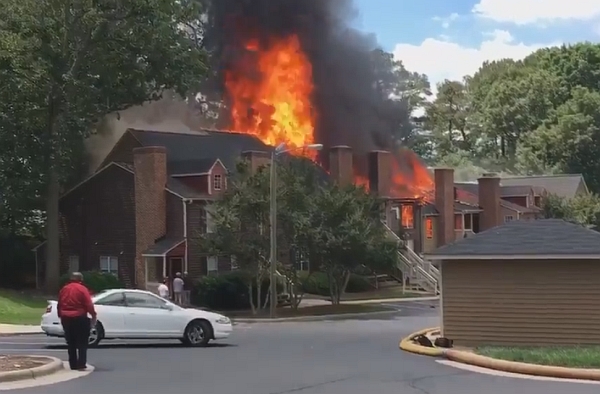 WTVD viewer video screen capture, uncredited, via Twitter
As the fire department was arriving, two men were going door-to-door as the fire was spreading. They kicked in doors, and called for anyone inside to come to safety. Their actions were captured on cellphone video by Corey Grant Eason.
Engine 4 continued evacuation of the building with the two civilians, as their water supply was established. Crews then started an interior attack with hand lines, but were soon withdrawn to start aerial operations. Evacuation tones were sounded on the radio, and air horns were sounded on scene.
Ladder 1 (platform) and Ladder 3 (straight stick) flowed.They were positioned on the front right (L1 supplied by E18) and front left (L3 with own hydrant) corners of the building. They knocked down the bulk of the fire, and crews resumed suppression, and then salvage and overhaul.
Battalion 5 had command, then assumed by Car 20, then assumed by Car 3, the Assistant Chief of Services. Wake County EMS provided medical monitor and rehab. The fire was controlled in just under an hour. Three additional engines were called for manpower, starting about ninety minutes into the incident.
Nineteen residents were displaced. At least eight units were damaged by fire, and at least four were damaged by smoke and water, said officials. (The Red Cross reported eleven occupied units were destroyed.) There was a firewall between each apartment, they noted.
The fire started on the porch of a rear, second-floor apartment, burned through the porch to the first floor, and spread from there, said officials via news reports. The cause was not determined. No residents were injured.
Run Card
~12:07 – First alarm – E18, E16, E15, E9, L1, L3, R1, B5, B4, C420.
~12:10 – E4 added to call, after clearing another.
~12:11 – Working fire – A1, C20, C401.
~12:13 – E4 arrived.
~12:14 – Second alarm – E17, E29, E6, L9, L5, B1.
~12:29 – E13 to Station 18, move-up.
~12:29 – E3 to Station 9, move-up.
~13:00 – Fire under control.
~13:31 – E13, E23, special called.
~14:51 – E24, special called.
News Stories
News & Observer – Homes ablaze on North Raleigh's Prince George Lane
WNCN – Multiple units damaged in Raleigh apartment fire
WRAL – Visitors, bystanders warn residents of Raleigh apartment fire
WTVD – Raleigh townhouse fire displaces 19
[1] But wait Batman, weren't these townhomes? Unsure. Seeing conflicting reports. Tax records indicating only one property owner. Ergo apartments?