Listen to radio traffic | See Legeros photos
Two alarms were struck in Durham on Thursday, April 29, 2021, at a major outside fire at 1915 Riddle Road. Dispatched 3:38 p.m. as a vehicle fire for Engine 4, located two blocks away, and Tanker 18. Structure fire assignment also dispatched, while first units were en route. Arriving units found heavy fire in a scrap pile containing various materials, including automobiles and large appliances.
Several hundred feet of five-inch supply line was laid from a hydrant about a block from the business entrance. Ladder 12 was positioned beside Engine 4, and supplied/boosted by the engine. Engine 1, on Riddle Road, boosted the pressure on the hydrant.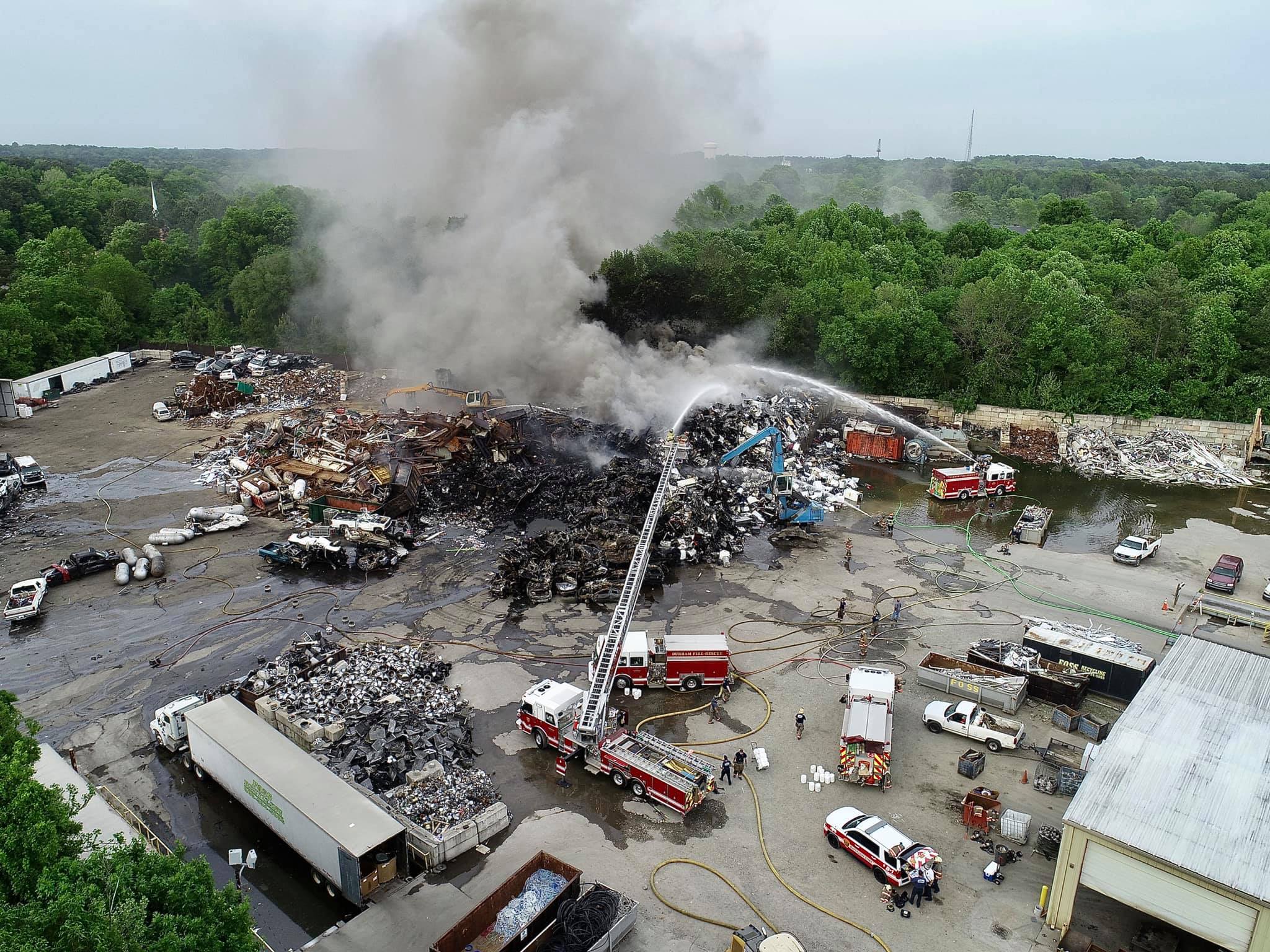 Mike Legeros photo
With addition water pressure/capacity needed, tankers were utilized, with Tanker 18 serving as the dump tank at the business entrance. Two other tankers shuttled water from a fill point in rear of Station, backing down Riddle Road to the connection point to Tanker 18.
Tanker 18 provided relay pumping to Engine 12, which deployed it's deck gun. Battalion 1 was the incident command location. Haz-Mat units brought foam containers to the scene. Portable monitor(s) and hand lines were also used.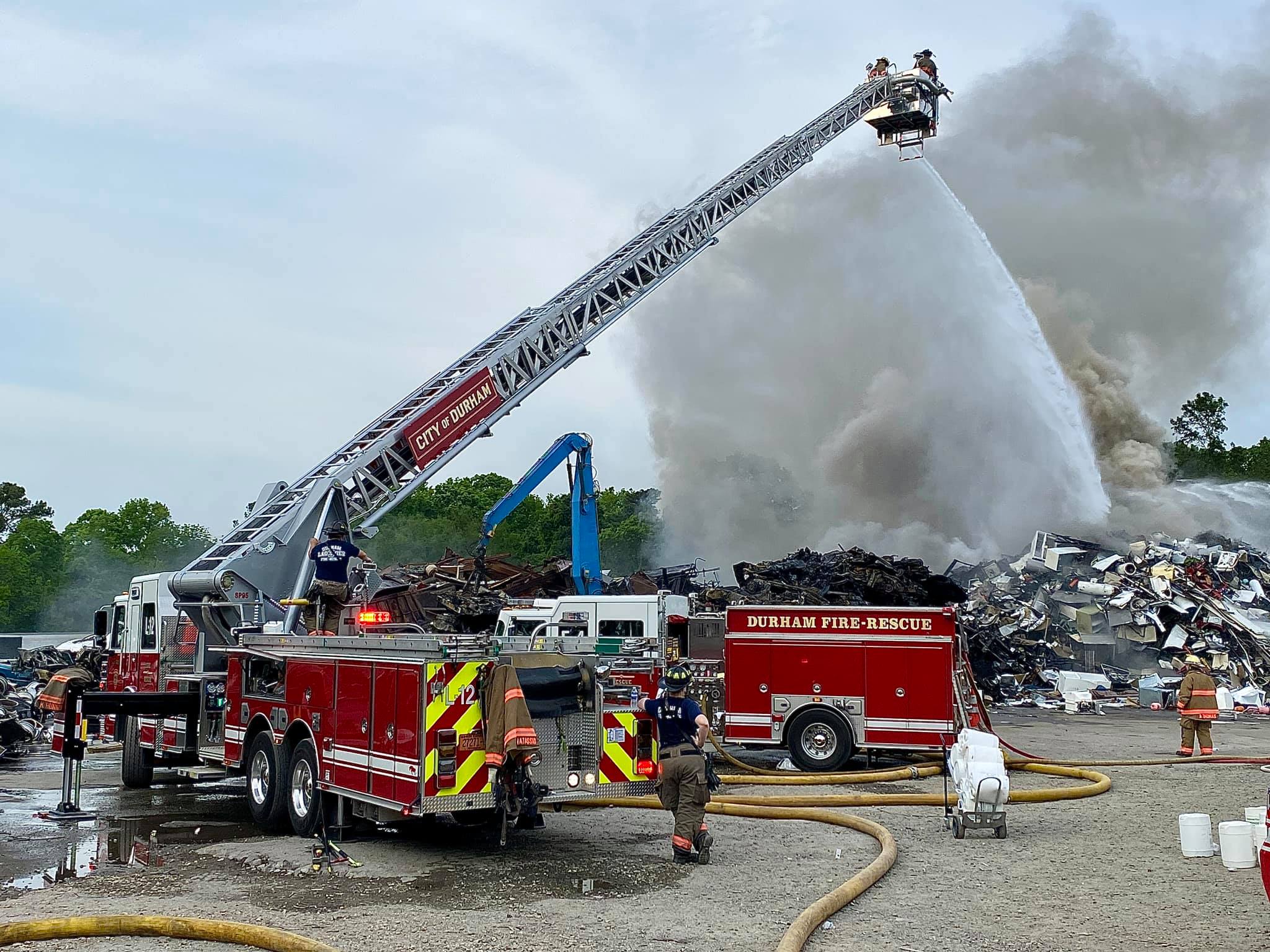 Mike Legeros photo
Second alarm later called for manpower, to relieve first-alarm companies. As Durham FD on Facebook noted, that brought 27 more firefighters to the scene, for a total of 64 working the incident.
The Durham FD drone team was also operating, with thermal imaging used to assist with suppression and assessing threat to nearby homes, on the other side of a wooded area.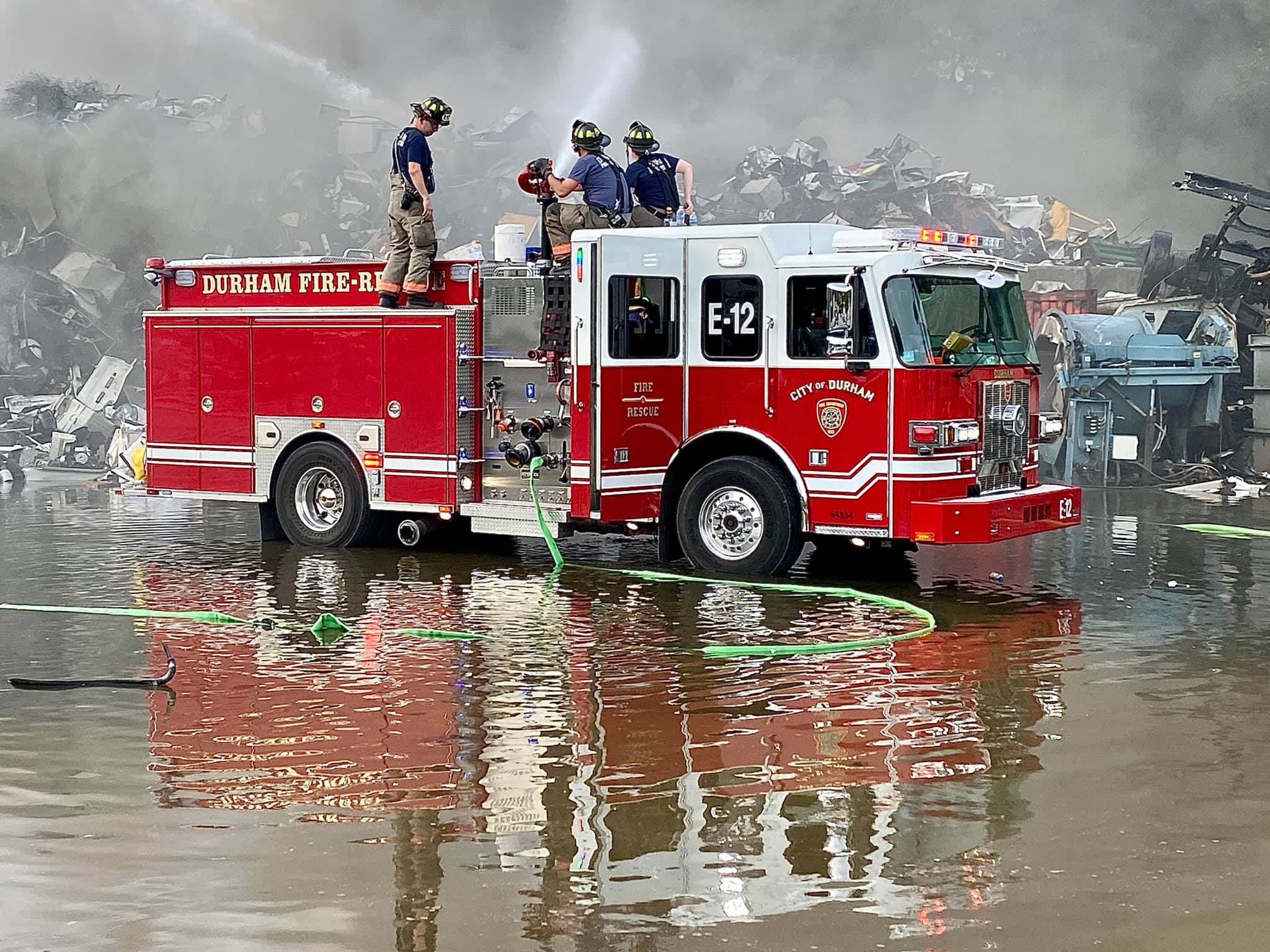 Mike Legeros photo
Quint 19 deployed to Homewood Avenue, and flow water for a number of hours to mitigate any embers, and reduced the amount of thick smoke that was spreading through the neighborhood and across Alston Avenue.
The fire was brought under control in approximately six hours. Crews remained on scene through the night, dousing hot spots. Riddle Road, between Highway 55 and Alston Avenue also remained closed through the night.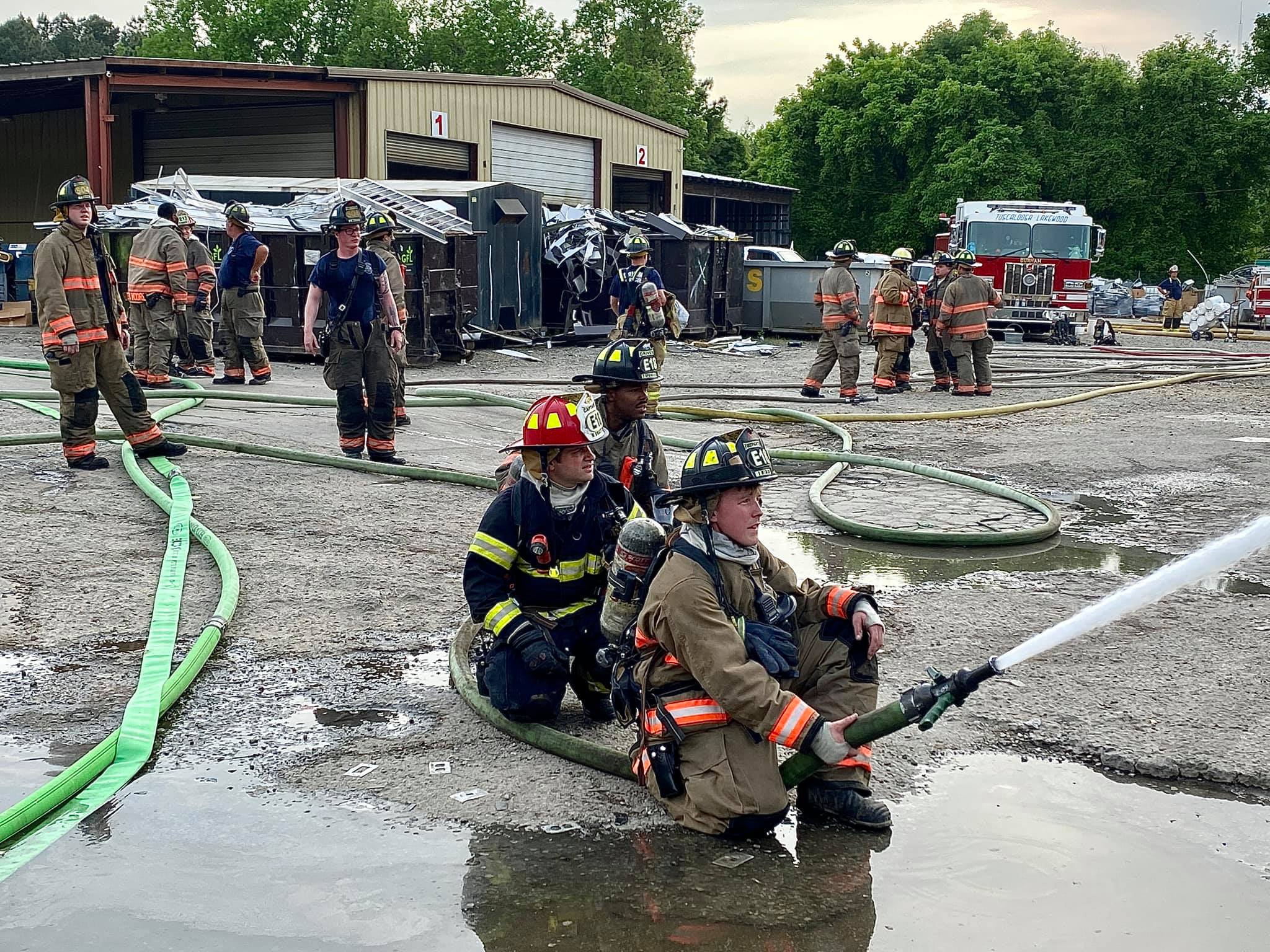 Mike Legeros photo
Durham County EMS also had units on scene and provided scene support.
Legeros arrived some two hours into the incident.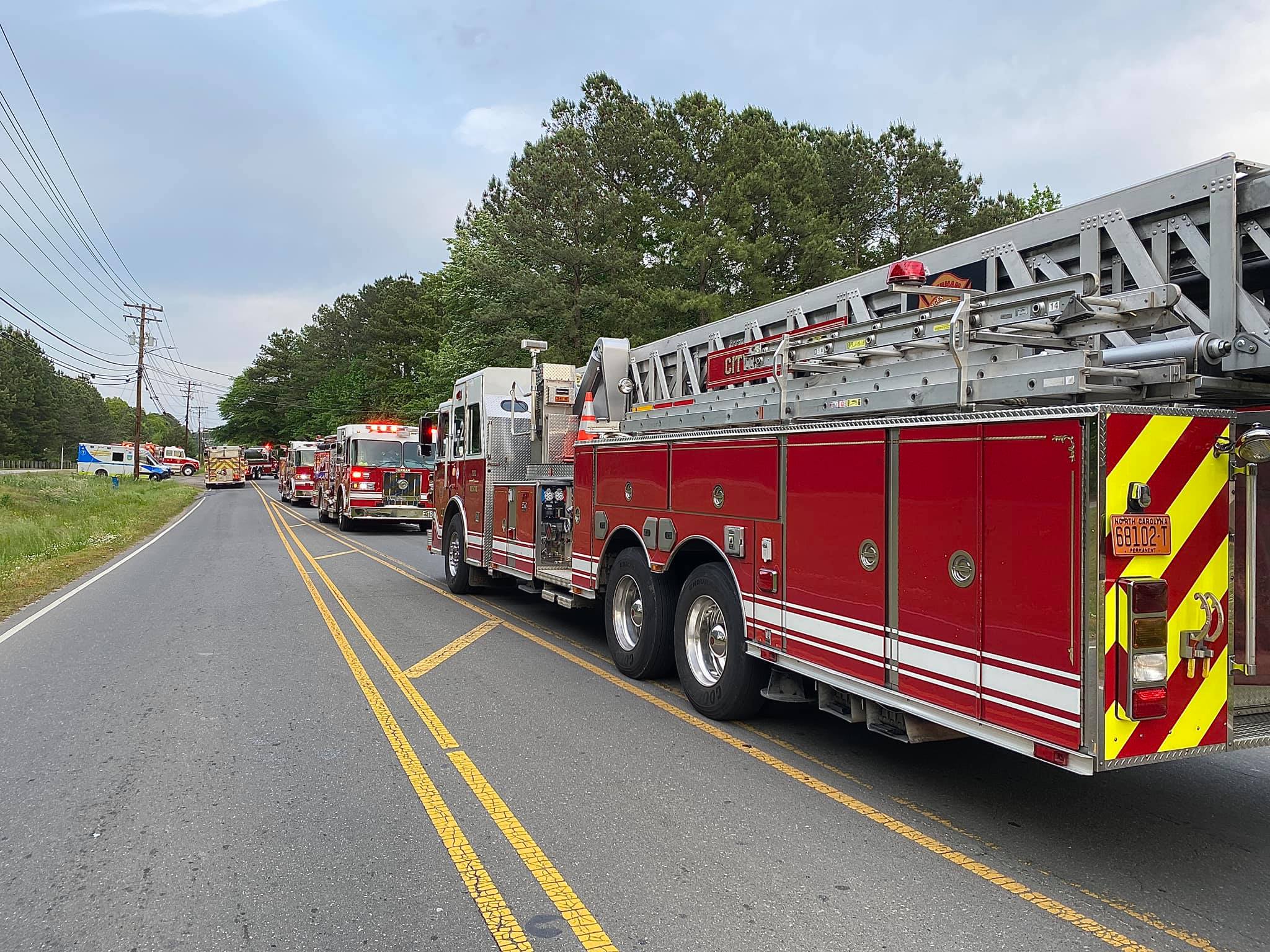 Mike Legeros photo
Run card included: Sq1, Sq4, B1, B2, B3, B4, E1, E2, E3, E4, E5, E6, E12, E13, E14, E18, L2, l3, L12, Q19, R1, HM13, HM16, MS1 (mobile support unit), Safety Officer, Division Chief, Special Operations Chief, Fire Chief, plus many tankers (including a tanker task force): DFD T11, T17, T18 and county units T316 (cleared after dispatched), T325, T335, T515 (all three cleared before arriving), Redwood T715.
Dispatch: E4, T18
First alarm: R1, FD20, SAF1, Sq4, L12, E1, E3, L3, T11, T17, B1, B3
Added: HM13, HM16, MS1, other chiefs
Tanker task force: T316 (cleared after dispatched), T325, T335, T515 (all three cleared before arriving), Redwood T715.
Second alarm: [goes here]