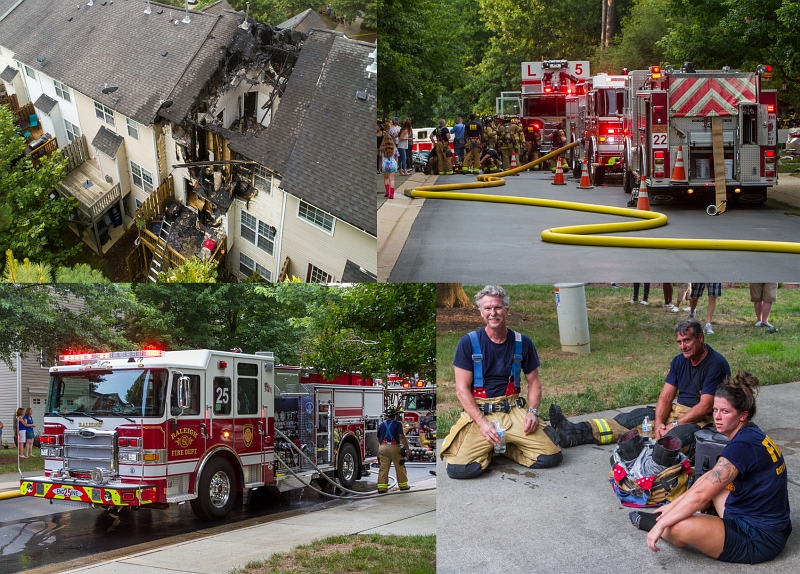 Two alarms were struck on Saturday evening, July 4, 2020, at 3134 Winding Waters Way in very north Raleigh. Dispatched at 6:28 p.m. Engine 25 arriving at a three-story, wood-frame, townhouse unit with 1,908 square-feet. Built 2003, say tax records. Reported as gas grill on back deck that had caught the structure on fire.
Engine 25 found fire showing from attic, from the front of the structure. Interior attack was started. Second alarm was requested for manpower, as attic conditions worsened. Ladder 5 was positioned for aerial ops, but the fire was contained by the interior crews.
Three lines [correct?] used: two inside and one exterior to the rear. Second alarm dispatched 6:21 p.m. Controlled 6:50 p.m. Cause determined as accidental. First photo at 7:04 p.m. Units included E25, E22, E15, E4, L5, L1, R1, B1, B4, C20, C402, A2, second alarm: E18, E28, E19, L9, plus EMS 39, EMS 42, EMS 38, D4.
See photos by Legeros at https://legeros.smugmug.com/Fire-Photos/2020/2020-07-04-rfd-winding-waters-way