From his archives of retired Wake County EMS veteran Joseph Zalkin comes this 19-minute short film, A Will and a Way – The Story of Emergency Medical Services in North Carolina. 
Produced by the North State Office of EMS with a grant from the North Carolina Association of Insurance Agents, it describes the evolution of the state's ambulance systems, from funeral home ambulances, to volunteer rescue squads, and finally a state EMS system.
There's ample footage of Wendell Rescue Squad, including their old ambulances and some station and scene footage. Beacon Ambulance Service has a long bit, and there are some shots of looks like Clayton Rescue Squad. 
As for the street shots, most of those on St. Mary's and Morgan streets, says Zalkin. The hospital location is old Rex Hospital, at St. Mary's Street and Wade Avenue.
The film was converted some years ago from 16mm to S-VHS and later DVD. Recently re-discovered in Zalkin's archives. Scroll down to watch. Scroll further down for more notes about this great footage. 
And, of course, for deep reading on the subject of local ambulance and rescue history, visit legeros.com/history/ems. From there, you'll be directed to the History of EMS in Wake County Facebook page, for photos.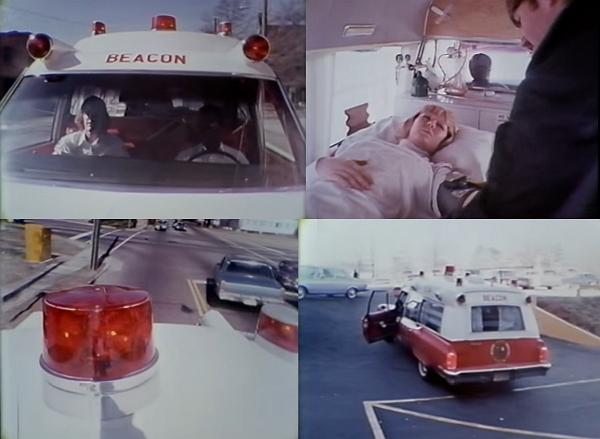 Some of the familiar faces, notes Zalkin, include:
Bob Couick, former chief of Knightdale Area Rescue Squad and SWAB salesman. He's featured as the driver in the opening sequence. 
Scott Alan, former supervisor of Wake County Animal Control, is the long-haired EMT in the back of the ambulance. 
Norman Dean and his wife Delores appear in the Wendell Rescue Squad sequence. He was a former State Trooper and a photographer. 
Dr. George Johnston from the University of North Carolina was a head of the emergency department and a surgeon.
Senator Jones, who was politically connected with a vision for better trauma management, introduced the legislation that formed the Office of EMS and began to regulate ambulances, training and hospital preparedness.
James (Jim) Page was an Los Angeles County Fire Captain, who got a law degree and was a special adviser to the Emergency! television series. He came to North Carolina to run the new Office of EMS, and brought a few folks who are still there.
Carl VanCott, for example, the chief of communications came from California and was an engineer on the biophone. That was the orange radio box that you saw on Emergency!
Says Zalkin about the film's importance, North Carolina was a state that wanted the best from "Murphy to Manteo." Other states had pockets of excellence but no statewide system.
This is more than a film, he notes, but a documentation of an early journey.