Thanks to a reader, who came upon this vintage picture the other week, from the collection of Scott Mattson.  Thanks for sharing, Micah!
Vintage Guilford County Fire Services support unit. Looks like a 1960s Dodge truck, which had been converted into a lighting and generator unit. It's pulling a two-axle cargo trailer lettered as "oil spill control unit."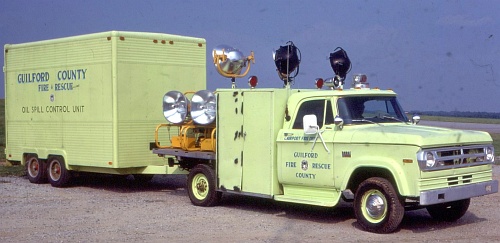 Scott Mattson Collection
Both were housed at the airport fire station, which was also headquarters for county fire services. The county's oil spill response team was created around 1977 or 78, and included this 1958 Chevy tanker. Click to enlarge:

Scott Mattson Collection
In a Greensboro Daily News article on February 13, 1978, the "special county oil spill team" was described as being created sixteen months prior. 
Technical expertise was provided by the Division of Environmental Health, while the "sweat and backbreaking labor of containing an oil spill" is provided by the County Fire Marshal's office.
The fire marshal's office had created a fleet of emergency vehicles for oil spill response, including a lighting truck with a gas-powered generator, a trailer with absorbing materials and tools for spill containment, a pumper truck that can "suck up offending oil or contaminated water", a general maintenance truck that pulls the trailer, and a jeep.
Read more in Mr. Blogger's recent history of Guilford County Fire Services and history of the PTI airport fire department: www.legeros.com/history/stories/pti-airport.