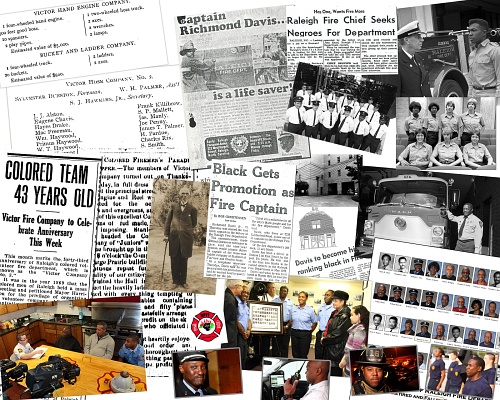 The Raleigh Fire Department has a rich heritage of African Americans, both during the volunteer era of the 19th and early 20th century, and as members of the career department beginning in 1963. We're reminded of this legacy with the recent passing of two retirees: retired Division Chief Richmond Davis, and retired Senior Firefighter Shirley Boone.
Chief Davis was one of seven of the city's first career black firefighters, hired 1963-64. He climbed the ranks over his 30.2 years, as the city's first black fire captain (1974), first black Battalion Chief (1980), and first black Division Chief (1991). He also served as Chief of Training.
Firefighter Boone served the city for 20.8 years as a full-time firefighter, and for many subsequent years in a part-time capacity in Administration. She was one of the first black women hired by the fire department, between 1978 and 1982.
Their stories and others have been compiled by Historian Mike Legeros (that's me!), in a newly expanded history document.
The 50-page document includes stories and information and data about the city's black firefighters, their volunteer-era predecessors, early station assignments and working conditions, a class-action lawsuit, the hiring of the first females, and new and renewed efforts at recruiting for diversity in recent years.
Read the history at www.legeros.com/ralwake/raleigh/history/black-history