Note: This posting incorporates information from this narrative posted by Wake New Hope Fire Department. 
See more photos by Mike Legeros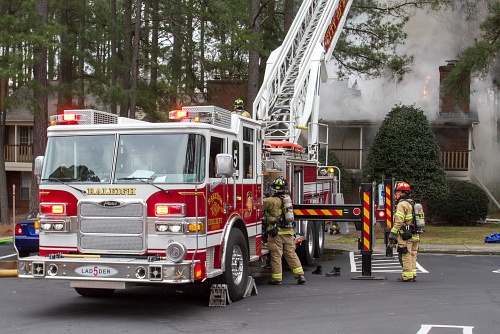 Two alarms were struck this morning at 4713 Dansey Drive. The reported structure fire was dispatched at 7:55 a.m. for Engines 19, 15, 27, 11, Ladders 2, 5, Rescue 1, Battalions 1 and 5, and New Hope Engine 1, as automatic aid for closest engine. Headquarters advised that callers reported a fire on a back deck.
While en route, New Hope Engine 1 upgraded to a working fire. They arrived at 7:59 a.m. and reported heavy fire and smoke from the rear of a two-story, garden-style apartment building with 6,514 square-feet. Built 1983, say tax records.
Engine 1 crew stretched a 1.75-inch hand line into the structure, and started an interior attack. Engine 19 then arrived, secured a water supply, and began assisting the interior crews with fire attack. Battalion 1 arrived, assumed command, and requested a second alarm. Dansey Drive and New Hope Road were designated at staging area.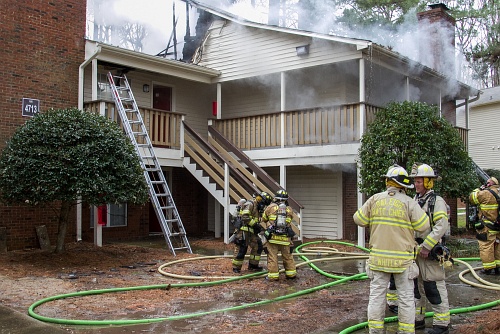 With multiple reports of people still inside the building, Rescue 1 was assigned search and rescue, and to assist with evacuating any residents. Also by this time, Wake County EMS requested a second alarm, to bring additional EMS resources to the scene.
At 8:10 a.m., all firefighters were ordered out of the second story, and soon out of the entire structure. Evacuation tones were sounded and a Personal Accountability Report (PAR) was conducted.
By this time, Ladder 5 was ready for aerial operations, positioned in front of the structure and with a supply line from Engine 27. The aerial stream was used for several minutes, to knock down heavy fire in the attic. A ground monitor, also supplied by Engine 27, was also used for exterior fire attack.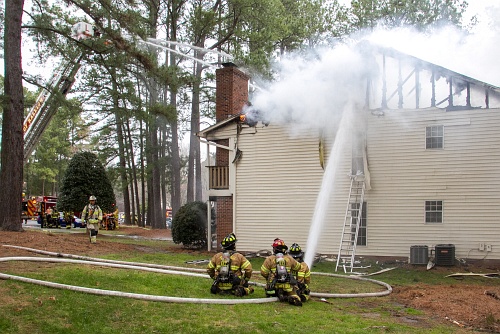 After the bulk of the fire had been extinguished, crews went back inside the structure to extinguish hot spots. The fire was placed under control at 8:42 a.m. 
No injuries were reported. Four of the eight apartment units were damaged. Five people were displaced. The cause was determined as accidental.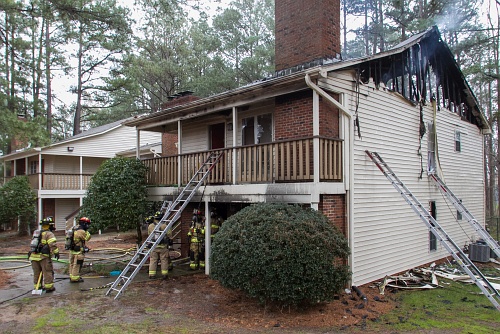 Run card:
First alarm: NHFD E1, RFD E19, E15, E27, E11, L2, L5, R1, B1, B5.
Working fire: C20, A2, C402
Second alarm: E21, E22, E28, L1, L4, A1.
EMS first alarm: EMS 3.
EMS working fire: EMS 15, D3.
EMS second alarm: EMS 19, EMS 6, EMS 4, EMS 63, D1, D9, M95, M96, T1.
News coverage:
Incident report with pictures:
Photos: