Passed along from our friends at the Henderson Fire Department is this Flickr album of vintage pictures of the Henderson High School fire on April 3, 1968. They were taken by Lyman McLean, a freelance photographer who worked for both the Henderson Daily Dispatch and the police department.
The shots are from his personal collection, and now part of the Vance County Historical Society collections. They've been posted to the Flickr album by Gill Clopton . Visit the album to see larger versions, and more photos. (See also Clopton's Flickr page, for many more historical photos of Henderson and Vance County.)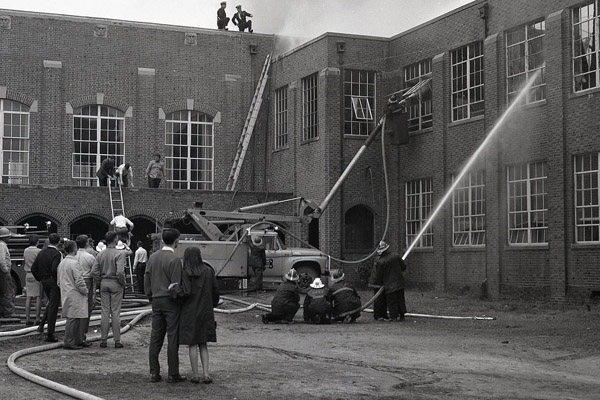 Lyman McLean photos, courtesy Gill Clopton/Vance County Historical Society
The fire started about noon, took about five hours to extinguish, and was confined mostly to classrooms and the library. And utilized a power company "bucket truck" (!) for second-story hose stream, as shown above.
The only injuries were two city firemen who were hospitalized with smoke inhalation. HFD and most (or likely all) Vance County fire departments responded.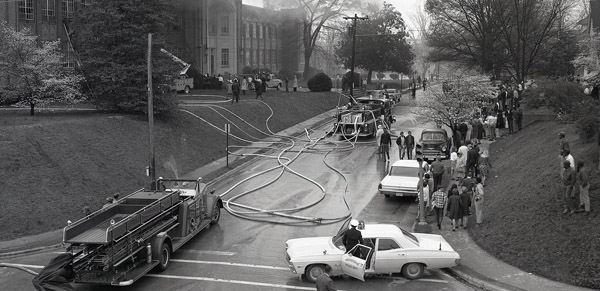 Lyman McLean photos, courtesy Gill Clopton/Vance County Historical Society
The high-resolution pictures include a shot of Henderson's 1940 American LaFrance 500 quadruple combination (or "quad"). Registration number L-1215, model 575 CDO, with a factory date of February 29, 1940. And five-man cab. The truck appears to have been subsequently scrapped, notes the Peckham database.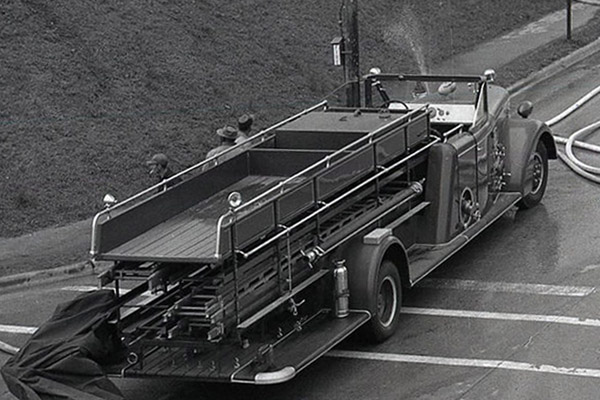 Lyman McLean photos, courtesy Gill Clopton/Vance County Historical Society
Below the text of an Associated Press story that appeared in the Danville Register the next day.
Fire Damages Henderson High School
HENDERSON, N.C. (AP) – Fire raged through a wing of the Henderson High School about noon Wednesday, leaving damage estimated unofficially at $200,000. About 850 students and members of the faculty escaped without injury but two Henderson firemen, Eugene Daniel and R. T. Robinson, were overcome by smoke and were hospitalized. The fire broke out on the second floor of the northwest wing of the T-shaped building while most students in the affected section were at lunch. Damage was confined mainly to classrooms and the school library. The fire was extinguished about 5 p.m. Officials said the school would be closed Thursday and there was no immediate decision on when or where classes would resume.
Most of the firefighting equipment of the city and that of Vance County volunteer fire departments was brought into action. Witnesses said the fire apparently started in the home economics department and spread to several classrooms. How the fire started was not certain. Downstairs, students filed orderly out of the building and into a slow drizzle of rain, thinking the alarm was only signaling a fire drill. Once outside they saw the smoke pouring from upstairs windows. The two-story, brick building is about 30 years old.
One student, Dennis Tharington, a senior, said the only students upstairs were a few who were studying in the library. "Coach (Albert) Capps was running up and down the hall upstairs telling everyone to get out, that the building was on fire," Tharington said. Tharington said he was in a downstairs classroom when he heard the alarm. "We all thought it was just a regular fire drill, even though it was drizzling outside," Tharington said. "But we all got out pretty quick. It was probably about two minutes before we were all out.