Found for sale on eBay, a vintage Wilmington airport fire department badge, back when the airport was called Bluethenthal Field. It was named for aviator Arthur Bluethenthal, the first person from Wilmington killed in World War I. 
The airport was dedicated in 1928 as same. Its name was changed in the 1950s to New Hanover County Airport, in 1988 to New Hanover County International Airport, and in 1997 to Wilmington International Airport.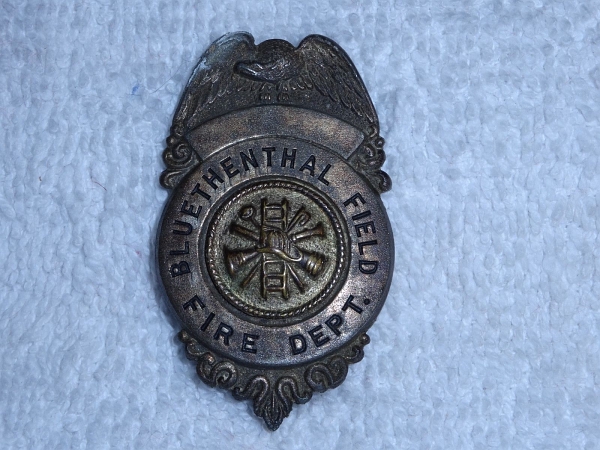 Other interesting bits: during World War II, the airport was used by the Army Air Force for antisubmarine patrols and training. During the 1960s, the Air Force stationed several fighter jets at the airport. That's likely the reason that these former Air Force crash trucks protected the airport as shown below. 
Early Crash Trucks
Below is Crash 1, a 1954 American LaFrance, one of the "O" models used by the military. Likely Serial #54L210, 1954 American LaFrance Type O-11A, former North Carolina Air National Guard. 500/1000/100 and 80 gallon tank of Chlorobromomethane, an extinguishing agent. Photo found for sale on eBay. Click to slightly enlarge:
Below is a 1975 Oshkosh M-1500, civilian version of the military P-4. Specs 1250/1500/180 and operated by the New Hanover County Fire Department. We blogged about this before, noting that there once were two Air Force installations in Wilmington, and the 48th Interceptor Squadron was protected by a crash truck at the airport. Photo found for sale on eBay. Click to slightly enlarge: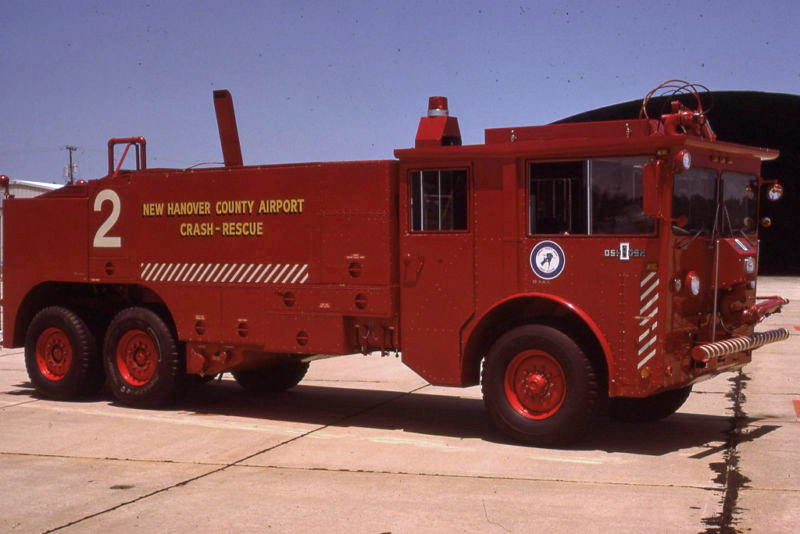 Dry-chemical unit carried on a 1989 Ford. The airport currently has a pair of Oshkosh 4×4 crash trucks, one in service and one in reserve. See photos of those rigs from 2010 (scroll down the page). Photo found for sale on eBay. Click to slightly enlarge: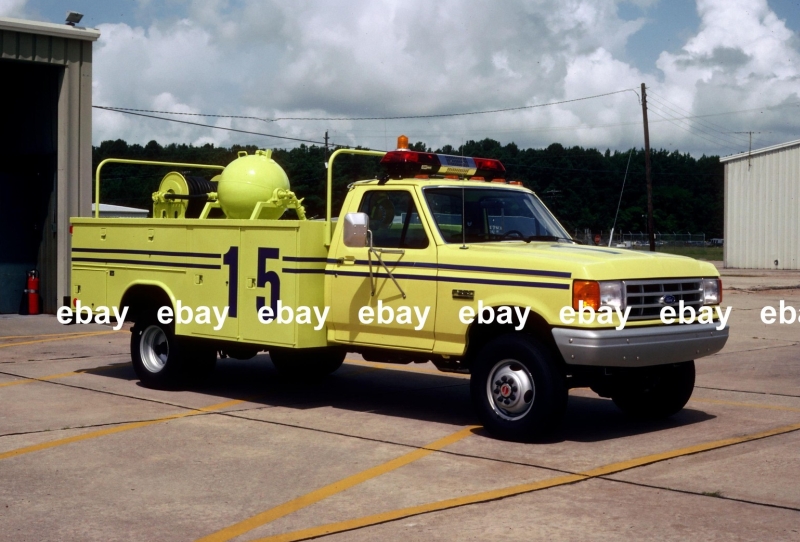 Acknowledgements
Thanks to Ted H. and Mark R. for crash truck data, via the Fire Trucks at War Facebook page.
Reader Comments
From readers responding to an earlier blog archives posting:
DJ – They had this truck in 1979, along with a 1 1/4 ton International RIV with a skid-mounted Purple K/AFFF unit. There were a lot of these trucks at airports and airfields all over. The nomenclature for these units was 'P-4'.
DJ – New Hanover County Airport operated their own FD. When I attended the NC Fire College in Wilmington that year, I stopped by the station to check out the trucks before flying back on a small plane. There were two trucks, the Oshkosh and the International, and two personnel on duty (one for each truck). That was typical airport staffing at that time (RDU was no different back then, either). I don't even think they staffed the station 24 hours
Ryan – Airport fire protection was always done in house. Before New Hanover took over sole control of the un-incorporated areas of the county in October, Wrightsboro VFD and Castle Hayne VFD responded along with the airport's fire service depending on the "Alert Level". I believe now to that due to new FAA regs that they have to have more people on duty during regular business hours for normal passenger flights. I'm not sure of the time but sometime in the night after the last schedule passenger flight the tower switched over to one of the DC towers for the airspace and non-passenger commercial flights go through that tower. However a minimum public safety crew is still on duty. (Hope that's not to confusing, just how it was explained to me recently by a friend that works there.)