The Raleigh Fire Museum tweeted about this the other week. Let's examine more closely in this blog posting. This is a vintage "rules and regulations" booklet from the early twentieth century. It was donated to the museum by a retired member of the department.
View the booklet in this photo gallery or download PDF version.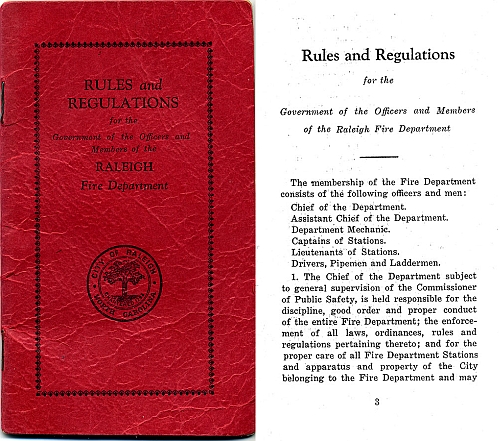 Look familiar? We've blogged before about a similar booklet from the Charlotte Fire Department. We'll compare both in a bit. First, let's look more closely at the Raleigh booklet:
"Rules and Regulations for the Government of the Officers and Members of the Raleigh Fire Department."
Size
Measures about four inches wide by six inches high.
Date
Guessing 1920s or 1930s, but could be as late as late 1940s. Page 3 references the Commissioner of Public Safety. The city was governed by a Board of Commissioners until July 1, 1947. Thus the booklet is no older than that. There are also six pages of alarm box locations in the back of the booklet. They include streets in locations annexed between 1930 and 1949, such as the "far ends" of Glenwood Avenue as well as Whitaker Mill. Thus the booklet can be reasonably dated as between 1930 and 1947.
Page 23 references "appointees". Fire department members were appointed positions until March 1, 1935, when they were granted civil service protection. Does that further narrow the scope of this document? Possibly. Was the verb "hired" used after that date, or were new member said to be "appointed" (as now based on competitive hiring). And/or, once that change was made, were all documents updated with revised language? Was this booklet updated or older terminology left in place. (Such as "hose carts" that are cited in the booklet and despite a couple decades since the horse-drawn era.)
Contents
Page 1 – Title page.
Page 3 – List of department positions.
Page 3 – First page of rules, beginning with duties of Fire Chief.
Page 5 – Rules for Captains and Lieutenants
Page 9 – Rules for Lieutenants
Page 9 – Rules for Drivers, Pipemen and Laddermen
Page 10 – Rules for Drivers
Page 10 – Rules for Watch
Page 11 – Rules for Going to and at Fires
Page 17 – Rules for Care of Hose and Apparatus
Page 18 – General Rules
Page 27 – Fire Alarm [Signal] Code[s]
Page 28 – Number and Location of Fire Alarm Boxes
Observations and Amusements
#10 – Station officers will see that "sleeping rooms and all beds and bedding therein are kept scrupulously clean and properly aired." Also, all beds must be made up by 8:30 a.m. daily, and "kept so during the day."
#12 – At the end of each fiscal year (ending May 31), station officers will forward to the Fire Chief an "accurate and complete inventory of all city property then on hand under their charge."
#16 – "Commanding officers of stations shall visit the sick and injured members of their respective companies at least once a week."
#21 – Watch members will "exercise economy and good judgment in the use of fuel and station lights."
#21 – Watch members may not "sleep or doze or recline in a position to indicate sleep" and "will remain in a position to hear and attend promptly all calls or signals whether received by telegraph, telephone, or verbally."
 
#22 – Run card rules and assignment of companies "must in all cases be strictly adhered to."
#27 – When the bell rings, when going to and returning from fires, and on the fire ground, "the greatest degree of silence compatible with the efficient discharge of duty" is required.
#28 – Companies arrive at fires in the shortest possible time, but without exceeding established speed limits.
#29 – When two or more apparatus are traveling on the same street to a fire, they must travel single file.
#32 – The first arriving company office is in charge at a fire, if the Fire Chief or Assistant Chief haven't arrived.
 
#37 – Arriving ladder trucks must not park near hydrants, nor in the way of other companies.
#46 – "No member shall willfully direct a stream of water upon any fireman or citizen."
#51 – No apparatus can leave the city without the consent of the Mayor or the Commission of Public Safety and the Fire Chief.
#55 – Every thirty days, any unused hose must be removed, examined, aired, and recorded.
#56 – Members are expected to be well-disciplined both on- and off-duty.
 
#59 – "Proper decorum must be observed at all times, no altercations, or ungentlemanly, profane, abusive, or improper language or disorderly conduct will be permitted at any station upon the part of any officer or member of the Department."
#64 – Intoxication will result in suspension.
#65 – "Gambling is prohibited" while at the fire station.
#70 – Quarters are dusted and cleaned each morning. Saturday is general house cleaning at all stations.
#72 – Visitors permitted, but "habitual loafing" by them is not.
 
#73 – No unattended children can "congregate within or about the station."
#74 – "After members have retired for the night, or when sick in the sleeping room, the room must be kept quiet."
#75 – On Sundays at at night, stations must be kept quite. On Sunday, "no mechanical work shall be done around the quarters."
#82 – "All reports, messages, or communications received at headquarters pertaining to Department business, whether written, by telephone, or otherwise, must be delivered promptly to the Chief of the Department, or where he is absent, to the Assistant Chief."
#84 – New appointees shall serve a ninety-day probation.
 
#91 – "Officers and members must be prompt and exact in returning from all leaves of absence."
#95 – No loaning of badge or uniform to others, including other firemen.
#100 – "No one is allowed to use the Department telephone promiscuously."
Fire Alarm [Signal] Codes
One tap followed by a box [number] indicates a test.
Two taps indicates a telephone call.
Three taps after either a telephone call or a box alarm indicates control.
How did those work?
Gongs (and tape punch reels) were located at each engine house.
Box alarms would sound with the box number "tapped out" and repeated probably three times.

How did that work?
Every engine house in the city received bell signals.
Companies self-dispatched, based upon run cards, which were based on box numbers.
What did those run cards or run assignments look like? Believe two engines and the service ladder truck for locations except the "fire district" downtown, which were two engines and the aerial ladder truck. Need to check and confirm.
What happened at night? Every company was awakened by the bell? Correct.
For those companies that didn't respond, believe they remained "at watch" until either (a.) they were requested as additional companies or (b.) the fire was marked under control, by three bells.
How were additional companies requested? Was the box alarm transmitted again? Was the request sent as a telephone alarm? Don't know.

Two taps of the bell signaled a telephone call.

How did that work?
Believe this required each station officer to pick up the telephone, and either initiate or receive a call from the fire alarm dispatcher, to who provided details of the call.
Believe this used only for fires (or emergencies) at locations that were outside the city, or a distance from an alarm box. Presuming that a telephone alarm of a fire within, say, a half-block or more of an alarm box location, would be dispatched as a box alarm to the nearby alarm box.

Three taps of the bell signaled that the fire was under control.

Believe the companies that did not respond would stand by, or remain "at watch." If overnight, they stayed at the trucks or maybe in the watch room or apparatus floor. They didn't go back to bed until "control" was sounded. This practice, I'm told, continued as late as the late 1960s or early 1970s.
Where were the radios?
As late as 1946, the Fire Chief had a two-way radio. He could communicate with law enforcement officials as well as hospitals, or at least relay messages therein.
In 1955, two-way radios were installed in all pieces of apparatus. A base station radio was also installed in the Dispatcher's room at Station 1.
In 1957, two-way radio base stations were added at all fire stations. Radio watch started, from 8 a.m. to 11 p.m., with two hour watch periods, on February 7, 1957.
In 1958, a county-wide two-way radio system was installed for fire departments. The Raleigh Fire Department Dispatcher began dispatching select county fire departments. The Dispatcher was based at Station 1, or "Central Fire Station." The radio handle for county fire dispatch was or became known as "Central."
How long were the alarm boxes used?
Until 1973. The last box alarm was received on May 14, 1973. Read that history on this page.
Comparing Charlotte and Raleigh Booklets
Here's a blog post from 2009, feature a similar booklet from the Charlotte Fire Department. Gets me thinking that such booklets were perhaps replicated among urban fire departments. Maybe with help from the IAFF? Some observations:
| | | |
| --- | --- | --- |
| | Charlotte | Raleigh |
| Date | 1940 | Early 1930s? |
| Total Rules | 112 | 100 |
| Apartment Houses | yes | no |
| Hotels | yes | no |
| Alarm Boxes | yes | yes |
| Alarm Box Signals | no | yes |
| Street Directory | yes | no |
| Total Pages | ~60 | 33 |