This is a re-posting of a Legeros Blog Archives posting from May 30, 2010, that's no longer available on the old site, due to technical problems. It was originally titled "This morning's shooting in Apex."
Double shooting at 1201 Beaver Creek Commons Drive, at Target store. Dispatched about 11:09 a.m. Law enforcement response included Apex, Cary, Holly Springs, Raleigh, Wake County, and State Highway Patrol. Extensive fire and EMS response. Apex fire units utilized to block incoming traffic. Apex Battalion 1, then Car 1 as fire branch. District 5 as medical branch. Command post, EMS staging, and rehab established in front of Lowes store, beside Target building.
Two fatalities inside. Additional medical calls outside store, not directly related to gunfire. Rehab operations established for responders as well as store employees. About 150 shoppers and employees inside at time of incident. Wake County EMS Tactical Team members also present. Units on scene included Apex Engine 2, Ladder 3, Ladder 4, Battalion 1, Car 1, Mobile Command 1; Apex EMS 41, 42; Cary EMS 51, 52, 55, District 5; Wake County EMS 8, EMS 9, District 3, Medic 91, Truck 1, Chief 100, MD 1. Incident still underway, including fire unit standing by during investigation of suspect vehicle. Photos from Legeros posted.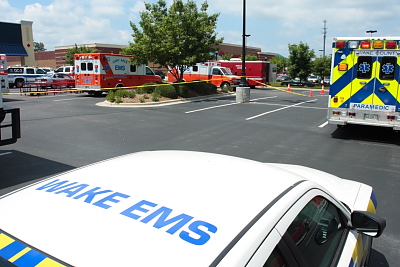 Mike Legeros photo
Comments
May 30, 2010 – Paul
"Apex fire units utilized to block incoming traffic." Huh? Can someone explain to the newbie?
May 30, 2010 – Legeros
Engine 2 and Ladder 4 were deployed at separate locations, to prevent non-emergency vehicles from approaching the scene. Fire personnel also assisted with traffic control, and preventing non-emergency vehicles from entering parking lots.
May 30, 2010 – Paul 
OK, but isn't that what the cops are for? Why tie up the fire dept to do that?
May 30, 2010 – Legeros
Police were a little busy, I suspect.
May 30, 2010 – Joey
That's a good question Paul. Also begs the question why was the fire chief the IC when fires role was limited to essentially manpower/first responders and traffic control.
May 30, 2010 – CFP 7021
Because Incident Command does not have to fall to the "agency" having overall jurisdiction. That is something we have refused to outgrow in this area. IC is a clearinghouse for information, with typically each "branch" having their own role, ie, LE Branch, Medical Branch, etc. And I'm sure Chief Haraway has plenty of experience in "managing" a large scale incident. And just because you are "command" doesn't mean you necessarily tell each "branch manager" what to do. You just make sure what they request is obtained, and coordinate efforts at the scene. In this case I'm sure it was the best thing, to allow the LE officers to concentrate on their efforts to keep the public safe. And Paul, I think this would be a great use for FD units that otherwise have no real role on this incident, let the guys with the vests and guns handle the shooter.
May 30, 2010 – Legeros
To expand on my comment, police resources were probably not immediately available to secure all vehicle access points, and thus the fire department assisted. They will stage anyway, until victims are located and secured by law enforcement. That's two birds with one stone, in a way. Of course, Apex Police and Apex Fire work for the same employer, and are charged with the same overarching mission of public safety. They're on the same team.
May 30, 2010 – RPD
I wasn't there but here is my take: FANTASTIC work on everyone's part. To the first responding officers, great job on finding the threat and making contact to stop the threat. Challenges were made to the suspect and thankfully, no officers became "victims" of suicide by cop. The immediate threat was terminated. Thank you to the fire units for taking roles in traffic control. It freed up essential law enforcement units to allow them to work on their primary objective (securing the scene and clearing the building/parking lot). And of course, EMS for standing by to provide aid if the situation became much worse.
May 30, 2010 – Paul
I guess this is what you get for growing up on the other side of the pond, where the fire dept puts out fires, medics bandage people up and LE catches the bad guys. Having the fire dept block roads just because LE is busy just doesn't happen in my world 🙂
May 30, 2010 – Bob P.
To answer the "Command" issue: Chief Beasley (Battalion 1) arrived and established Fire "Branch" and NOT "Command". The dispatchers kept calling for "Fire Command" and he would answer "Go ahead for Fire Branch". I beleive that a unified command was used as soon as was feasible, and that everything seemed to work well. From someone who was there, I thought that everything was handled to the best of everyone's ability and that it went very well. As far as the fire units for traffic control, the police guys were busy! We were dealing with a very large area and a LOT of people who wanted in to check on family members who were at Target and Lowe's. We had police units with us, and referred any irate people to the appropriate authorities. There simply were not enough cops to handle things right away. We were in no danger and were well away from the incident. It was a very emotionally charged atmosphere with people trying to sneak in and contact their family members. We were glad to assist APD as we have a very close relationship between all of the departments within the Town. Great job to everyone, and I feel that the incident was handled professionally by all the agencies involved.
May 30, 2010 – Legeros
Thanks for clarifying, Bob. I thought I heard both "branch" and "command" and ultimately cited the latter. I'll update. Sorry for any confusion.
May 31, 2010 – Bob P.
I believe you did hear that later on Mike, I am not sure of why… probably what we are used to saying I suppose or maybe due to the fact that Chief Haraway was in the command post.
May 31, 2010 – Harkey
Can anyone expand on the Law Enforcement entities and resources that responded outside of Apex? I did see some type of RPD trailer on one news channel. How was Comm-1 utilized vs the Apex Fire Command unit? It's also really interesting how slowly this was covered by area news stations, given the Memorial Day weekend. If it would have happened on a regular weekday, right before the noon news, you would have had a totally different media response I believe.
May 31, 2010 – Legeros
I believe Comm 1 *is* the Apex FD command unit. Panel van. Fire branch relocated from behind Car 1 to inside the command unit.
May 31, 2010 – A.C. Rich
I know Wake Co's communication unit is referred to a Comm-1 too. Pic at Lee's site: http://www.flickr.com/photos/leewilson/371377689/in/photostream/
May 31, 2010 – Legeros
That's probably it, though the unit had not arrived when I departed, a couple hours into the incident.
May 31, 2010 – DJ
And of course, EMS for standing by to provide aid if the situation became much worse." Not trying to sound, well, sound anyway at all. But EMS provided care to several people with indirect illnesses (anxiety and such) and injuries resulting from the 'rapid evacuation' of the premises. EMS also put two people inside the building, in the first few minutes, to provide a medical evaluation of the two shooting victims, in case there was anything to be done for them, prior to the building being delcared 'secure'. This was done in accordance with the 'active shooter' training that has been provided to EMS. This was not 'the tactical team', rather, these were 'regular' EMS folks (by simple logistics, unless the TAC medic is on the first in unit(s) they are going to be later arriving). The idea is to get medical care to people who need it and to get them out. Early. Before they bleed to death. And it worked well. Plus, if there had been another shooter, or if the original shooter had shot more people, we had ample resources EARLY to get it done. And as someone who was there- KUDOS to Apex PD! You guys rock!
June 5, 2010 – CHIEF 100
As the event progressed, The Apex FD field comm unit housed the MEDICAL branch. COMM-1 was used for its intended purposes – communications support(the front of the unit, where the radios are located, was staffed by WCSO and other communications personnel), while the back was used as a conference room for the unified COMMAND group. The truck's technical capabilities were used to allow a larger group to review surveillance video, hold a briefing, and do what essentially was a planning meeting. From my later-arriving perspective, this was a GREAT example of multi-agency, multi-jurisdictional cooperation, even though at all times Apex officials remained responsible. Coming from places where "sandbox" issues are more prevalent, it was amazing to see multiple police agencies, multiple law enforcement agencies, and one fire agency support each other, attend to priorities, and really get the job done. Nothing at all wrong with switching the support roles – FD doing traffic control at what was primarily a PD event. EMS guys put last year's summer training focus (active shooter procedures) to work just as it should have been, and happily the Apex PD used the same procedures that we trained on with RPD to do the same job, and do it well. Seeing how everybody worked together and supported each other made me proud of everybody, including people whose names I don't even know.