November 18
From our friends at GFD, here's a color(ized) photo of the rescue truck, along with other apparatus and vehicles at (old) Central Fire Station on North Greene Street. Click once or twice to enlarge: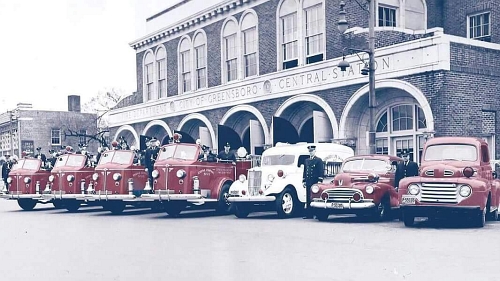 August 15
In October 1944, the Greensboro Fire Department placed their first rescue truck in service. By my estimate, this was one of the state's first fire department rescue squads or ambulance services. Readers, please help verify.
They operated a Ford panel van (?), a former Army ambulance purchased from Fort Bragg six months earlier. It was bought and equipped using "civilian defense salvage funds," noted the Greensboro Record on October 12, 1944. That month, civilian defense officials formerly presented the truck and equipment to the city.
The "dusty, battered vehicle of war" was "reconditioned and remodeled and fitted with an extensive selection of equipment designed to meet any emergency." It cost about $1,400 to equip. Converting the truck into a "modern rescue car" was largely performed by members of the fire department. They also repainted the rig.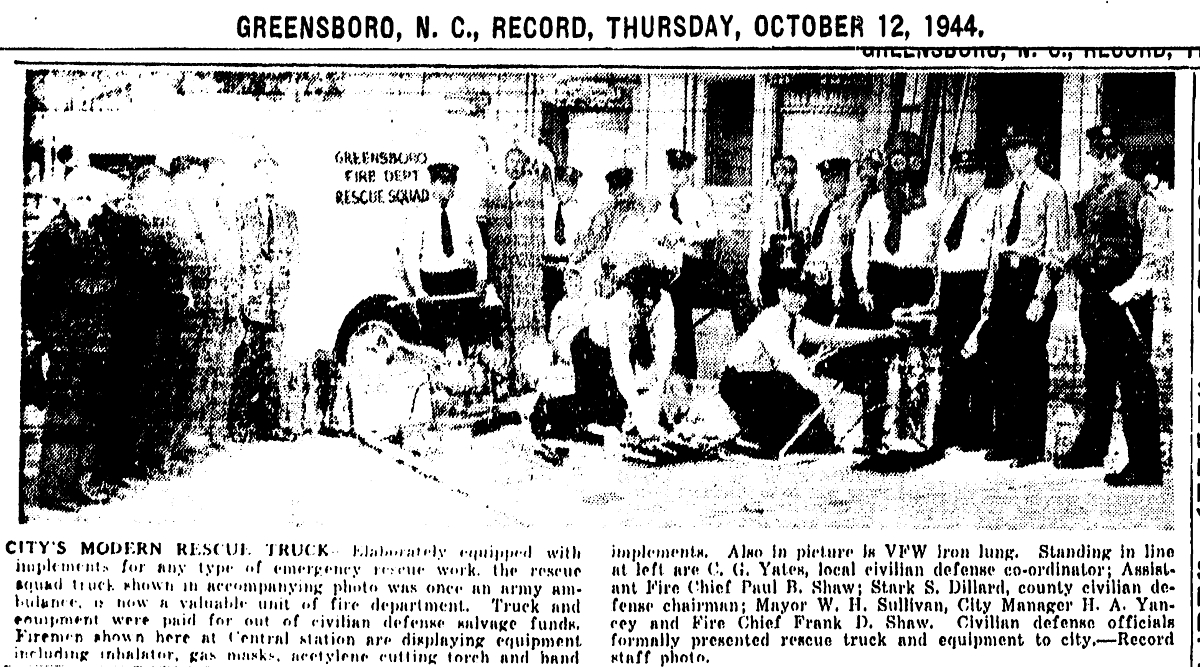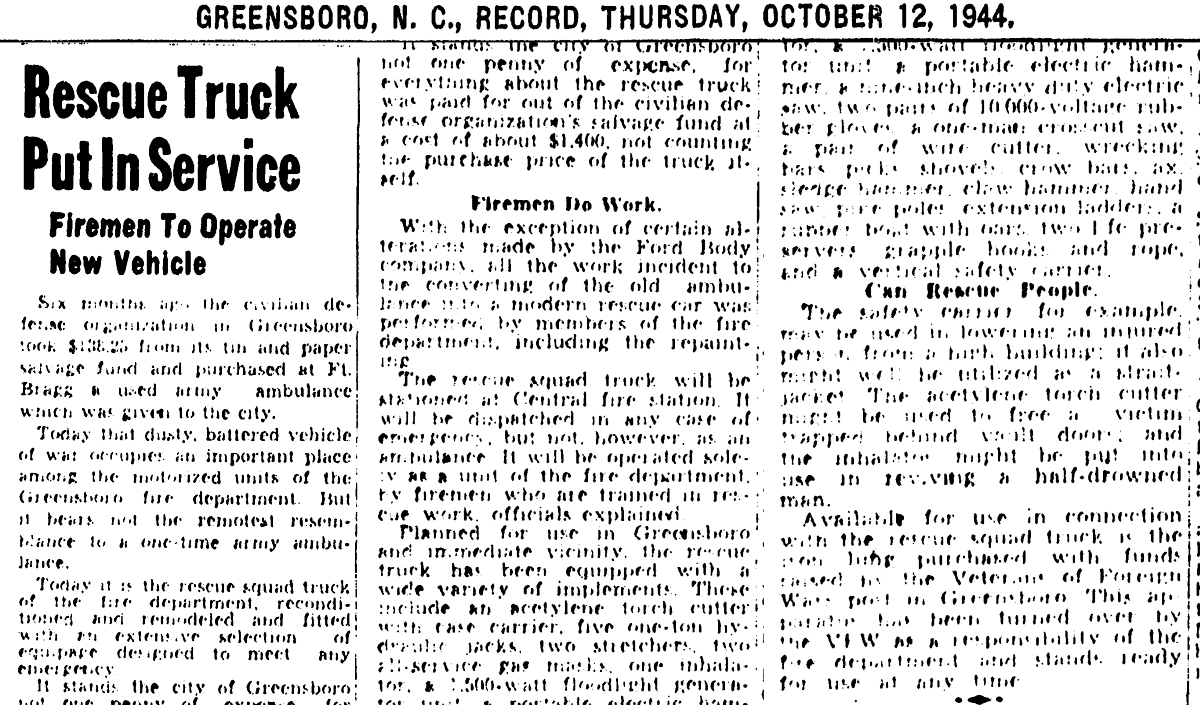 It was housed at Central Fire Station and was dispatched to any emergency, though not as an ambulance.[1] It was operated solely by city firefighters and intended for use in Greensboro and immediate vicinity.
In the summer of 1945, noted the Greensboro Record on October 18, 1945, their responses included four drowning cases, rescuing a worker from a "high radio tower," "cut a man from a crush truck cab," and "cut loose debris of other wrecks." Squad members have also "loosed children from locked bathrooms, rescued cats from precarious perches, and provided numerous other services."
In October 1945, they received an Emerson resuscitator, inhaler, and aspirator, donated by the Greensboro Junior Chamber of Commerce. They were also equipped with an iron lung, donated by the Veterans of Foreign Wars when the squad was organized. The iron lung was "light enough to be taken to the scene."
Staffing included Capt. R. C. Fortune, who was in charge of the squad. Equipment carried on the truck in 1945 included: rubber raft, extension ladders, life preserver, grapple hooks, ammonia gas mask, fire extinguisher, hydraulic jacks, first aid equipment, stretcher, all-service gas masks, H. and H. inhaler, floodlight generator and lights, heavy duty cord, portable electric hammer, electric saw, acetylene cutting outfit, L. and R. safety carrier, pics, shovels, spades, wrecking bars, "five bathing trunks," and "dozens of smaller items."
The fire department's operation of the squad was apparently short-lived. The Greensboro Record on August 6, 1947, reported that the title of the truck was transferred to the Greensboro Life Saving and First Aid Crew. What happened? Google finds no immediate references to the group. They were likely a volunteer rescue squad and, perhaps, ambulance service. Were they an off-shoot of the fire department rescue squad? Did they share or transfer members? Good questions.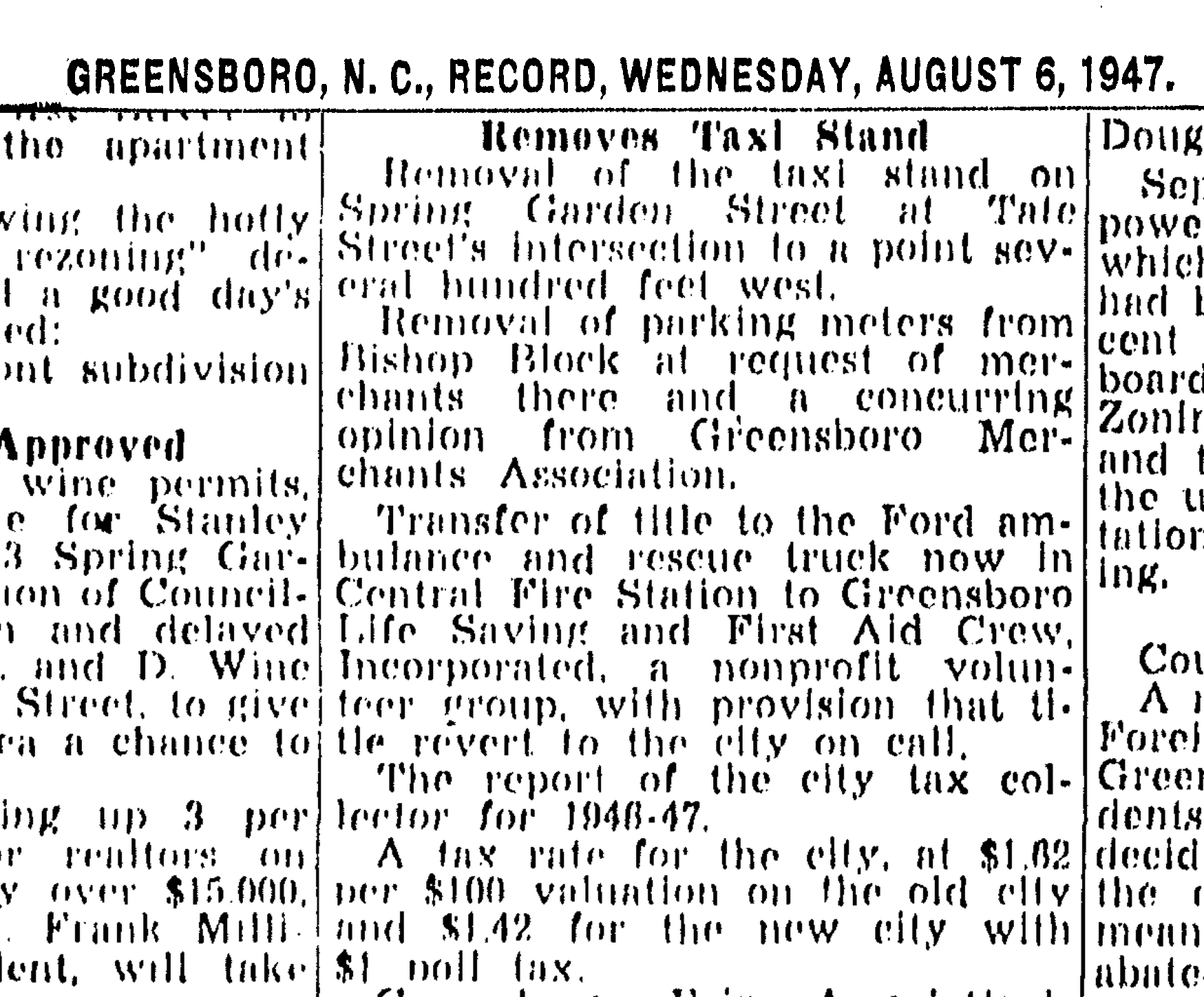 Meanwhile in Raleigh
Six years later in Raleigh, a volunteer rescue organization was created and sponsored and hosted by the fire department. The Raleigh Fire Department Emergency Rescue Squad was housed at Station 1, and city firefighters operated the two-piece unit. As the story goes, the volunteer members assisted at some incidents, such as drownings. Within a number of years, the squad was exclusively fire department-operated.
[1] Though not dispatched as an ambulance, it probably served as a back-up to the local ambulance services, which were probably provided by the local funeral homes.