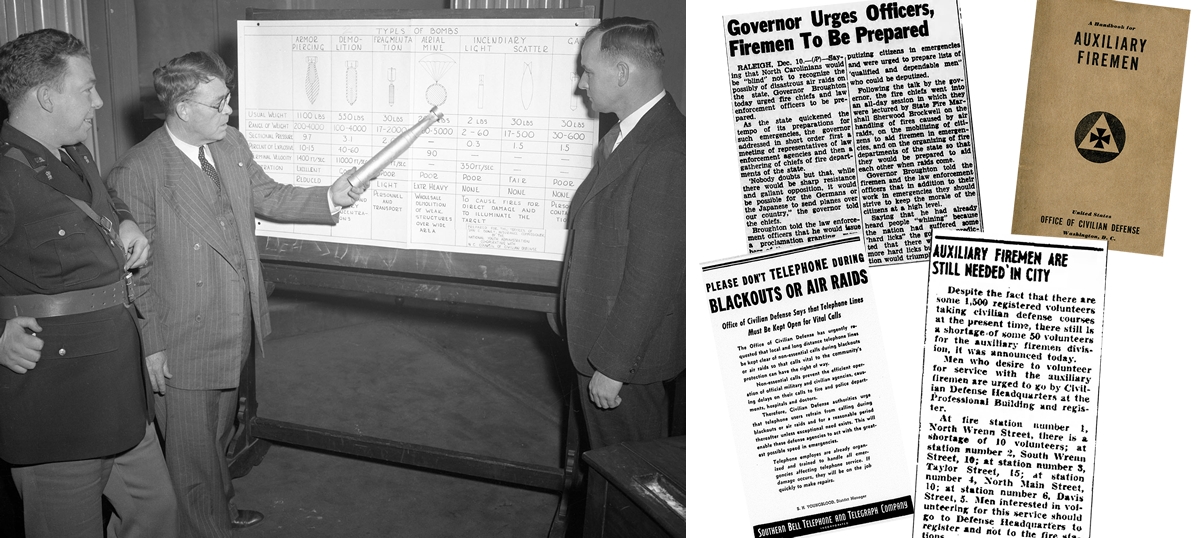 On December 10, 1941, three days after the attack on Pearl Harbor, a meeting was held at the State Capitol in Raleigh with 170 fire chiefs from around North Carolina. State Fire Marshal Sherwood Brockwell (pictured center) provided instruction on wartime fire protection. He had just graduated from a school conducted by the United States Army at Edgewood Arsenal.
Civilian Defense
The Governor the day before had issued bulletin to the mayors of cities with over 5,000 people, describing how to organize Civilian Protection Committees. Numerous initiatives were started, ranging from blackout drills to the training of volunteer auxiliary firemen. The latter began serving and augmenting the fire departments in such cities and towns as Asheville, High Point, Kinston, Raleigh, and Tarboro.
In Raleigh in July 1942, certificates of training and arm bands were presented to 154 auxiliary firemen in a graduation ceremony at Hugh Morson High School. They were trained in wartime firefighting and rescue techniques, and participated in exercises including city-wide blackout drills from 1942 to 1944. The auxiliary firemen also assisted in actual emergencies.
Wartime Impacts
Other wartime impacts included the loss of personnel due to firefighters enlisting or being drafted into the armed forces, or leaving for war-industry jobs, and which often offered higher pay. There were also restrictions that affected infrastructure, with departments unable to obtain new apparatus or build new stations.
In Raleigh, the city needed an additional pumper for a new engine company in 1943. The solution? They purchased a 1919 American LaFrance "triple combination" from the town of Farmville. Similar restrictions on building materials delayed the building of a new Raleigh Station 1 for over a decade.
Photo credit: News & Observer. Pictured far left is Lt. Kenlon H. Brockwell, son of Sherwood and Post Fire Marshal at Fort Bragg. Right is Captain J. M. Munday, Drill Master of the Charlotte Fire Department.
About The Photo
From the December 11, 1941, issue of the New & Observer:
"Brockwell demonstrated the content of an incendiary bomb and explained the equipment needed and the procedure for extinguishing it. From a chart, he explained the appearance and effect of armor piercing, demolition, fragmentation, aerial mine, light and scatter aerial bombs. [He] also explained the action of white phosphorous and thermite, the formerly highly adaptable to sabotage, and offered ways of counteracting their flames." He explained thermite is used against oil deposits, and urged special precautions in such places as Wilmington.
More Information
Read the Handbook for Auxiliary Firemen at legeros.com/history/library/civil-defense.
See these related blog postings:
See also Names of Raleigh Auxiliary Firemen, 1944 (PDF)