On Thursday night, December 5, 2019, nineteen new firefighters will join the ranks of the Raleigh Fire Department. Recruit Academy 44 will graduate in a ceremony at 7:00 p.m. at the Raleigh Convention Center, in Exhibit Hall C.
The new firefighters have completed a 32-week fire academy that included over 1000 hours of classroom, practical, and physical fitness training. Each has been certified by the State of North Carolina as a Firefighter Level II, Emergency Medical Technician, and Hazardous Materials Responder I. Most of their instruction was conducted at the Keeter Training Center in downtown Raleigh.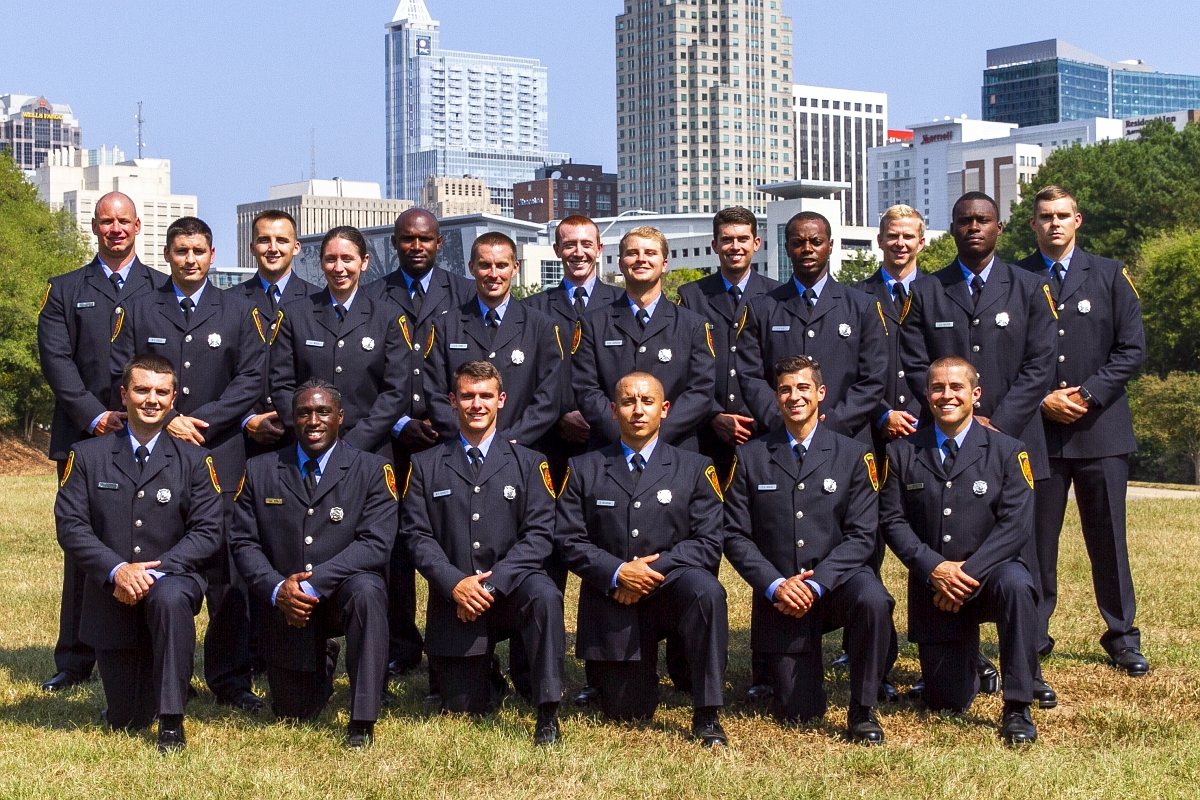 Mike Legeros photo
Names and Faces
Back row, left to right:
DeSilver J. Nickerson – Apex
Ryan D. McLaurin – Fayetteville
William D. Catlett – Raleigh
Cullen V. Brown – Selma
Devin C. Woodall – Raleigh
Samuel B. Bailey – Clayton
Austin D. Wilder – Raleigh
Middle row, left to right:
Benjamin J. Cross – Olympia, WA
Janet L. Miguel – Hillsborough
Hunter S. Toms – Raleigh
Darryl W. Johnson – Angier
Jermey R. Lee – Richmond
Joseph A. Hunter – Raleigh
Front row, left to right:
Cole T. Stricker – Clayton
London S. Spain – Boston, MA
Michael H. Bennett – Princeton
Salim Bounemia – Chicago, IL
Timothy A. Bolos – Denver, CO
Dakota M. Rager – Cary
Family Connections
Johnson – Son of [Division] Chief Rob Johnson (ret.)
Stricker – Son of Lt. Mike Stricker
Toms – Son of Division Chief Ian Toms
Woodall – Son of Asst. Chief L. Bryant Woodall (ret.)
Raleigh Fire Department Explorer Post
Other Fire Department Connections
Bennett – Princeton FD
Brown – Antioch FD
McLaurin – Swift Creek FD
Miguel – New Hope FD (Orange County)
Spain – Sherborn (MA) FD
Historical Perspective
See all academy class photos, from 1978 to present.