This posting is infrequently updated. Last update: June 8, 2018
Here's a history of rescue and EMS services in Durham County and Durham city. This originated as a blog posting in 2014, and has been expanded here. Reader inputs are encouraged! Click to enlarge: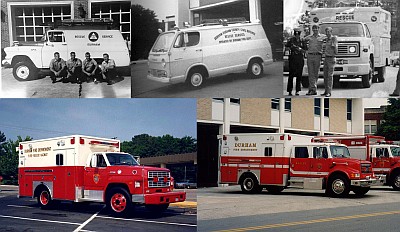 Early History
Ambulance services in Durham and Durham County included private providers (including Beacon Ambulance Service, based in Raleigh), funeral homes (such as Amey's Funeral Home and Florist, Burthey Funeral Service, Clements Funeral Service, etc.), and even hospitals. Watts Hospital had at least one ambulance as shown in this image circa 1940. Same is courtesy the North Carolina Collection at Durham County Library. See more information: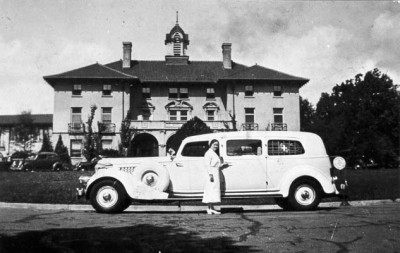 1960-1969
1960 – Durham FD receives a 1957 GMC rescue truck provided by Durham County Civil Defense. It's housed at Station 2, and manned by firefighters who were trained by the Red Cross in first aid.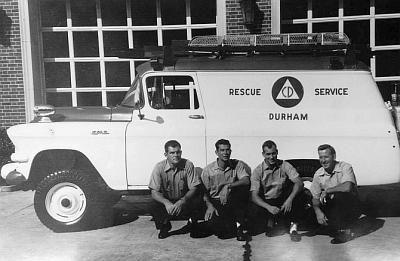 1963 – Durham FD takes over operation of county rescue truck in August 1963. Previously operated by volunteers. 
1964 – Durham FD opens new Station 1. The rescue truck is moved to Station 1. There were no assigned paid positions, so one firefighter from each of the engines was assigned to ride Rescue 1, when it's needed.
1964, after – Rescue 1 replaced with late 1960s GMC van.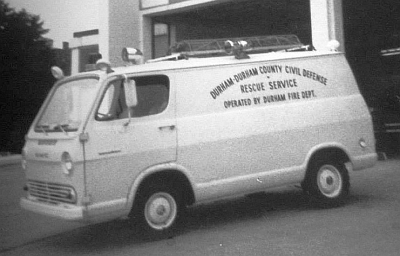 1969 – North Carolina EMS System starts. The first EMT class in Durham was taught to Durham FD Rescue personnel at Durham Technical College. The eighty-one hour EMT course created the Fire Driver/Rescue Specialist position on Rescue 1. All emergencies in Durham and Durham County were answered by Rescue 1. This numbered twenty to thirty calls per day. 
Also that year, Parkwood FD members begin first-aid training, after a member's son died after being struck by a garbage truck.
1970-1979
1970s – Durham FD replaces their rescue truck with a 1970s GMC ambulance/rescue.
1972, March – Parkwood FD places into service a donated 1964 Ford Econline van as an ambulance/rescue vehicle. Was donated by GTE, which also painted the former telephone vehicle white for the fire department. Firefighters built cabinets and equipped the van. Four years later (?) it was retired and donated to the Atlantic Beach Fire Department. Click to enlarge: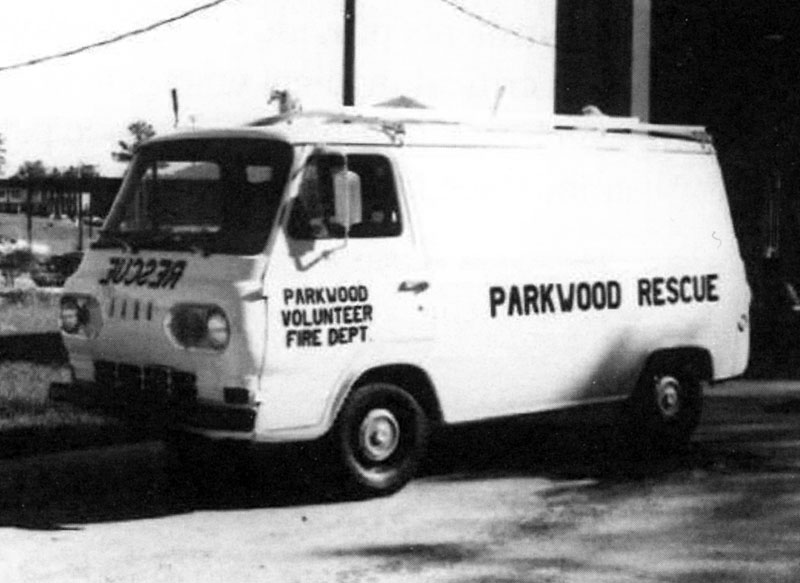 1973 – Durham FD receives new $12,000 rescue truck, with a Murphy body on a one-ton [Chevy?] truck chassis. Includes patient compartment, for "transported of accident victims if necessary." Also equipped with an electric winch, a generator, "more lights," and "more storage space for first aid equipment." Source: Hose & Nozzle, July-August 1973. 
1974, January – Parkwood FD purchases a 1967 Cadillac Ambulance from Newton Square, PA, to replace the van. The Cadillac served until 1978, when it was replaced by a 1978 Ford van ambulance (Rescue 10/Medic 2)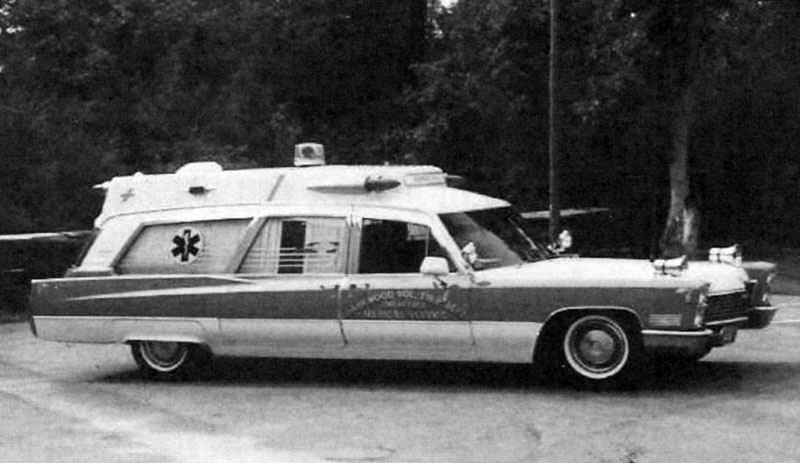 1974, fall – Parkwood FD has eight firemen complete state EMT course.
1975 – Durham FD becomes a Public Safety Department. Fire stations typically have one person to drive the apparatus. Rescue 11 is one exception with a full crew. The unit had been renamed from Rescue 1, with the introduction of county EMS units. Here's one of their units from the 1970s or 1980s: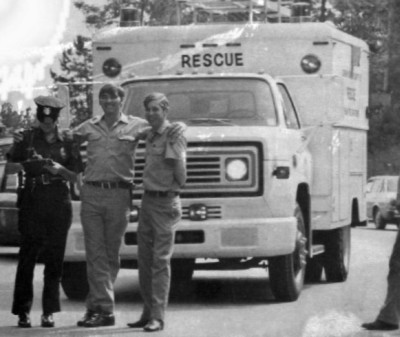 1975 – Durham County EMS formed. In April 1975, county commissioners grant management privileges to newly formed Durham County Hospital Corporation. Initial fleet consists of four BLS units and crews, and operated from the old Lincoln Community Health Center and old Watts Hospital. Average call volume is 750-900 per month. Units are named Rescue 1, Rescue 2, etc. They have two-person crews.
1976 – By end of year, DCEMS began ALS training program at EMT-I level.
1976 – Parkwood FD receives a new modular ambulance (Rescue 9), ordered through Governor's Highway Safety Program with matching funds. Placed in service October 1976. Truck was chosen to accompany President Ford, during his visit to the North Carolina State Fair that month.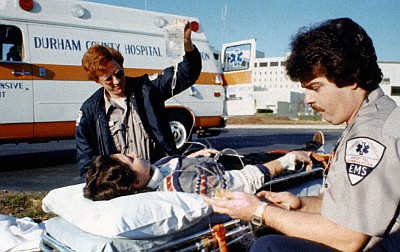 1975-76 – Rescue 11 personnel trained to EMT-I level.
1978 – By end of year, DCEMS had implemented county's first paramedic level response system. One unit operates as EMT-P, and four as EMT-I.
1980-1989
1980s – Rescue 11 at Station 1 receives a new 1980s Ford [F Series Medium-Duty?] chassis, for the Murphy ambulance/rescue body. [Source: Photo showing same, circa 1986.]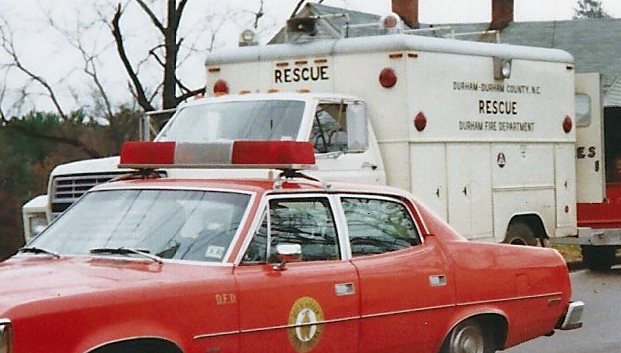 David Raynor photo
1980s – Rescue 11 at Station 1 receives a Frontline ambulance/rescue body, mounted on existing 1980s Ford [F Series Medium-Duty?] chassis.
1980s, mid – Durham County EMS system expands to include county volunteer fire departments and Durham FD (Rescue 11 only?). County fire departments provide the ambulance, station, and driver, and DCEMS provided a medic and ALS equipment. Participating departments include Bethesda, Parkwood, and Redwood.
1983 – Lebanon FD begins First Responder program.
1984 – Bethesda FD begins operating as an ambulance provider. Durham County provides a 1978 Ford ambulance, for the department to operate. They started planning for the program in September 1983. The Durham County General Hospital Ambulance Division began training Bethesda firefighters to be EMTs. They began responding to rescue calls in their fire district in March 1984. They were franchised as an ambulance provider in November 1984.
1985 – Bahama FD begins First Responder program.
1985 – Durham FD discontinues Public Safety Department program. Fire and police departments are separated.
1986 – Rescue 11 repainted white over red by this time. [DFDH]
1989 or 1990 – Durham FD removes Rescue 11 from service, after vehicle accident. [ Need citation. This may be false information.] When R11 or later R1 were OOS due to accidents, a van or reserve pumper was used in their place. Or an old Battalion Chief Chevy Blazer [DFDH].
Around this time, R11 was moved to Station 3 for a period of time, to house all haz-mat team members together. It was moved back to Station 1 due to the long runs to structure fires. [DFDH]
Here's an earlier photo of the unit. Click to enlarge:
1990 – 1999
1991 – Rescue 11 body remounted onto new, four-door International chassis by Excellence Ambulance. Unit is equipped for patient transport, and is used when all the EMS units were unavailable.
It was remounted as the cab and chassis needed to be replaced, and not because the truck was involved in an accident. See earlier and perhaps erroneous citation. [DFDH]
1991 – Lebanon FD added full-service EMS operations.
1992 – Durham FD starts First Responder program.
1994 – Duke University Rescue Squad placed in service in spring, providing stand-by coverage at basketball games. By 1995, expands to responding to emergency calls.
1995, December – Durham FD activates Tactical Rescue Team at Station 5. They utilize a 1978 Ford C/1994 M&W box truck created from a former Ford C8000 pumper. Unit was later moved to Station 9 for six months, before relocated to Station 7 for years.
1996 – Durham FD starts squad program, with Squad 1 activated as cross-staffed unit with two people from Ladder 1.  First vehicle was a Chevy Blazer, former Battalion Chief's vehicle. Second vehicle was an old city Ford F-150 pick-up truck.
1997 – Durham FD Squad 7 activated, briefly. Personnel transferred to newly activated Engine 14 at Station 7.
1998 – Durham County assumes supervision of Durham County EMS, from Durham Regional Hospital.
1998 – Rescue 11 renamed Rescue 1. [DFDH]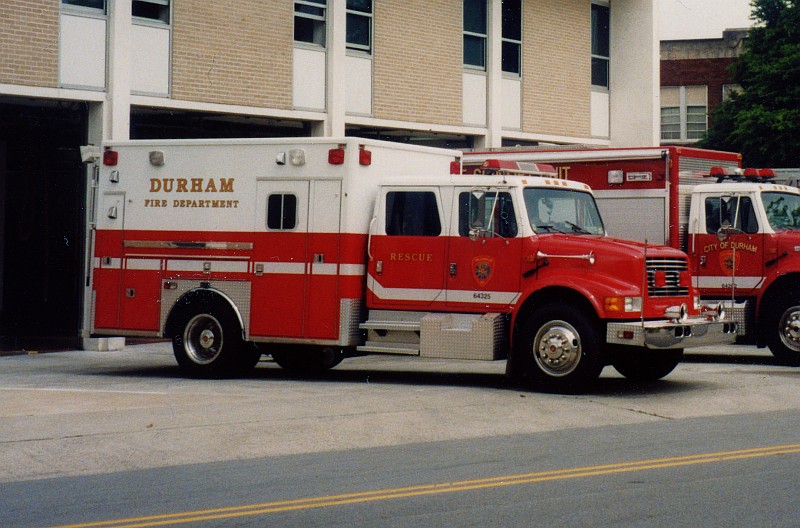 Mike Legeros photo
2000-2009
2000, May – Durham FD rescue changes:
Durham FD Rescue 1 removed from service, May 22, 2000.
Squad 1 gets dedicated staffing. They operate the old Rescue 1, a 1991 International with an older remounted Frontline ambulance body. Unit is re-lettered with "Squad 1".
Squad 2 activated. They operate a former EMS unit.
Squad 4 activated. They operate a former EMS unit.
All three squads can transport patients if necessary.
Extrication equipment added to all ladder trucks, from Rescue 1 and with newly purchased additional tools.
2000, July 1 – Durham FD adds EMT-Intermediate level of service to the firefighters assigned to Squad 1, Squad 2, and Squad 4.
2000, July – Durham EMS ends convalescent transport service. They handle 300 to 400 transports a month, mostly from local nursing homes.
2000, Summer – Durham EMS overhauls system, including adding paramedics to volunteer fire stations at night. Only Parkwood currently has them. Also adding a seventh ambulance in fall, planned for Durham FD Station 5. The EMS service answers an average of 2,000 calls each month.
2003 – Duke University Rescue Squad renamed Duke University EMS.
2003 or abouts – Durham FD squads receive new vehicles, 2003 Chevrolet 2500 light trucks with utility bodies. They replace the old Rescue 1 used by Squad 1, and the two former EMS units used by Squad 2 and Squad 4.
2007 – NC USAR Task Force 8 activated, with Durham FD as one of four member fire departments. 2007 Ford F-550 Super Duty swift-water rescue unit received. Equipped with walk-in utility body [built by who?].
2009 – Swift-water rescue truck delivered, 2009 Ford F-550 with walk-in utility body [built by who?]. Designated Rescue 15 and staffed by Engine 15.
2010-present
2011 – Durham FD updates all three squads with 2011 Ford F-250 Super Duty light trucks, with utility bodies [built by ?] remounted from the old trucks, and updated with new paint, graphics, and lights.
2012 – Durham FD rescue changes:
Squad 2 moved to Station 7.
Tactical Rescue Team moved from Engine 7 to Ladder 2.
2012 – Bahama FD (Dec. 31), Bethesda FD (Jun. 31), and Redwood FD (Jun. 31) cease EMS service. Durham County EMS takes over the response to their districts.
2013 – Parkwood Fire Department ceases EMS service. Durham County EMS takes over the response, with a transition over about six months.
2013, July 1 – Durham County Fire-Rescue begins operations. They assume the operations of Bethesda FD, including their facilities, apparatus, equipment, and personnel.
2015, July 1 – Parkwood FD ceases operations. Durham County Fire-Rescue takes over their operations and assets.
2018, July 1 – Durham County Fire-Rescue is consolidated with Durham FD. County apparatus includes a former Parkwood heavy rescue and a former Bethesda heavy rescue. Neither truck was staffed as a county rescue company, nor did they routinely respond to incidents.
2018, July 1 – Durham FD reassigns the former county rescue trucks as Rescue 1 (unstaffed) at Station 1, and as a haz-mat support unit at Station 16.
Sources
http://duems.groups.duke.edu/
http://www.lebanonvfd.org 
http://www.pvfd.com/wordpress/about-pvfd/history/
Durham Fire Department history book, 1995.
Durham Fire Department historian Sean Boone [DFDH]
Durham Herald-Sun, July 9, 2000, "County overhauls its EMS system"
Oral histories