October 2020
Read complete research document of transcribed minutes at www.legeros.com/history/library/minutes/
November 2019
Found in my files, excerpts from transcribed minutes of the Apex Volunteer Fire Department Inc., from 1956 to 1979.
Below are some highlights that caught my eye. See related historical photos in this album from the Raleigh Fire Museum: www.flickr.com/photos/raleighfiremuseum/albums/72157687765234902
Note, will be tweaking as any typos are found, or additional annotations needed.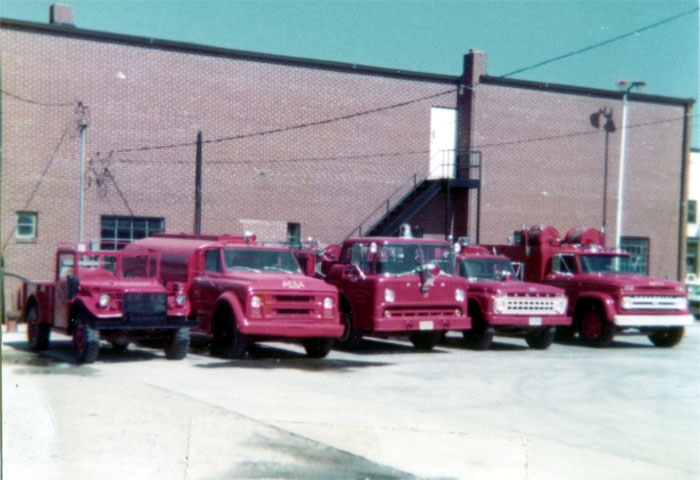 1956 to 1959
1956, Dec 3 – Civil defense report delivered. "Report was made on a civil defense tower. [Colonel] Hardeson was seen about a ground observer corp. Home Demonstration club offered their services to furnish observers to help man the post. The town will cooperate with us on the project."
[ Legeros: A civilian defense observation tower was installed atop the fire station in 1957, with volunteers participating in the national Ground Observer Corps. Blog post about the tower and the corps: www.legeros.com/blog/cold-war-history-ground-observer-corps ]
1956, Dec 10 – Drivers required to fill gas tanks and check oil after every trip.
1957, Jan 7 – Red lights purchased for all personal vehicles for $6.02 each.
1957, Feb 18 – "Two-way radios will be available in the near future. We can get them for $50. Cost to change their frequency would be about $50.00."
1957, Apr 1 – Received surplus truck from county at cost of $25.00.
1957, May 6 – Department will receive twenty-five "World War I helmets." Also, "The fire district will be three miles out on each from the fire house, in order to get better insurance rating."
1957, Jun 3 – "Fire Chief's car was brought over to the fire house by James Mason from Clark Chevrolet Company. Several of the firemen made a trial run on it." Members approve purchase for $275.00.
1957, Jun 24 – Special Meeting – "The Fire Dept. Treasury is about to be depleted, so to keep from going broke, C. S. Schaub donated the sum of $0.01 to the department."
1957, Oct 7 – County-wide meeting held at Raleigh Fire Station 1. Each fire department in county is supposed to "make a survey and inspection of every house in the Fire District as to defective wiring, etc."
1957, Nov 4 – Voted to make Ladies Night an annual affair.
1957, Dec 2 – Report on the county-wide radio project. Will cost $8,000 for the entire project, with each unit in the county costing about $600."
1958, Jan 6 – Voted to investigate buying property on which the fire station is located, and also 50 feet to the north of the station.
1958, Feb 3 – Report on radio system. Will have one base station and three mobile units.
1958, Mar 3 – Barbecue to be held on March 29, charging $1.25 a plate.
1958, Apr 7 – Motion to have letter sent to each county fire department, suggesting a motion at the next Wake County Firemen's Association meeting, that they appoint a committee to appear before the County Commissioners and request a $50 increase per month for fire department expenses.
1958, May 5 – Voted to purchase Scott air packs. Also, County Commissioners "want a report on what we are doing with [the] money [that] we get from them."
1958, Jul 7 – Voted to "start cranking trucks weekly."
1958, Sep 8 – Report on project on expand fire district to four miles, for insurance purposes.
1958, Sep 24 – Discuss by-law changes, which include changes in terms for officers and board members, that the Fire Chief and Assistant Chief oversee the department as a whole, but "mainly firefighting," and the President and Vice President "oversee business aspects."
1959, Jan 5 – Voted to purchase pumper for $150.
1959, Jan 5 – Voted to raise fee for answer calls out of city for non-membership paying citizens, from $25 to $50.
1959, Mar 2 – Voted that the membership fee is $10.
1959, Apr 6 – Voted to purchase current building site, plus additional 28-feet on north end from the railroad for $3,000.
1959, Oct 5 – Voted to start awarding a Fireman of the Year on Ladies Night.
1959, Dec 7 – Propose cost for two-bay building addition, north side of station: $4,500. Proposed cost for adding unfinished second story: $10,000.
1960 to 1964
1960, Apr 4 – Voted to house town fire truck for minimum annual fee of $500. Town Board agreed to pay $600 per year.
1961, Aug 7 – Upon recommendation of state insurance commissioner, voted to split department into city and rural departments. With two separate alarm systems, increased membership to 37 members, one Fire Chief and two Assistant Chiefs, split the membership between the two, and create a "traffic division."
1961, Nov 6 – Voted to send first representations to "ambulance training" on November 9.
1961, Nov 6 – Members volunteered to attend "radiation detection training."
1962, Apr 2 – Fire department received radiation detection equipment to be kept at station.
1962, Jun 4 – Mobile radios placed in service, procedures created to communicate unit status updates.
1962, Jul 16 – Voted on "best bid" for new fire truck, American LaFrance.
1962, Dec 3 – Auxiliary police appointed.
1963, Feb 3 – New fire truck delivered. Cost $10,000, borrowed.
1963, Mar 25 – Voted to sell old fire truck for $3,500 or not less than $3,000.
1963, Apr 1 – Bill Stephenson from Cary FD "promoted importance of first aid training" and encouraged all members to participate.
1963, Jun 3 – Pembroke FD expressed interest in purchasing Chevrolet fire truck.
1964, Jan 6 – Members encouraged to get tetanus shots.
1964, Mar 2 – Discussion about disputed district between Hipex [Apex rural district] and Yrac [Cary rural district].
1964, Jul 6 – Appeals board established new boundaries between Hipex and Yrac.
1964, Aug 3 – Voted to purchase Ford F-500 truck, 160HP, for $2,600.
1965 to 1969
1965, Jan 4 – Estimated cost of new fire truck including "foam unit" and equipment: $7,000.
1965, Apr 5 – Recommendation to pay a few members to perform maintenance on equipment.
1965, May 3- Decided not to pay members for equipment maintenance to avoid tax issues.
1965, Nov 1 – Discussed removing observation tower on top of fire station, leaving stairs and doors in place.
1965, May 2- Voted to purchase truck chassis from either Sir Walter Chevrolet ($8012.61) or Berringer Chevrolet ($8107.95)
1966, Jul 11 – Reported Town would begin contributing additional $600 per year toward departmental operations at start of next year.
1966, Oct 3 – Discussed "dwindling profits" for Fireman's Day.
1966, Oct24 – Voted to accept truck from Berringer Chevrolet, get estimates on "building tank" for the truck.
1967, Jan 9 – Voted to have Alexander Welding building tank and install 350 GPM pump and plumbing, $2900.
1967, Feb 6 – Truck Committee reported that it will cost $3667.17 to equip the new fire truck, not including [radio?] base and red lights.
1967, May 1 – New fire truck will be dedicated and placed in service at a supper on May 15.
1967, May 5 – Executive Board meeting – Report on a meeting with the state insurance commissioner. For several years, the town Mayor(s) had been sent letters "as to the condition of the town fire truck" and required equipment for it. "Nothing had been done." If not for the "outstanding job the volunteers were doing," the insurance rates in town would've gone up. He recommends that the town hire one full-time firemen, but acknowledged that the volunteers have enough men during the day to provide sufficient coverage.
1967, May 15 – Town board expressed interest in the town possibly buying a new [town] fire truck, requesting that the department's members work with them to create specifications.
1967, Jul 3 – Committee of volunteers selected to assist town with purchase of new [town] fire truck. Town has also requested the assistance of Sherman Pickard [who was working with NCDOI at the time, I believe].
1967, Oct 16 – Voted to accept used truck valued at $500, as donation from Carolina Builders.
1968, Mar 4 – Voted to have "Junior Hicks build kitchen cabinet" for $40.
1968, Jun 3 – Selected members were asked to meet with town commissioners about "riot control". [ Legeros: This was during the years of civil unrest in many cities and towns. ]
1968, Jul 1 – Chief Connie Clayton [visiting] suggested that department members be alerted for calls by telephone instead of siren, so the public isn't alarmed. Also, that firemen not use red lights, do not park personal vehicles in the street, do not answer fire calls without police protection, and stay in contact with someone at city hall by radio. [ Legeros: These sound like recommendations for operating during periods of civil disturbance.]
1968, Aug 8 – Vote to add second floor to fire station, get bids. Also, voted to rent a post office box.
1969, Jul 7 – Presented, adopted list of suggestions on procedures "in case of riot."
1969, Jul 22 – Voted to "sell barbecue tickets to colored people."
1969, Nov 10 – Voted to use hardwood flooring in second story.
1970 to 1974
1970, Mar 2 – Voted to approve contract from town, for fire department to man the town's fire truck.
1970, Dec 7 – Voted to purchase land behind station from town, also to purchase 60-inch stove for upstairs, also to construct two bathrooms upstairs.
1971, Jan 4 – Discussion about forming a rescue squad with assistance offered by Apex Funeral Directors and $125 per month from county.
1971, Mar 1 – Land behind fire station purchased at public auction for $800.
1971, Mar 1 – Voted to purchase sink for upstairs.
1971, May 3 – J. Dewey Powell donated $400 to start a rescue squad.
1971, Jul 5 – Voted to start charging to deliver water, $15 per load for business, $10 for residential.
1971, Aug 2 – Voted to send flowers to immediate family in event of death. Voted to send flowers to firemen injured in line of duty, and card in case of sickness.
1972, Jun 5 – Fire escape was ordered. [ Legeros: What was this? Manufactured external staircase for building? ]
1972, Dec 4 – Voted to have a Christmas Party.
1973, Aug 13 – Executive Committee Meeting – Recommended renovations to fire station, including new A/C unit, water and sewer line, 550 gallon oil tank, and additional 20 or 25-foot concrete section in rear of building.
1973, Aug 27 – Motion to cancel Fireman's Day due to rising cost. Defeated, but members vote to postpone event.
1973, Aug 27 – Voted to pave back lot.
1973, Dec 3 – Suggestion that rescue squad accompany fire department on all house fires.
1974, Apr 1 – Voted to purchase new tank for tanker, cost $3884, plus $37.50 for installation, plus $100 for "piping and hose reels."
1974, May 6 – Recommendation from county fire chief's meeting to use ten codes on mobile radios to "reduce air traffic."
1974, Jun 17 – Special Meeting – Voted to sell tank from tanker to Holly Springs for $75.
[ Legeros: Action for newly created Holly Springs Rural FD. ]
1974, Nov 5 – Town suggested changing radio system to Central Communications Center in Raleigh. Defeated by member vote.
1975 to 1979
1975, Apr 4 – Motion defeated to install electric doors "in front of the three rural trucks."
1975, Apr 4 – Tank truck has been donated to the department by L. G. Jordan Oil Company.
1976, Sep 8 – Voted to purchase brush truck from state surplus.
1976, Jul 12 – Voted to change from coveralls to uniforms, $18 vs. $30 each, cost split between department and member.
1977, Jan 3 – Discussed expansion of fire department, agreed to stay within city limits, discussed locations for second station. Steering committee formed for research. Also voted to buy land beside fire station for building expansion.
1977, Feb 7 – Voted on station expansion project, keep single station, expand existing building, have contractors do exterior work, members do interior work.
1977, Feb 7 – Four line officer positions created, Captain and Lieutenant for Town, Captain and Lieutenant for Rural.
1977, Jul 11 – Suggestion to put first aid equipment on trucks for helping burn victims.
1977, Sep 5 – Final bid for station expansion is $30,000. Will finance with CCB.
1977, Nov 28 – Voted to "run a turkey shoot."
1978, Mar 6 – Amendments to by-laws approved, split Secretary/Treasurer into two positions.
1978, Apr 3 – Discussion on Jimmy Ragan's condition following apparatus accident on April 1.
[ Legeros: On that date, at a fire on/near old Highway 1, Engine 3 was  returning to town for more water when a woman, alarmed by the smoke, pulled her car into the oncoming lane. The apparatus driver swerved and the 1963 Ford/American LaFrance struck her car and flipped.  The firefighter was ejected and nearly killed. ]
1978, Apr 10 – Special meeting – Voted to purchase Bean fire truck with equipment for $52,000, with a $10,000 down payment on a 12% simple interest loan over six years.
1978, May 1 – Voted to present letter to town, requesting annual funding be increase from $5,000 to $12,000. Also, voted to send letter to all area residents, requesting financial support.
1978, Aug 28 – Received $16,000 from insurance agency for wrecked fire truck.
1979, Nov 5 – Voted to sell wrecked American LaFrance and two "woods trucks" for $1,500.
1980, Feb 25 – Voted to purchase pagers for members who wanted them.