This is a blog version of a Facebook posting from October 2020.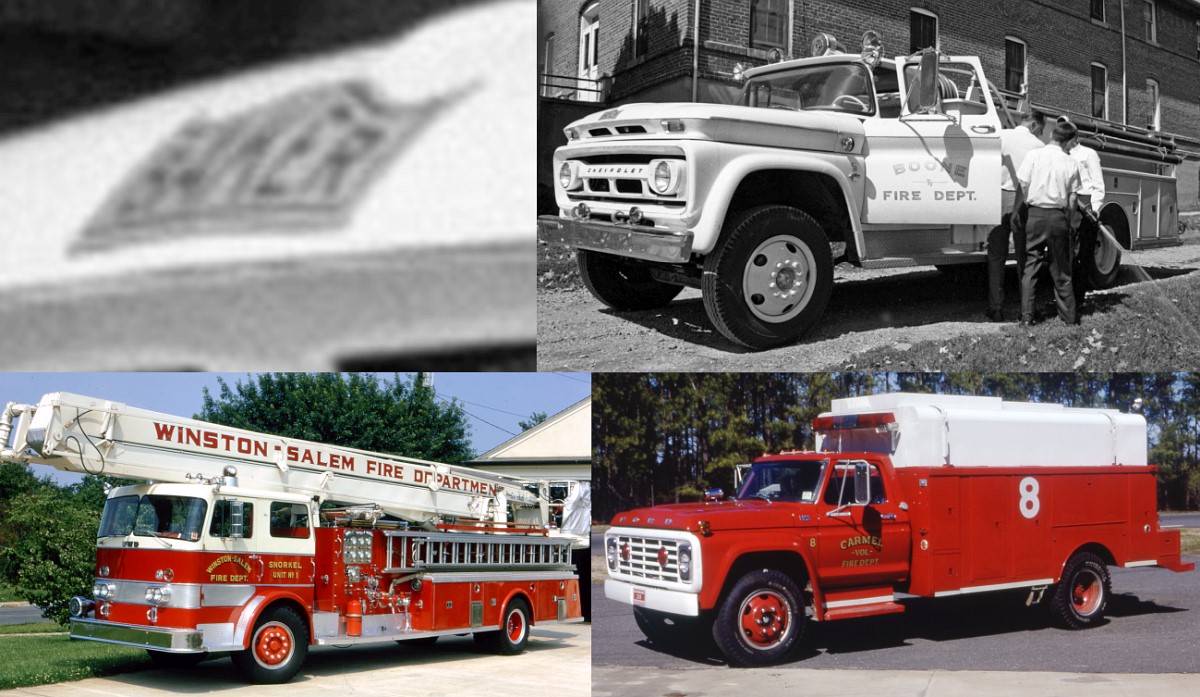 Left to right, top to bottom: Boone (two photos), Winston-Salem (Micah Bodford Collection), Carmel (Micah Bodford Collection).
What's the history of Baker Manufacturing of Charlotte and the fire apparatus they built? They were the Charlotte branch of the Richmond company that later built the famed Aerialscopes.   
Apparatus delivered in North Carolina included:
Bannertown (Surry) – 1963 Ford F-750/Baker 750/750 
Boone – 1963 [?] Ford/Baker pumper
Carmel (Mecklenburg) – 1973 Ford/Baker utility unit
Flowes Store (Cabarrus) – 1959 Dodge D-600/1962 Baker 500/500
Healing Springs (Davidson) – 1978 Chevy/Baker brush
Matthews (Mecklenburg) – 1954 Studebaker/1964 Banker tanker, 500/1000, 6×6
Mountain Park (Surry) – 1961 GMC/Baker tanker
Northeast Cabarrus (Cabarrus) – 1958 Ford F-600/19?? Baker 500/500
South Toe (Yancey) – 1981 Dodge/Baker brush
Stacy (Carteret) – 1963 Ford F-600/Baker 750/750
Thomasville – Chevy/Baker utility body with 35-foot boom, for fire alarm system maintenance. Later disposed to city recreation department, used to change light bulbs at city ballfields and stadiums. 
Winston-Salem – 1964 FWD/Baker/Snorkel aerial platform, 1000/?/75-foot
Other rigs were built for departments in Georgia and South Carolina. 


Left to right, top to bottom: Drayton, SC (Dave Organ photo), Bannertown (Dave Organ photo), Stacy (Stacy Howell photo), Elberton, GA (Dave Organ photo), Flowes Store (Joe Roberts photo), Northeast Cabarrus (Joe Roberts photo).
The company was established in 1919. The Charlotte branch office was established in 1936. The Baker Equipment Engineering Company office in Charlotte was profiled in the Charlotte Observer on May 21, 1939, having moved into a new building at 308 W. Morehead Street. 
Before building their famed aerial platforms, Baker built utility truck bodies for power company use in Charlotte. From 1962 to 1966, the Charlotte branch also built fire truck bodies, and at times mounted on older chassis. In 1966, the operation was relocated to Richmond, to concentrate on building the tower ladders.
In 2001, Seagrave acquired the Aerialscope brand from Baker.