On December 21, the Durham Highway Fire Department changed the unit numbers of their apparatus. They're now using a numbering scheme that's based on their Wake County fire station numbers: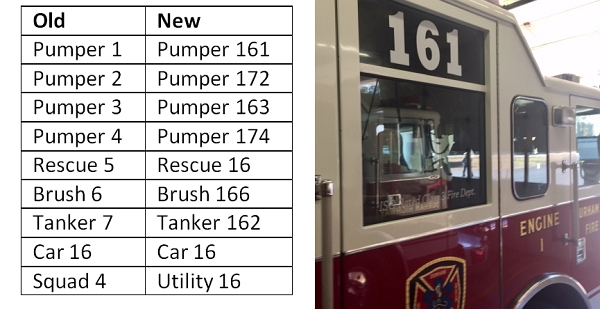 Durham Highway joins the following other Wake County fire departments, that also use that numbering scheme:
Bay Leaf – 12/120s, 25/250s, 36/360s
Hopkins – 22/220s
Knightdale – 13/130s
Rolesville – 15/150s
Stony Hill – 26/260s, 39/390s
Wendell – 11/110s
Western Wake – 19/190s, 29/290s
Zebulon – 9/90s
See this Carolinas Fire Page page, for a list of all Wake County fire station numbers. And here's a Legeros Fire Blog Archives posting from 2008, where unit numbers were discussed, in the context of Wake Forest changing same. Was a topic frequently infrequently discussed on the old blog.
The numbering system originated in 1971, as a creation of the Wake County Fireman's Association. Here's a draft document from that period. Click to enlarge: