August 2020
The officers of the first-arriving engine and ladder companies have shared their personal stories of that night, as a peer support resource. The recording was produced by the Greensboro Fire Department History Book Committe, and is linked from their web site at http://gfhbc.org/
May 2018
This blog posting was originally posted on Legeros Fire Line on Facebook. This version includes added news links.
Five children died after an apartment fire in Greensboro on Saturday morning, May 12. The two-alarm fire was reported just before 4:00 a.m. at 3100 Summit Avenue. That's a two-story brick apartment building, 13,835 square-feet. Fourteen units. Built 1962.
A father and five children were in apartment G at the time of fire. (The mother was at work.) The children's ages ranged from 18 months to six years old. Firefighters rescued all six from the structure. They were treated on scene and then transported to Moses Cone Hospital. Two of the children died on Saturday.
The three surviving children were taken to Brenner Children's Hospital in Winston-Salem, where they died on Sunday.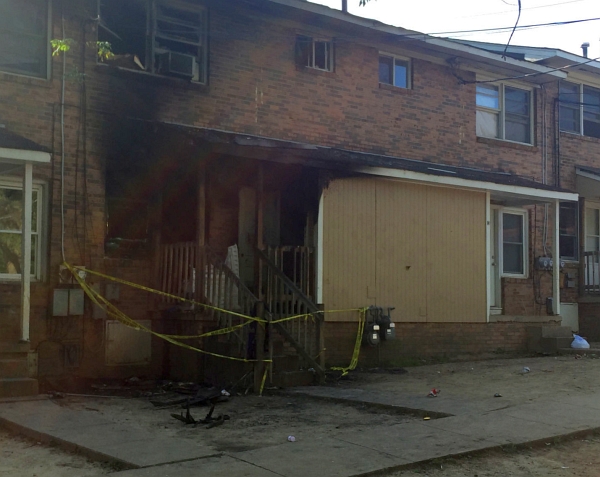 News & Record photo
Rescued Within 15 Minutes
Noted a press release, the fire department was dispatched at about 3:54 a.m. Reported apartment fire. Arriving units found heavy smoke and flames coming from the front of the structure. The five children and their father were removed from the structure in less than 15 minutes after the first-arriving unit.
The fire was controlled at 4:24 a.m., though a second alarm was struck. Presuming for manpower. No additional details (yet). First due was Engine 14 and Ladder 14. 
There will be a long tail to this tragedy, from the grief of the family and their refugee community, to the stress suffered by the responders, and to—again, always again—the renewed focus on fire safety. On working smoke alarms. On preventable deaths. And language and cultural challenges. 
Press Conference
The Greensboro Fire Department held a press conference on Monday afternoon. You can watch the entire thing on this WFMY page.  It's about thirty minutes long. Crank the volume, however, as the microphone levels are low.
The apartment did not have working smoke alarms, notes Fire Marshal Tim Henshaw. And he and the department are challenging folks to check their own detectors… and share the results. Take a selfie, take a video. And tag with the hashtag #HearTheAlarm. Spread word and spread the safety.
Saturday's fire was the deadliest in Greensboro history, and the worst since 2002, when four people were killed after an intentionally set apartment fire near the UNC-Greensboro campus. That fire was started as a prank.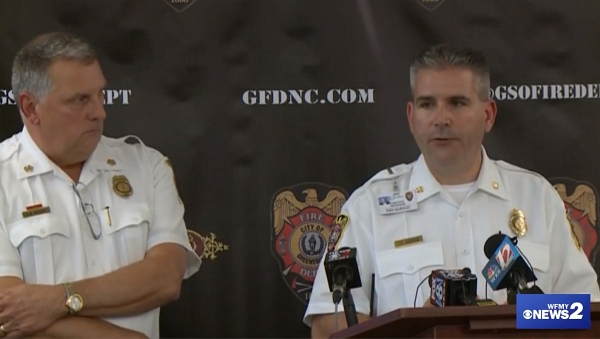 Media Coverage
Google for others.
Historical Perspectives
Sadly, such multi-fatalities fires involving children have happened before, both in decades past and more recently. Here's my data on the state's deadliest fires, though it hasn't been updated in a few years: 
2003, Jul 9 – Onslow County – Mobile home. Six children killed, ages 2 mo. to 15
2000, Nov 11 – Rocky Mount – House fire. Seven killed including six children, ages 4 mo. to 14.
1989, Nov 18 – Maxton – Mobile home. Nine killed including eight children, ages 2 to 12.
1985, Jan 22 – Henderson – House fire Seven killed, ages 3 to 17.
1968, Jan 14 – Zebulon – Senior citizen and five children.
1964, Dec 19? – Kinston – House fire. Five children killed.
And others.