Two alarms were struck in Durham just before midnight on Tuesday, August 11, 2020.
Dispatched 11:50 p.m. for 512 Gordon Street. Three-story condo building, under construction. Behind the old the police station. Engine 1 advised smoke column while en route, requesting the box be filled. Second alarm requested by Engine 1 officer on arrival, with center section of building fully-involved.
Listen to the radio traffic:
Narrative
Engine 1 caught their own hydrant at the site, and started flowing their deck gun, along with 200-feet of 2 1/2-inch hose. Ladder 2 was flowing within minutes of arriving after Engine 1, supplied from a hydrant at Duke and Jackson.
Ladder 3 caught a hydrant at Duke and Yancey, and set up on the "A" side of the structure, which command labeled as the "C" side. Both Ladder 2 and Ladder 3 flowed.
Ladder 6 initially was directed to the A/D corner, but due to the distance from the street, was unable to reach the structure. It was redirected behind E1 and L2 as a back up. 
Ladder 12 set-up on the BC corner. Unsure if they also had a hydrant supply. They were used for elevated monitoring of conditions. Ladder 17 was staged.
Watch drone footage by Nathan Lawrence:
Collapse conditions were observed pretty quickly into the incident. Crews kept a safe distance. Sounds like the bulk of the fire was controlled within 30 minutes of the incident.
With extended overhaul, as crews checked the remainder of the building–as safely as possible–for hot spots. Plus extinguishing the debris pile.
Some 75 firefighters on scene, with twenty-three fire companies. And with just a handful of engine companies plus one quint still in service in the city. 
Investigators (DFD, DPD, DCFM, NC-OSFM, ATF) worked the scene well into midday, when Legeros arrived for lunch-time shots. 
See aftermath photos by Legeros.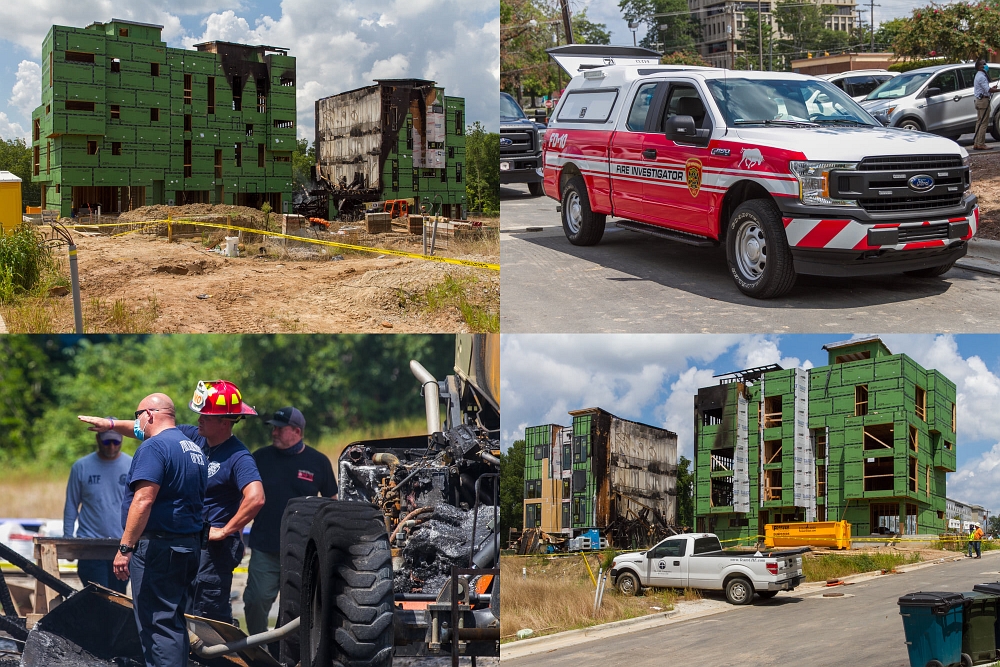 Mike Legeros photos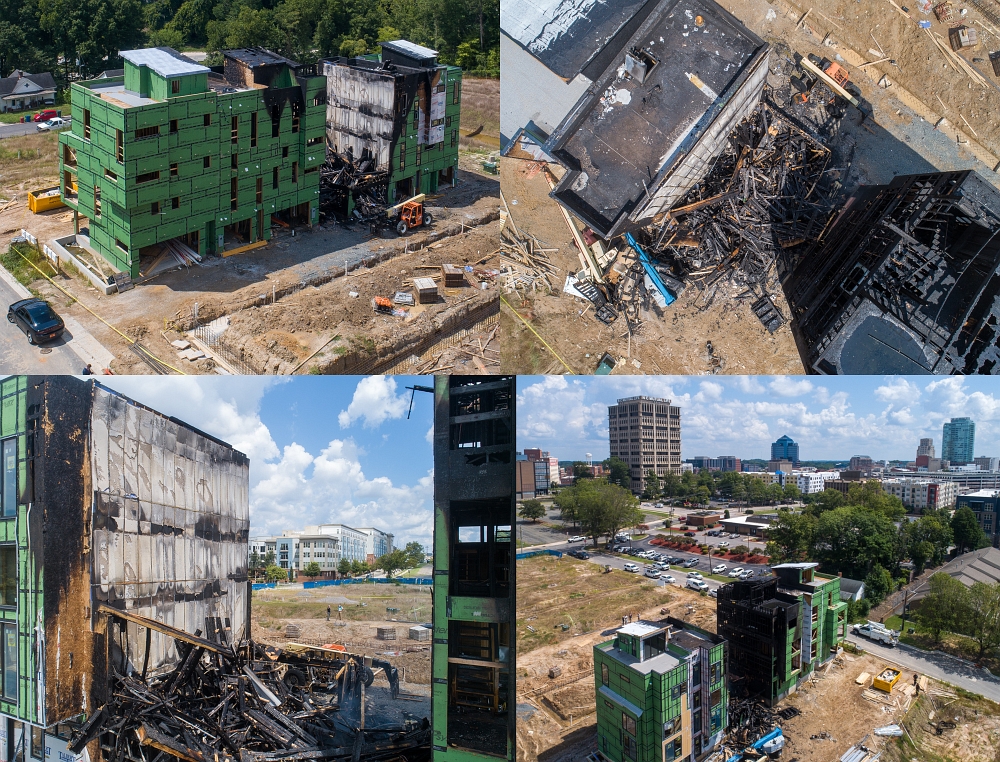 Mike Legeros photos
Run Card
Fire units on scene:
E1, E2, E3, E4, E5, E6, E8, E9, E10, E12, E13, E14, E17
L2, L3, L6, L12, L17
Q7, Q11
R1
Sq1, Sq4
B1, B2, B4
MS1
Safety 1
FD8, FD10, FD20, FD32, FD39
Alarm times:
Dispatched 11:50 p.m.
E1, E2, E3, E4, L2, L3, R1, Sq1, B1, B4.
Box filled for working fire at 11:52 p.m.
E5, E9, E10, E13, L6, Q7, MS1, Safety 1, FD8, FD20
Second alarm dispatched 11:53 p.m.
E6, E8, E14, E17, L12, L17, Q11