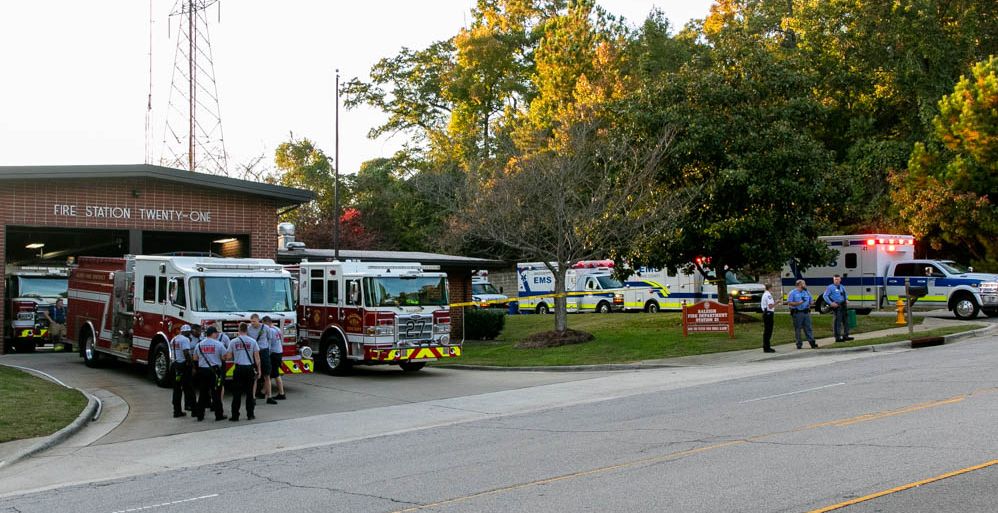 Posting last updated November 8, 2022, at 7:05 a.m.
See more Legeros photos | Read Raleigh Police five-day report (PDF)  | Read historical perspective on mass shootings in Raleigh
Here are notes about the fire and EMS response to the active shooter incident in Raleigh on October 13, 2022. Five people were shot and killed, including an off-duty Raleigh police officer. Two others were injured, including a second Raleigh police officer. The gunman was also injured. 
The incident was initiated at approximately 5:09 p.m., with a call for service reporting multiple shots fired in the vicinity of the golf course in the Hedingham neighborhood in east Raleigh. At or about 5:12 p.m., the first calls were received reporting the discovery of two shooting victims in the 5300 block of Sahalee Way. They were subsequently identified as Marcille Gardner and Nicole Conners. Shortly after those calls, another shooting victim was discovered in the 6000 block of Osprey Cove Drive. He was subsequently identified as off-duty Raleigh Police Officer Gabriel Torres. Subsequent 911 callers reported finding victims on Sahalee Way near Castle Pines Drive, and along the Neuse River Greenway Trail just east of the residential area. They were later identified as Mary Marshall and Susan Karnatz. 
First-arriving units were initially directed to stage at Raleigh Fire Station 21, which became the dedicated staging area and fire/EMS command post. Some units were later deployed as EMS task forces, to other staging locations, including the intersection of Old Milburnie Road and New Bern Avenue. Law enforcement command was located outside the Aldi grocery store at the northeast corner of New Bern Avenue and North Rogers Lane, and officers also staged at locations including near Beaverdam Elementary School near Old Milburnie Road.
Responding fire and EMS agencies included Raleigh FD, Knightdale FD, Wake New Hope FD, Wake County EMS. Responding law enforcement agencies included Raleigh PD, Wake County SO, State Highway Patrol. Other agencies on scene include Wake County EM.
The incident spanned many square miles of residential and rural areas, including the Neuse Greenway Trail. Numerous road closures were enacted, including a section of Interstate 540. 
In addition to the aforementioned victims, a 16 year-old male victim was discovered deceased inside a residence in the 2200 block of Castle Pines Drive, a couple hours into the incident. Also, Raleigh Police Officer Casey Clark suffered a gunshot wound, while officers were attempting to search two outbuildings near McConnell Oliver Drive.
Will be updated in the future, as additional information is released. 
Sources include: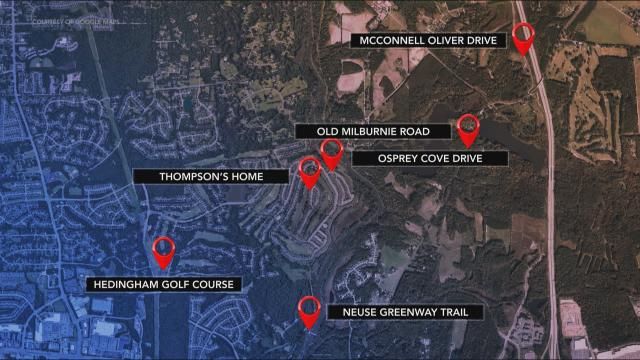 WRAL graphic
Narrative Details
Last updated November 8, 2022.
Here's a timeline of events and with emphasis on fire and EMS activities. Will be updated as further information is released.
5:09, approx – Call for service received reporting multiple shots fired in vicinity of the golf course in the Hedingham neighborhood. As RFD officers were being dispatched, additional calls began to be received about the discovery of shooting victims in the area. [RPD FDR]
5:12 – First two 911 calls received, reporting two victims on Sahalee Way. One of the caller identifies one of the victims as off-duty police officer Gabriel Torres. Officer Torres was found at his personal vehicle in his driveway, having been about to leave for work. He later died at the hospital. [RPD FDR]
5:12, approx – Caller to RWECC reports hearing shots, and shortly thereafter observes two people lying on the ground and porch in the 5300 block of Sahalee Way. Marcille Gardner was subsequently found lying in the driveway of his residence. Nicole Connors was subsequently found on the porch of the same property. Both were transported with critical injuries, and Ms. Conners died at the hospital. [RPD FDR]
5:13 – First RPD unit dispatched.
5:13 – RFD E21, M93, D9, EMS71, EMS61 dispatched to shooting at 6036 Osprey Cove Drive. [RT]
5:14 – RFD E27, M92, D6, EMS64, EMS78 added. [RT]
5:15 – RFD B2 added. [RT]
5:15 – KFD E132, EMS31 added. [RT]
5:15 – Dispatcher tells EMS and fire units to stage at Station 21. [RT]
5:16 – Dispatcher tells EMS and fire units that there are two to three shooting victims, maybe more. [RT]
5:16 – Dispatcher tells EMS and fire units that it's an active shooter incident, including possible officer shot, off-duty. [RT]
5:17 – Incoming KFD E132, B1, and EMS 68 instructed to stage at New Bern Avenue and Old Milburnie Road. They [and others?] are held at Old Milburnie Road, in case of additional calls on the east side of the Neuse River. Remainder of fire and EMS units are directed to Station 21. [RT]
5:19, approx – First RFD officers being arriving in Hedingham neighborhood. [RPD FDR]
5:19, approx – EMS/fire units receive first notification from police proceed into the scene. [RT]
5:19 – D6 assigned Hotel channel, to update WakeMed and other area hospitals on incoming patients. [RT]
5:20 – NHFD C20, EMS68 added. [RT]
5:20 – First RPD officer arrives on Osprey Cove Drive.
5:21 – D1 added. [RT]
5:21 – First 911 call from Neuse River Greenway. Cyclist finds female victim. Minutes later, spots second female victim, nearby. 
5:21, approx – Caller to RWECC discovers two more victims with gun shot wounds at separate locations along the greenway. Both Mary Marshall and Susan Karnatz were deceased at the scene. [RPD FDR]
5:22 – Dispatcher instructs fire and EMS units to proceed into scene [on Osprey Cove Drive]. [RT]
5:22, correct? – Fire and EMS reach victim on Osprey Cove Drive.
5:23 – Dispatcher tells fire and EMS that there are still two people down on Sahalee Way.
5:24 – RFD Battalion 2 reports finding two patients down at 5355 Sahalee Way. [RT]
5:28 – MD3 added. [RT]
5:33 – EMS units start responding to reported victims on greenway. Additional EMS resources added to the incident. [RT]
5:33 – EMS41, EMS64 added. [RT]
5:33 – EMS62, EMS72 added. [RT]
5:34 – NCSHP helicopter in the air searching for suspect.
5:35 – RPD officers on ATVs, searching area near Buffaloe Road Athletic Park.
5:38 – RPD K9 joins search, to track suspect along Neuse River Greenway.
5:40 – KFD ATV1 added. [RT]
5:40 – RFD Mini 28 and ATV28 added. [RT]
5:41 – M93 reports arriving at the first of two deceased victims on the greenway. [RT]
5:44 – All fire units instructed to report to Station 21 and remain there. [RT]
5:53 – Station 21 designated as unified command post, for fire and EMS operations. [RT]
5:57 – RFD E15 to Sta 27 [RT]
5:57 – RFD E6 to Sta 21 [RT]
5:58 – RFD E4 to Sta 28 [RT]
5:58 – D1 takes staging and accountability at Station 1. [RT]
6:05 – Tac 24 radio channel designated for fire and EMS staging. [RT]
6:12 – Suspect spotted running into woods near Tarheel Club Road.
6:40 – Dispatcher requests RFD DC1 to contact Sta 27, and see if the roadway to the park behind the station can be blocked, to prevent people from entering the area. [RT]
6:42, approx – Officers located the suspect in an area with two outbuildings, barn-type structures, near McConnell Oliver Drive. As officers were searching the area, the suspect fire multiple shots at the officers from one of the building, striking RPD officer Casey Clark at approximately 6:44 p.m. Officers deployed cover fire allowing Officer Clark to be pulled to safety, firing approximately 23 rounds. Following the exchange of gunfight, officers established a perimeter to keep the suspect contained in the outbuilding, due to concerns about the types of weapons he possessed including multiple firearms, and possible hand grenades as reported in a 911 call. [RPD FDR]
6:44 – Shots fired, officer down. Reports of multiple gunshots in the area of Abington Lane, on the opposite side of the Neuse River from Tarheel Club Road.  
6:47 – KFD Car 2, L13 added. [RT]
6:51 – Fire/EMS units instructed that NCSHP will have the injured officer in their car at the corner of Old Milburnie and McConnell Oliver. [RT]
6:54 – By this time, injured officer is being transported by NCSHP to WakeMed, and passes the fire and EMS units that were responding to the injured officer. [RT]
6:54 – By this time, Greenway Task Force / Task Force 1 is staging at Car Cosmotology at New Bern Avenue and Old Milburnie Road. [RT]
7:06 – By this time, New Hope Task Force / Task Force 2 is staging at Buffalo Road and Pine. [RT]
7:16 – Fire and EMS units informed that Interstate 540 is being shut down in both directions, from Louisburg Road to Knightdale Boulevard. [RT]
7:17 – Officers locate suspect.
7:19 – Suspect cornered in barn on McConnell Olive Drive. 
7:38 – Fifth victim found in home on Sahalee Way [by 911 caller?]
7:41 – Fire/EMS units notified of another victim at 5300 Sahalee Way. Believed to be deceased. [RT]
7:47 – EMS en route to 5300 Sahalee Way instructed to stand by and do not enter, until scene is evaluated by additional officers. [RT]
7:50 – EMS confirms victim deceased on scene, juvenile male. [RT]
8:00 – EMS 61 requests second unit at 5300 Sahalee Way, to transport the mother of the deceased. [RT]
8:00 [?] – New dispatcher takes over. [RT]
8:36 – By this time, food has been brought to Station 21. [RT]
9:29 – EMS requested by law officers to stage near the two outbuildings, where the suspect is contained. [RT]
9:34, approx – Officers with the Selective Enforcement Unit (SEU) advanced toward the outbuilding. The suspect was located inside, lying on the ground and appearing to be suffering from a single gunshot wound.  [RPD FDR]
9:36, approx – Suspect secured in handcuffs and subsequently treated by EMS personnel, and transported to hospital. [RPD FDR]
9:56 – Demobilization underway at Station 21. Greenway task force still deployed with officers at the site of the suspect apprehension, until they finish searching the belongings of the suspect. [RT]
11:09 – Command is terminated. [RT]
Abbreviations:
RT – Radio traffic
RPD FDR – Raleigh Police Five Day Report
Run Card
Raleigh
Engine 21
Engine 27
Engine 6
Bat 2
Bat 4
Division Chief 1
Mini 28
ATV 28
Chaplain
Operations Chief
Logistics Chief
Safety Chief
Knightdale
Engine 132
Ladder 13
Bat 1
ATV 1
New Hope
Engine 281
Brush 28
ATV 31
Car 20
Car 1
Wake County EMS
EMS 31
EMS 41
EMS 61
EMS 62
EMS 64
EMS 68
EMS 71
EMS 72
EMS 78
Medic 92
Medic 93
District 1
District 6
District 9
Medical Director 3
Chief 202
Chief 201
Chief 102
Chief 100