Updates: See later posting about site – See site photos from February – Video clip added:
Apologies for belated posting!
Fire destroyed a portion of a historic mill building in Hillsborough on Friday evening. Orange Rural Fire Department, which protects the town, was dispatched along with mutual aid at 4:54 p.m. Location of 202 S. Nash Street, the former Bellevue Manufacturing Company textile mill. Arriving units found the northernmost section of four buildings showing heavy fire through the roof. Aerial streams, deck guns, portable monitors, and hand lines were deployed.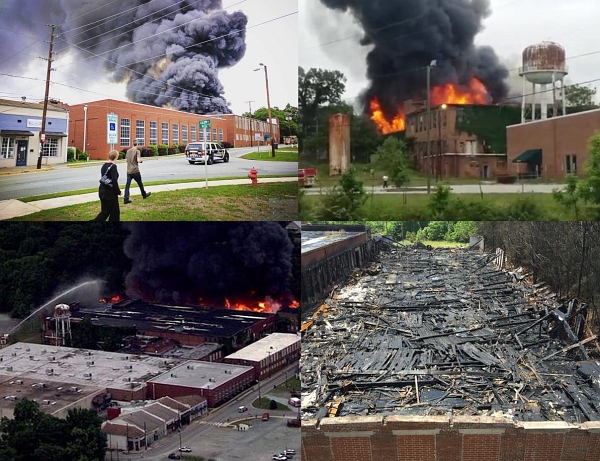 Top to bottom, left to right: FireNews.net photo (x2), WTVD photo, Town of Hillsborough photo
ORFD Ladder 1 (which is town-owned and thus lettered Hillsborough Fire Department) was deployed on Nash Street, and then relocated to a rear parking lot. Mebane Platform 38 was backed against the Nash Side of the building adjoining the burn building. (Was told it's the first fire for the recently delivered KME mid-mount platform.) There was also a Chapel Hill ladder on scene, but it wasn't deployed. A company of firefighters (Tower 73) responded with a reserve quint, a 2001 HME rear-mount short stick.
Portable monitors were deployed on the north side of the building, from an elevated ground position at roof-level, and from the west side of the structure, on the northwest corner. Exposure protection was also paramount, due to occupied commercial structures on the south end of the block (past the mill buildings) and residential structures (and a historic mill house) directly to the north. The inward collapse of the fire building's roof aided this effort. The roof collapsed at about 5:25 p.m.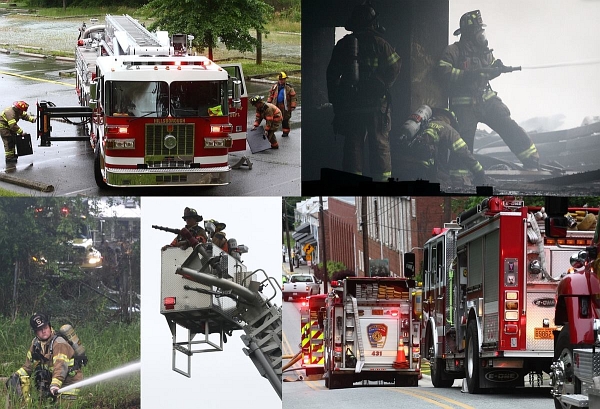 Mike Legeros photos
Crews also attacked the blaze from inside the adjoining structure, a three-story section of the mill building. Both it and the burn building were unoccupied. The mill buildings were last occupied by a fabric company, which closed its operations there in September 2000. The buildings were planned for development into apartments. The mill is both a local and national historic landmark. Its buildings date from turn of the 20th Century and the early 1920s.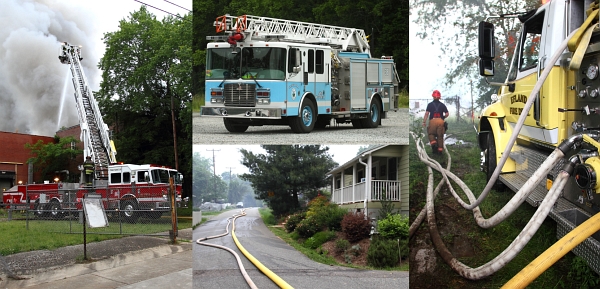 Mike Legeros photos
The destroyed structure was a 30,000 square-wood weaving room addition that was erected in 1920. Here's a page of history [link expired: http://freepages.history.rootsweb.ancestry.com/~orangecountync/places/cotton_mills/bvue.html] about the mill, and includes this diagram showing the sections of the building and their ages: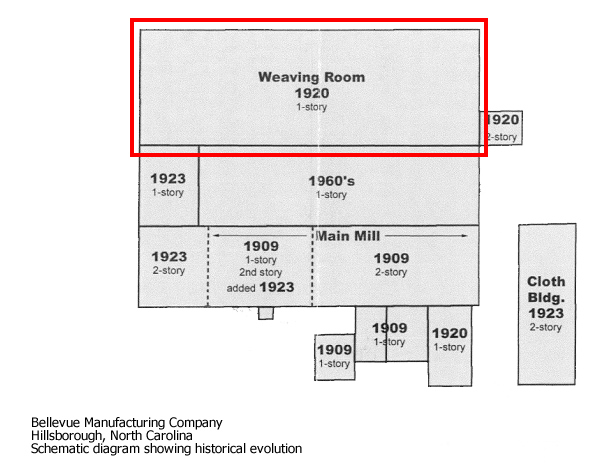 Eight fire departments were on scene: ORFD, Efland, Eno, New Hope, Orange Grove, Cedar Grove, Mebane, and Chapel Hill. How many firefighters? Good question! As many as a half-dozen hydrants were utilized, and included a special call to the town water plant, to boost pressure as needed. The fire was contained at 7:20 p.m. on Friday evening. All companies but a single ORFD crew were released about 10:30 p.m.
Crews continued working on Saturday, extinguishing hot spots and a large flare-up. The latter included a collapse of the building's north wall against an embankment. Firefighters were working nearby, on a nearby hill. They were a safe distance from the structure, and weren't affected. See the town's press releases for ongoing details.
Readers can add additional information.
Run Card
Orange Rural – E231, E232, E233, L271, Squad 261, Tanker 241
Efland E132, E133, Tanker 143
Eno E331, Tanker 341
New Hope E431, Squad 461
Second alarm:
Orange Grove E533, Tanker 541
Cedar Grove Tanker 642, Tanker 643
Mebane Platform 38
Chapel Hill Reserve Ladder 73
Move ups:
White Cross to Orange Rural
Haw River to Efland
Prospect Hill to Cedar Grove
Durham County E85 to New Hope
EMS:
Medic 6, Medic 5
EMS 10
South Orange Rescue for rehab
Move ups:
Person County Medic 2 to Orange EMS, staged at US 70 and NC 86.
Stories and Pictures
FireNews.net [link expired]
News & Observer