Yours Truly was profiled in Sunday's News & Observer, as a Tar Heel of the Week in a story by Marti Maguire. Excellent piece about my passion for the fire service, the may hats that I wear, and the path that led me to this hysterical, historical place. 
Read the article[*], which is reprinted below.
[*] Link now broken, http://www.newsobserver.com/news/local/counties/wake-county/article140771208.html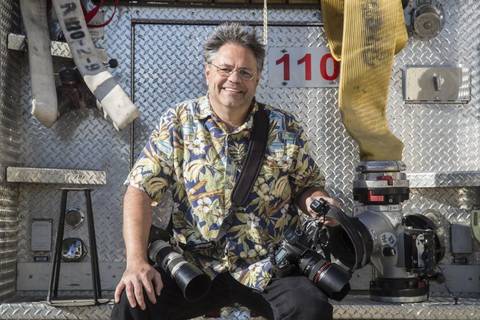 News & Observer photo
By Marti Maguire
CORRESPONDENT
MARCH 25, 2017 02:09 PM, UPDATED MARCH 28, 2017 10:22 AM
RALEIGH
Mike Legeros has been chasing fires nearly as long as he could walk. According to family lore, he once ran out to chase a fire engine on foot as a preschooler. Later, he would sit in the windowsill outside the fire department, waiting to take off on his bike behind the engines should the alarms sound.
He became a firefighter briefly, but has since settled into an unusual role as the keeper of Raleigh's fire history and a photographer who chronicles the work of local firefighters.
Legeros has written and collected historical photos for two books on Wake County firefighters, and is the president of the Raleigh Fire Museum, a collection of photos and memorabilia tracking the history of fighting fires in the city and beyond.
It's a niche that has gotten some extra attention in the days following what is likely the largest fire in downtown Raleigh in nearly a century, which Legeros photographed and has been following closely on his blog.
His role within the Raleigh Fire Department is unpaid but highly valued. Division Chief Ronny Mizell says Legeros has made "priceless" contributions to the department – everything from taking pictures at retirement parties to teaching new recruits about department history to in-depth research projects. 
For example, Mizell says, Legeros researched the history of the department's hiring practices, including female and minority firefighters, and recently sent out a detailed timeline of how the various Wake County fire and EMS departments developed.
"He is a history buff and he loves taking photographs but it's not just that," says Mizell. "It's all the information and the history and how he puts it together. It's not just a history of fire engines. It's about understanding the past and having information that helps everyone move forward."
FROM AVOCATION TO VOCATION
Legeros grew up in Minnesota. If he wasn't following fire trucks, he would often watch reruns of the show "Emergency!" He kept a running record of the calls made in each episode.
"There's an excitement to fire and emergencies that has always fascinated me," he says. "It's a moment that's very raw, and then the response is so heroic."
He moved to North Carolina as a teenager, graduating from high school in Morehead City and moving to Raleigh to attend N.C. State University.
He planned to be a high school math teacher. But he also worked at the college radio station, and after college got a job as a traffic reporter for a local radio station – a profession that relied on his monitoring of the police scanner.
For his next step, he decided to pursue his lifelong interest by becoming a Raleigh firefighter, which he did for about three years.
"It was a great job," he says. "But my path was somewhere else."
He worked for a while as a dispatcher at the 911 center, and then returned to NCSU to take classes in professional writing and computer science that helped him land a job at SAS. He started out as a trainer there in 1993 and now works on the company's web team.
But he never abandoned his love of firefighting.
In that late 1990s, he started a website where he posted pictures and other information. By the early 2000s, he started doing research on the history of local fire departments, much of it through visits to the state archives.
He also visited local fire departments, asking to see their old photos. With a growing collection, he pitched the idea of a photo book on fire history to a publisher, and wrote two books on the topic, published in 2003 and 2004 for Arcadia Publishing's "Images of America" series.
Finding the best photos for these books helped him build relationships with fire departments in Raleigh and other towns.
"That's the first set of bricks in this foundation," says Legeros. "I started spending more time in Raleigh, going through the old station log books, and as I'm doing this, I'm putting everything I learned on my web page."
What emerged is a chronological history of the fire department, which he has since made into a book for the department's 100th anniversary in 2012.
He also increased his work as a photographer. In recent years, he's had special credentials through the city and county that allow him greater access to fire scenes. He shares his photos with local departments, which use them for training and marketing.
In 2006, Legeros was named the official historian for the Raleigh Fire Department. He has since started producing a quarterly newsletter that documents department milestones, such as promotions and major fires.
Soon after, he and others created the historical society that eventually gave way to the museum, which opened in 2010 in a donated classroom space near the department's training facility south of downtown.
'A FUN STEW'
At the museum, a medley of fire calls plays in the background, while footage from the 1950s shows firefighters training downtown, jumping shirtless into their fire suits and hopping down poles to trucks that were then open in the back.
Open one day a month, the museum houses a variety of artifacts, including photos of major fires, old ledger books, a 140-year-old bell that once announced a fire and later resided at NCSU, and a bucket with a rounded bottom so that it wouldn't be used as a mop bucket and end up out of place when it's needed.
Displays also highlight Legeros' historical writing, including one on suburban firefighters. He's documented the local history of major trends in firefighting, from technology that moved from hand pump to steam engine to fire hydrant, as well as structural changes like the move from volunteer to professional firefighters who are also trained in emergency medial care and special skills.
I'm like a Mississippi bullfrog sitting on a block of wood, and depending on how I'm feeling, I can do some history, take some pictures, play with my blog.
He also looks into special topics. He recently wrote a moment-by-moment account of a sniper shooting at North Hills in 1972, and once helped Wake EMS research its origins back to the days when most ambulances were owned by funeral homes (they had the only cars that could carry someone laying down).
In addition to his historical work, he holds talks on topics such as as how to take incident photos and do historical research. He's helping Apex EMS scan scrapbooks from its ladies auxiliary, among other projects.
"It's a fun stew," he says. "I'm like a Mississippi bullfrog sitting on a block of wood, and depending on how I'm feeling, I can do some history, take some pictures, play with my blog."
But the recent fire at a downtown construction site has consumed his time of late. He says his pager went off around the time the fire started, and he spent about three hours there taking pictures. He's compiling a narrative of the fire this month for his blog and is posting regular updates on Twitter.
"I'm applying my historian's eye to tell the story," he says. "This was truly a historic fire and it was an amazing privilege to be part of the dedicated men and women that fought it."
Know someone who should be Tar Heel of the Week?
Mike Legeros
Born: June 1965, Minneapolis
Residence: Raleigh
Career: Senior digital marketing specialist, SAS; president Raleigh Fire Museum; fire historian and photographer
Awards: N.C. Governor's Award for Volunteer Service, 2015; Volunteer of the Year, Wake County Government, 2014; Friend of First Responder Award, Greater Raleigh Chamber of Commerce; second place for web news story, 2011 Media Awards, International Association of Fire Fighters
Education: Bachelor's in mathematics education and certificate in professional writing, N.C. State University
Family: Wife Julie
Fun fact: Legeros is well-known for his wardrobe, which consists of a seemingly endless array of Hawaiian shirts. "Life is too short to wear boring clothing," he says.
Learn more: See Legeros' photos and detailed summaries of the recent Raleigh fire and others at www.legeros.com. The Raleigh Fire Museum is open the second Saturday of every month from 10 a.m. to 2 p.m. Learn more at www.raleighfiremuseum.org.