On September 11, 1939, a major fire in Manteo saw mutual aid arrive from far and very far away. Elizabeth City sent one or more units, from 67.3 miles away as the Google flies. As did Norfolk, VA, located 90.5 miles away today. 
Reported Fire Engineering magazine in their November issue, Norfolk's new 500 Series American LaFrance pumper made the 108-mile run in two hours and sixteen minutes. (Model year 1939 it appears, from the SPAAMFAA ALF records online.)
"They made the run, had water on the fire, and had put through a long distance call to Norfolk," wrote the magazine.
The fire started at 5:40 a.m. and was extinguished exactly three hours later, recounted the News & Observer on the following day, and later reprinted in the Coastland Times on October 9, 1964. (The latter accessed via Dare County Digital Heritage Collection.)
Sixteen commercial buildings were destroyed, which were about two-thirds of the business district. (Other accounts said twenty-one buildings burned. Maybe the others were only damaged.)
Assisting the firefighters were a number of Coast Guard men, recounts Sarah Dowling in her Arcadia Publishing book "Hidden History of the Outer Banks." (Found via Google Books excerpt.)
The fire started in the storage room of the Standard Oil Company, which was located on the waterfront. Two blocks of buildings along the waterfront burned.
Its spread was fed when a truck driver, trying to move his vehicle to safety, struck one of the storage tanks. The collision loosened a connection that poured gasoline into the street, and into the path of the blaze, reported an AP story in the Burlington Daily Times-News, later that day.
They cited the cause of the $200,000 fire as reported as a short circuit in the "wharf office" of the oil company, noted Fire Engineering.
This dramatic picture, credit unknown, was posted to the  Outer Banks Vintage Scrapbook Facebook page by Chip Py, in December 2012. See original posting.
Sources: Listed above.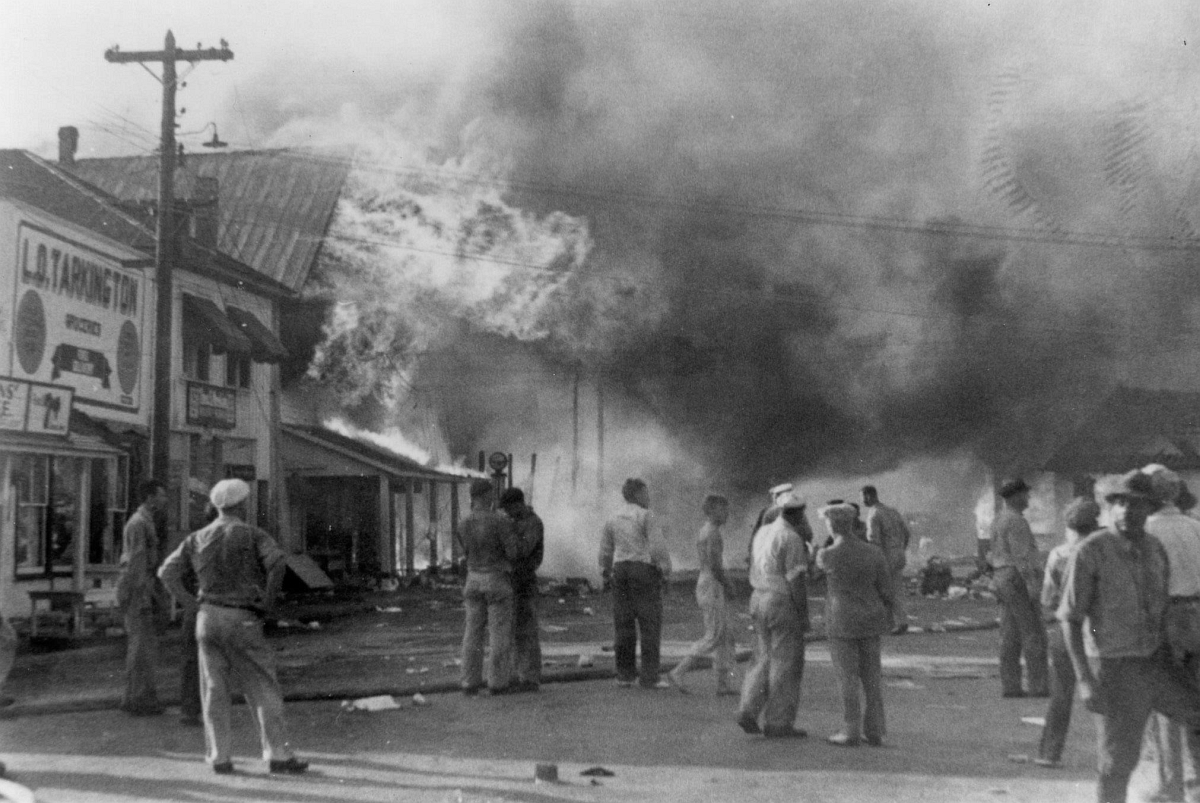 The below snapshot was posted to the Outer Banks Vintage Scrapbook Facebook page by Lou Ellen Quinn, in July 2015. See original posting.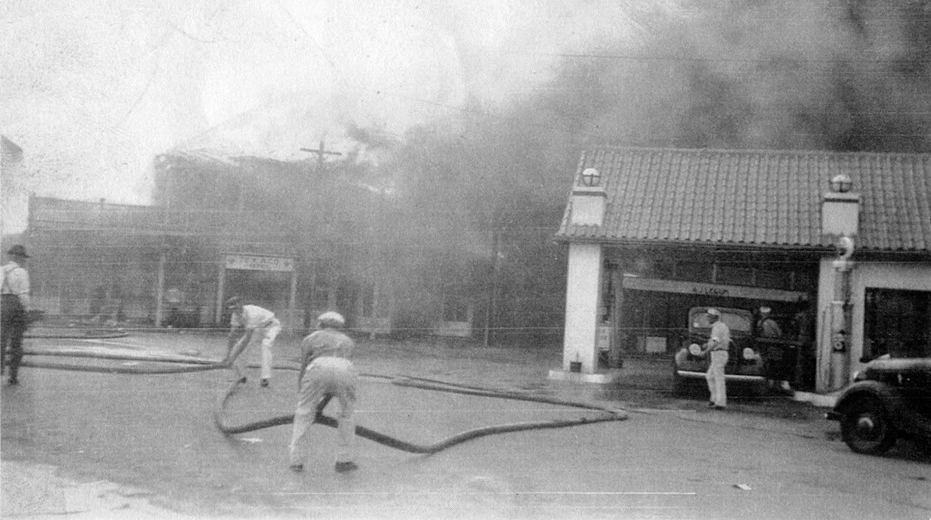 The below "aftermath" picture is from the Outer Banks History Center's Flickr Page. reference number 33GRF-82-280 – Ben Dixon MacNeill Collection.