On Wednesday night, December 5, twenty-seven new firefighters will join the ranks of the Raleigh Fire Department. Recruit Academy 43 will graduate in a ceremony at 7:00 p.m. at the Fletcher Opera Theater in the Duke Energy Center for the Performing Arts, 2 E. South Street.
The new firefighters have completed 32-weeks of classroom, practical and physical fitness training. Each of them will be certified by the State of North Carolina as a Firefighter Level II, Emergency Medical Technician, and Hazardous Materials Responder I.
See photos of the recruits in action.
Class of 2018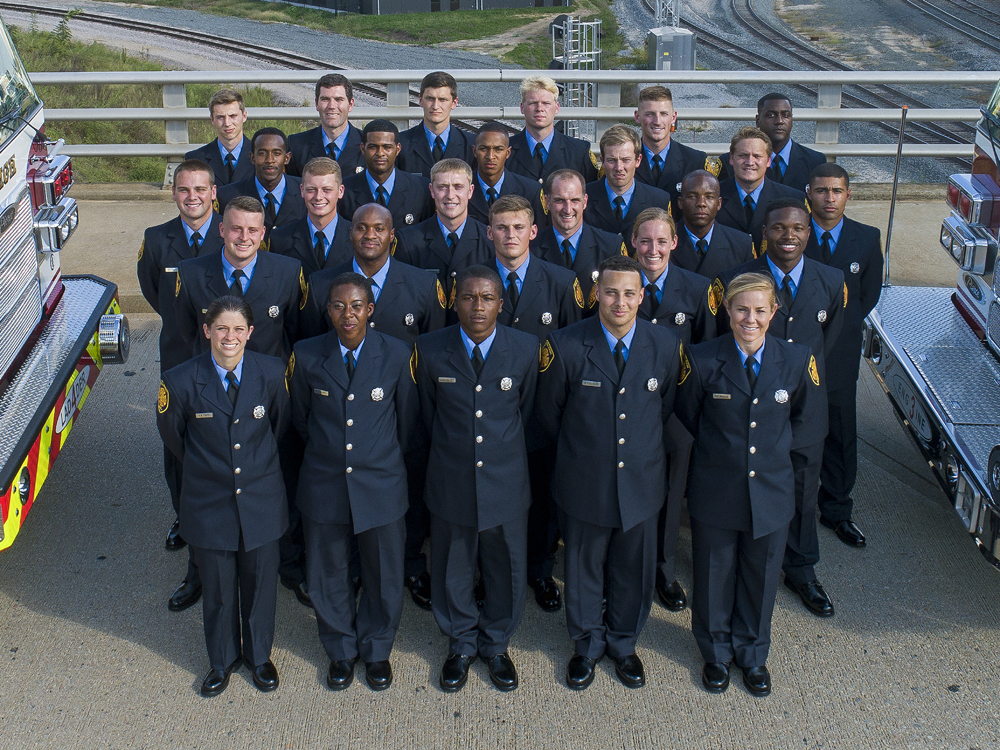 Back row:
Jordan D. Lairson – Wendell, NC
Jordan T. Lamotta – Harrisburg, PA
William M. Stanfield, II – Benson, NC
Aaron M. Hicks – Apex, NC
Matthew T. Wacenske – Raleigh, NC
Corey S. Raven – Hope Mills, NC
Fourth row:
Anthony L. White – Bennettsville, SC
Damian R. Lynch – Rocky Mount, NC
Roy C. Hicks, V – Raleigh, NC
Travis J. Jackowski – Huntington, NY
Scott M. Clark – Wake Forest, NC
Third row:
Steven L. Cantin – Wendell, NC
Cameron J. McAuliff – Middlesex, NC
Jordan B. Capps – Kenly, NC
Patrick W. O'Dell – Jermyn, PA
Donnell F. Boyles – Columbia, SC
Phillix  Sterling – Rio Piedras, Puerto Rico
Second row:
Brandon G. Strickland – Raleigh, NC
A'Dren J. Hye – Fayetteville, NC
Jakob W. Snipes – Selma, NC
Jennifer L. Mastin – Daytona Beach, Fl
Charles I. Coleman – San Bernardino, CA
Front row:
Anna M. Capps – Middlesex, NC
Yada E. Beener – New York, NY
Latrel D. Fields – Henderson, NC
Moises  Cabasquini – New Britain, CT
Misty L. Bingham – Fort Mill, SC
Class Portrait
The recruits were photographed on the Boylan Street bridge on October 4. Click to enlarge: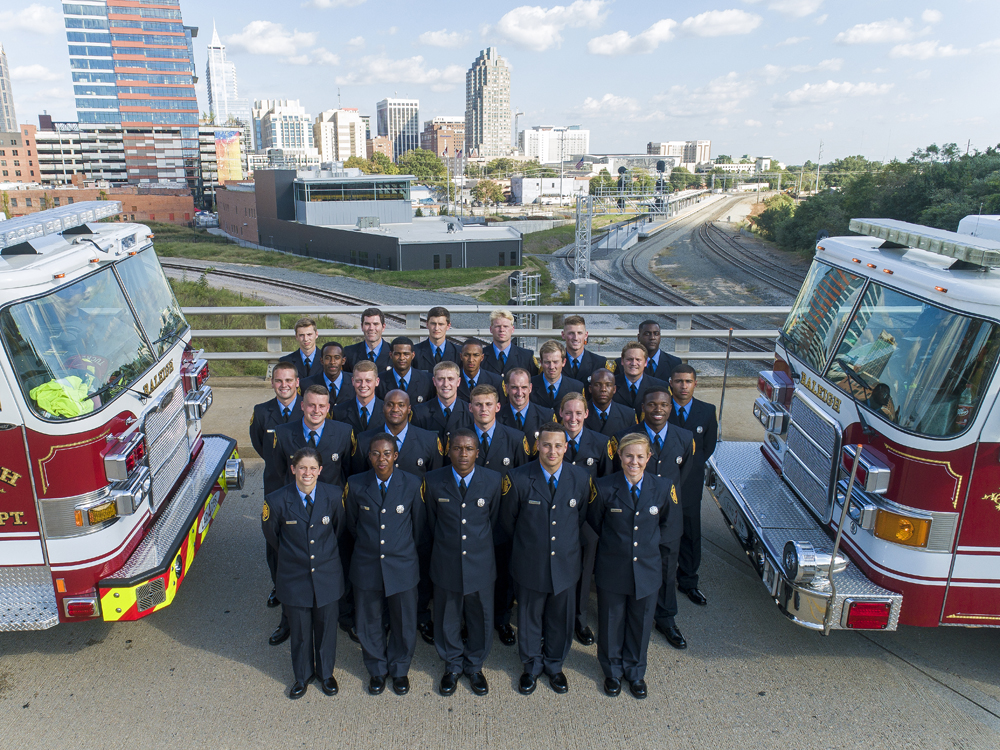 Family Connections
Cantin – Nephew of Anthony
Capps – Son of Eric
Jackowski – Nephew of Robert
Lairson – Son of K.C. Ray, Grandson of Stan, Great Grandson of Joe
Lamotta – Brother of Nick and Kelly
McAuliff – Son of Keith Wilder
Stanfield – Son of William
Other Fire Department Connections
Antioch FD – Snipes, volunteer
Benson FD – Stanfield, volunteer
Clarks Summit FD (PA) – O'Dell, volunteer
Davenport FD (FL) – Sterling, paid
Durham Highway FD – Strickland, volunteer
Kenly FD – Capps, volunteer
Knightdale FD – Bingham, volunteer
Middlesex FD – McAuliff, volunteer
Smithfield FD – Capps, paid
Spartanburg FD (SC) – Boyles, paid
Vance County FD – Fields, volunteer
Wendell FD – Sterling, paid