Here's a historical treat.
Tabular data of the state's black fire companies in 1905, in Concord, Durham, Edenton, Elizabeth City, Greenville, Henderson, Monroe, Oxford, Raleigh, Rocky Mount, Salisbury, Statesville, Tarboro, Warrenton, Washington, Wilson, and Winston-Salem.
Click to enlarge:

These pages are from digitized conference proceedings of the North Carolina State Volunteer Firemen's Association. They were the state's black firefighter association, organized in 1888 or 1889, and chartered in 1891. 
(Though one of the earliest recorded conventions of state firemen was in 1873, called for all colored firemen in state by members of fire companies in Raleigh, Fayetteville, New Bern, and Wilmington, was held in Raleigh at the Victor Fire Company hall.)
UNC-Charlotte has digitized a handful of these proceeding books, from 1905 to 1923. They're noted as loaned by the Charlotte Fire Department. 
Each book is about 45 pages long, and contains conference notes, the names of the member fire companies, rules on the conference tournaments, and more.
Hugely useful, as this historian hasn't found hardly any surviving documents about the NCSVFA.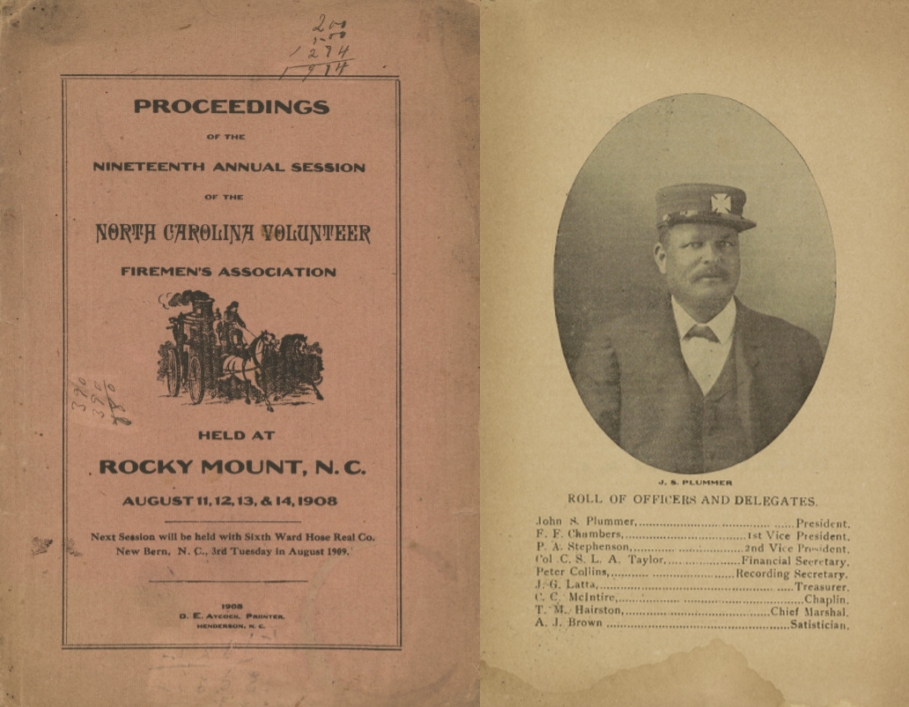 View those documents at http://digitalcollections.uncc.edu/cdm/search/collection/p16033coll1.
View the UNC-Charlotte's digital collections landing page at https://library.uncc.edu/atkins/digitalcollections 
Here's Mike's master page of information about the NCSVFA (and its then-white counterpart, the NCSFA) at https://legeros.com/history/fa/
Here's Mike's hosted history of black firefighters in North Carolina, as originally researched by the late Chuck Milligan, https://legeros.com/history/ebf