This posting is an expanded version of an article that first appeared in the fall 2018 issue of the Raleigh Fire Department Newsletter.
New Rescue, New Quarters
The City of Raleigh Fire Department recently placed a new heavy rescue in service, a 2018 Pierce Arrow XT that was custom-designed by department members. The truck was placed in service at Station 15 on October 3. Five days later, it was moved to its new home at Station 16.
The $940,000 truck took about twelve weeks to build. It started production in April, and received its final inspection the last week of July. (Before its formal delivery in September, it visited Raleigh for an appearance at the South Atlantic Fire Rescue Expo.)
It replaces a smaller 2007 Pierce Enforcer heavy rescue. Benefits of the new truck and its walk-in body style are numerous, beginning with the very design.
The five-member project committee spent 15 months designing the truck down to each individual tool tray and compartment.
"There was a lot of wasted space on the old truck," says Lt. Shawn Burns (R1-A). "Such as up high in the transverse compartments. We also couldn't mount equipment on the slide-out transverse tray."
He adds, "Most of the equipment is now mounted and has a place. Before, lots of equipment was laying on top of each other. This led to damage in transport, and increased time getting the tools off the truck and in use."
"It's also much easier to check and service equipment on a daily basis now," Burns adds.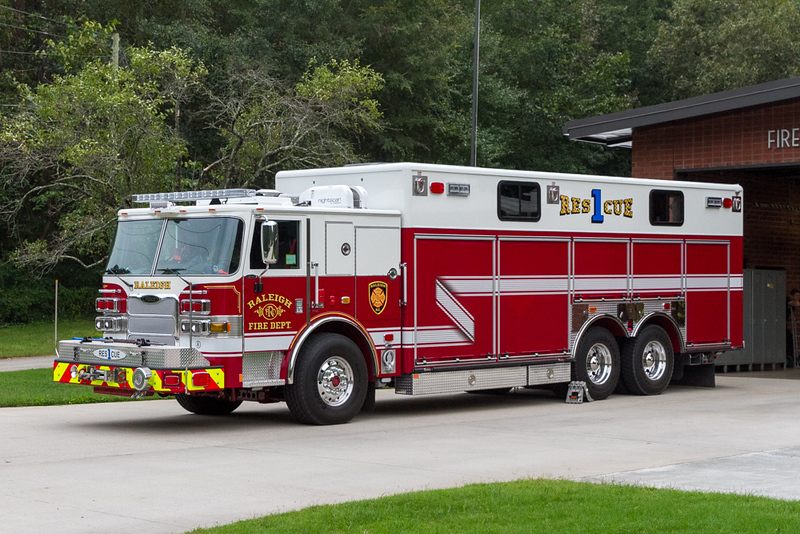 Six Feet Longer
The new rescue has a longer body—25 ½ feet compared to 19—and can carry more gear, such as trench panels, ground pads, and air shores used for trench rescue.
"We carry more gas-powered saws, a much larger selection of long timbers for shoring for structural collapse, and pre-cut cribbing for MVAs and shoring," adds Burns.
The design committee wanted a "thirty-minute truck," Burns explains, with the ability to initiate operations on any type of rescue that they may face, and operate for thirty minutes while waiting—if necessary—for additional or specialized resources to arrive.
"We don't want to have to wait for another resource to arrive, before we can go to work," Burns says.
Light Tower, Generator, Winches
The truck's also equipped with a number of standard features, such as a 25-foot LED light tower, a 20kW PTO generator, and both a mounted and portable winch.
The generator powers all receptacles so they can charge batteries, flashlights, and other tools while on scene. The receptacles are also powered when the rig is plugged in at the station.
"On the front of the rig is a 20,000 pound Warn winch that's hard-mounted," Burns says. "We also have a portable 9,000 pound Warn winch that can be moved around the rig, and mounted on any of the side or rear receivers."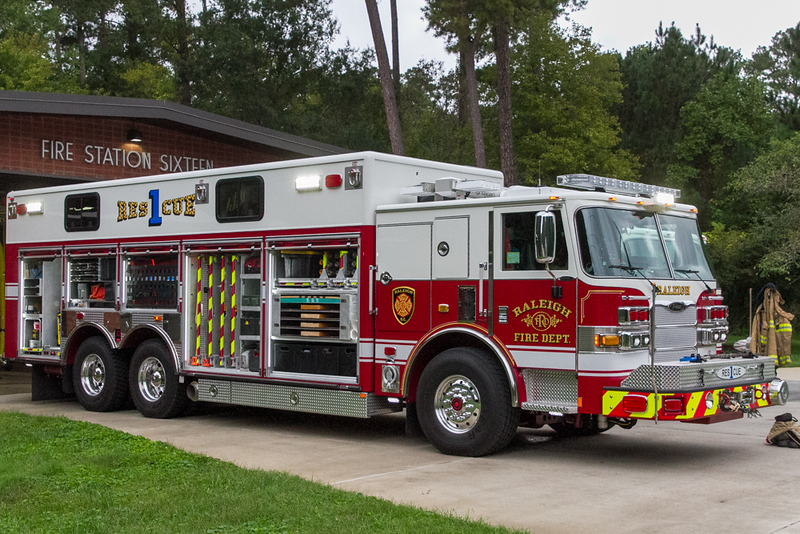 There's an Atlas/Copco air compressor on board, with an air reel in the rear compartment, and a separate outlet in the Captain's side compartment where the air bags are stored.
And it has a different cab configuration. Instead of a crew cab, as seen on the 2007 unit, it has a shorter two-person cab, with seating for the remaining firefighters in the body.    
Among the interior compartment features, there's a space under the bench seat that houses a 24-foot extension ladder and an assortment of 16-foot long lumber (4×4, 6×6, 2×6, 2×4). Also on each side of the interior compartment are seven-foot shelves, onto which assorted equipment mounts have been added.
The interior compartment is also air-conditioned, with an RV-style A/C unit on the roof that runs off of the generator or shore power.
Special Features for Water Rescue
"We also added roof-mounted rollers and tie-downs, for water rescue calls," says Senior Firefighter Justin Bolduc (R1-B).
"On the old rescue, during periods of multiple water rescue calls, we had to inflate and deflate our rescue boat with each call. And that took some time. Now, after the first call, we can slide the inflated boat onto the roof, tie it down, and rapidly respond to the next call."
"Once the water event is over," Bolduc notes, "we can deflate and store it."
The roof is accessed via two roof hatches built into the body.
"We have all of our water gear in one compartment now," Bolduc adds. "Inflatable boat (no motor), paddles, victim safety gear, extra dry suits, and personal flotation devices.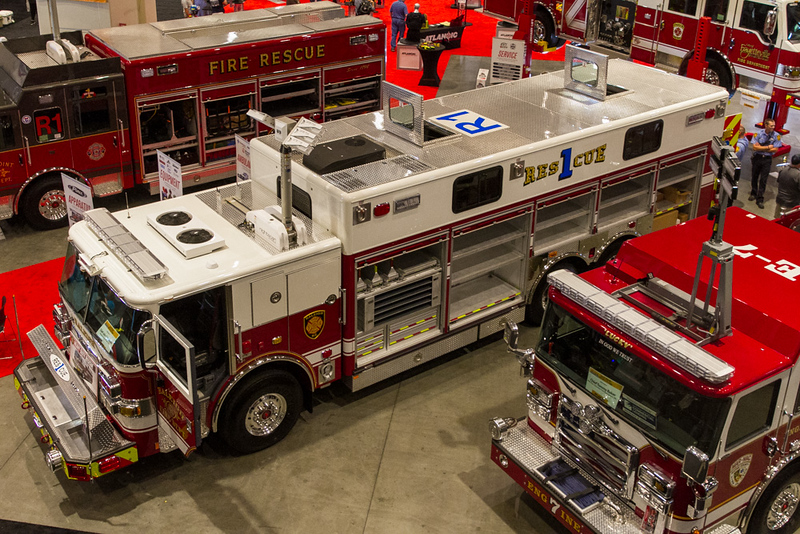 Electric Powered Extrication Tools
Unlike the traditional hydraulic-powered "jaws of life" used by "Raleigh rescue" since the 1970s, the current extrication tools are primarily battery powered.
"We use Hurst extrication tools," says Captain Brandon Hopkins (R1-A). "Our primary tools are the E-Draulics cutter, spreader, and ram. The cutter and spreader are mounted in the front bumper."
The ram, along with back-up hydraulic extrication tools, are mounted in the Captain's side rear compartment. Other miscellaneous extrication tools are stored in the same compartment: grip hoist, wire rope, chains, jacks, ratchet straps, chain binders, etc.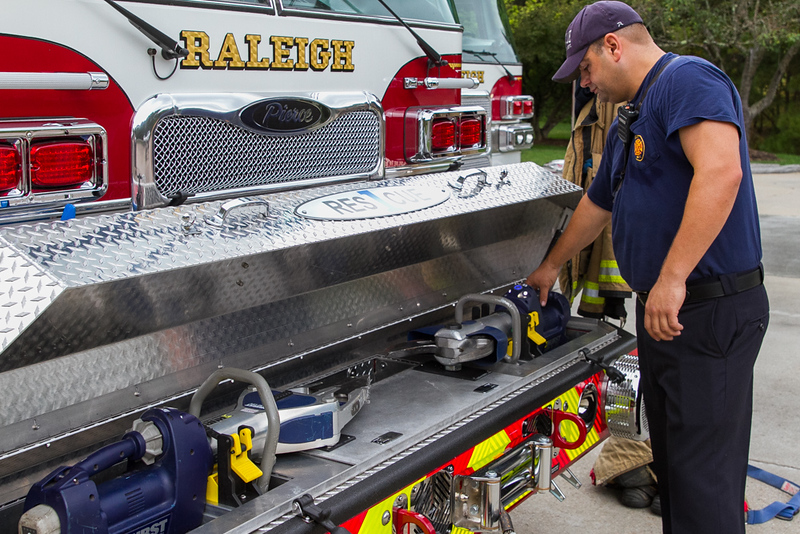 "The truck is set up to operate at motor-vehicle accidents off the Captain's side. All extrication and stabilization equipment is on that side," notes Hopkins. "And the light tower faces that side, when raised."
There's also a driver/operator compartment to the left of the rear walk-in doors. Upon arrival to the scene, the driver starts the PTO generator from the cab, exits the vehicle, and walks to the rear compartment. There, they can turn on the light tower, and use the "auto up" feature so the tower is raised while the driver is getting dressed.
"The control head for the air compressor is there as well, along with all of their gear including SCBA, hand tools, and flashlights," says Hopkins. "No more chasing different compartments to get dressed and start operating!"
With Room to Grow
One other benefit is room to grow. The larger truck—and its carefully designed compartments—will allow Rescue 1 to add more equipment to their cache of ever-evolving tool needs.
Specs: 2018 Pierce Arrow XT HDR. Cummins engine with 500hp and 1650lbs torque. 25 1/2′ walk-in rescue body (aluminum). Night Scan LED light tower. 20 kW PTO generator. Atlas Copco air compressor. 20,000lb Warn winch-front, Warn 9000lb portable winch-rear. Air reel and electric reel in rear.  
Sources of Inspiration
The members of their rescue committee drew inspiration from several sources, including decades of collective personal experience and a road-trip in 2016 to Maryland and Virginia.
They paid visits to these departments and fire companies:
Bel Alton, MD
Mechanicsville, MD
Hollywood, MD
Bay District VFD, Lexington Park, MD
DCFD Rescue 2, Rescue 3
Hyattsville, MD
Berwyn Heights, MD
Laurel, MD
Baltimore Rescue 1
Stafford, VA
Spotsylvania, VA
How Rescue Responds
Rescue 1 is most often dispatched to structure fires, and motor-vehicle accidents (MVAs) involving overturned vehicles or pinned occupants.
At fires, they're normally assigned the search task (primary and/or secondary). They also handle the role of "outside vent," which includes ventilation, ground ladders, and controlling utilities.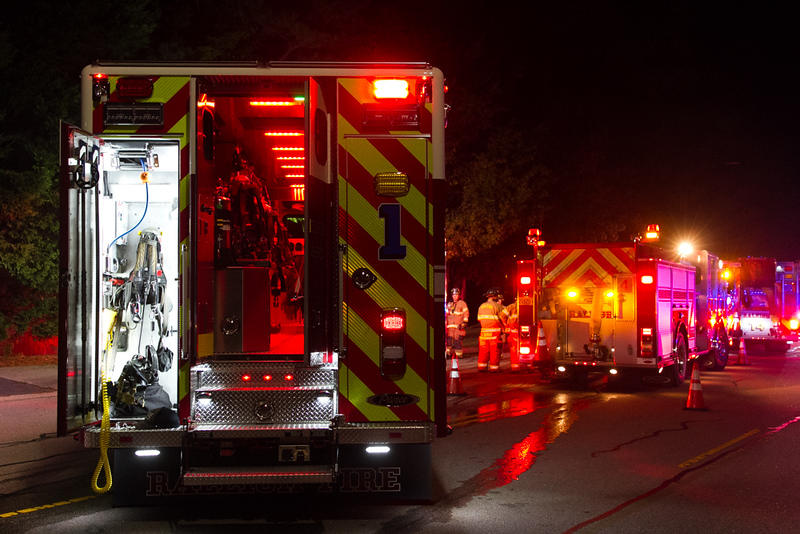 For overturned vehicles and/or "pin jobs," and based on order of arrival, they may handle vehicle stabilization and/or extrication.
Additionally, and as part of the Special Operations Command with Squads 7 and 14, Engines 17 and 21, Ladder 3, and Battalion 5, they can be dispatched to all types of technical rescue calls, including high-angle, confined-space, trench collapse, swift-water, and man-in-machine incidents.
Rescue 1 is assigned five people, but can ride with four for up to twelve hours, maximum.
Historical Perspective
Lesser-known fact: Raleigh's new rescue is the city's second walk-in rescue. The first was delivered in 1954, as the second unit of the two-piece Raleigh Emergency Rescue Squad. It was a Civil Defense rescue truck obtained with the help of the federal government, and was considered a piece of "stand-by" equipment that could be recalled to Norfolk in the event of an "enemy attack."
It's pictured below, top row in center.  Equipment carried on the 2 1/2-ton truck—built on a 1954 Reo chassis—included cutting torches, power saws, gas masks, helmets, and first-aid equipment. More information about the truck.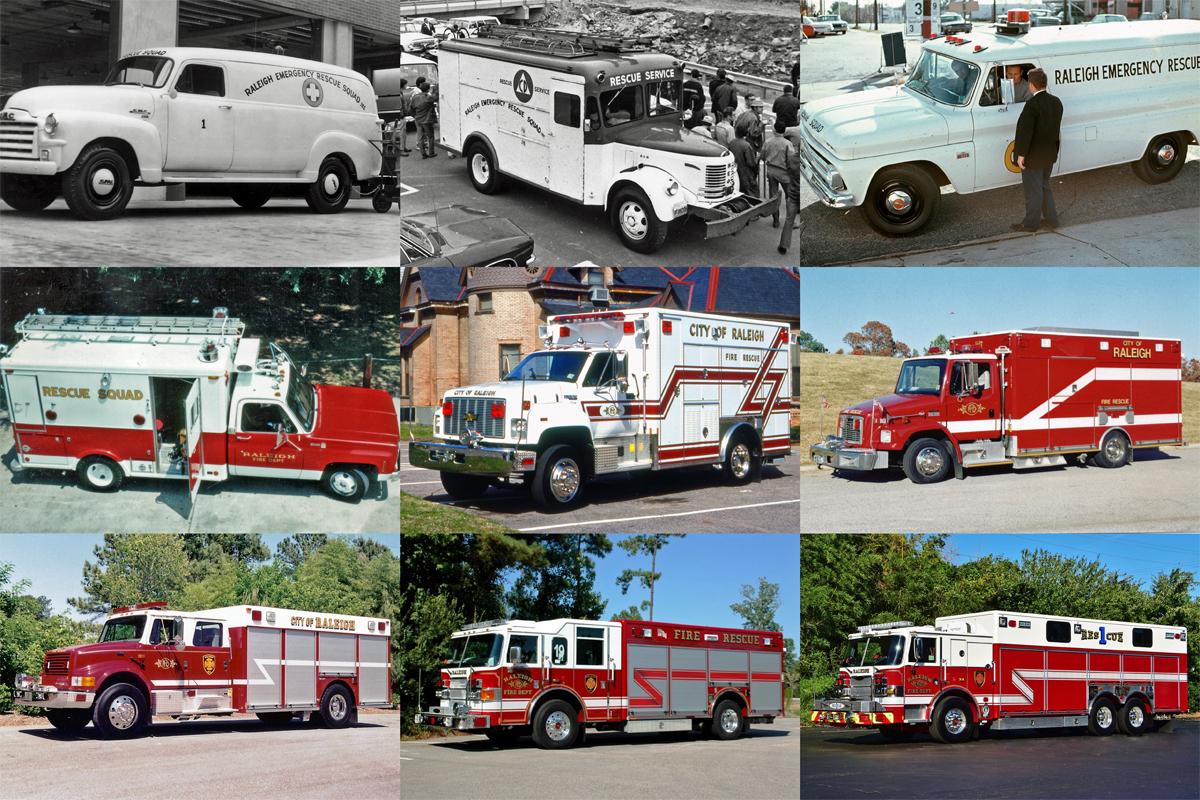 Photo credits: News & Observer (x2), Raleigh/Wake Emergency Communications Center, Raleigh Fire Department, Jeff Harkey, Lee Wilson (x4)
The other original Raleigh rescue truck was a 1954 GMC panel van. It was housed at Station 1, along with the Civil Defense rescue truck. It was replaced by a 1966 Chevy panel van, and then a pair of ambulance-body rescue trucks built by Murphy in Wilson on 1974 and 1975 Chevy chassis. Ambulance bodies were used through the early 2000s, with the city's two rescue trucks replaced with a pair of 1991 Chevy/FrontLine ambulances, and then a pair 2000 Freightliner/American LaFrance/MedicMaster ambulances.
The first non-ambulance rescue truck was delivered two years later, a 2002 International/SVI, with a walk-around body. By that time, Raleigh was operating three two-person rescue units. The 2000 rescue trucks were replaced in 2007 with a pair of Pierce Enforcer walk-around rescue trucks. And in 2012, the three two-person rescues were consolidated into a single five-unit, the current Rescue 1. That was part of a larger reconfiguration of rescue resources. Read about those details.