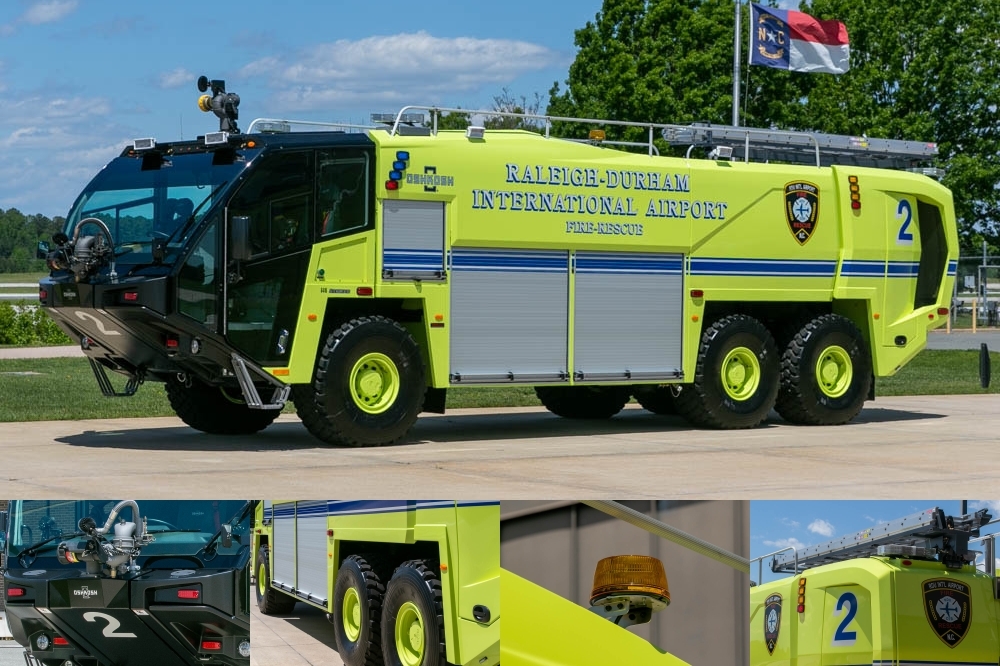 On Tuesday afternoon, May 2, 2023, new CFR 2 was placed in service at Raleigh-Durham International Airport (RDU). The 2022 Oshkosh Global Striker 3000, 2000/3000/420/550# was delivered in March. See gallery of Legeros pics.
It replaces a 2000 Oshkosh TI-1500, 1500/210/450#, which will be placed in reserve service as CFR 5. It'll be the airport's first reserve ARFF unit in a couple decades, at least. CFR 5 will be housed in a building at the fuel farm, where the ARFF foam trailer is also housed.
With the new truck, the airport's ARFF units are all yellow or green for the first time since 2000, when the three 2000 Oshkosh ARFF units were delivered. See fleet history and pics.
The airport fire station, built in 1986, was also modified to better-house the new truck. Two 12-foot bay doors were removed and the space combined to create a larger 25-foot bay door, where CFR 1 and CFR 2 are parked.
Specs and Details
2022 Oshkosh 3000 Global Striker 3.0
670 HP Scania DC16-091A Tier 4f V8
Allison 4800EVS transmission
GVWR 93000
 
3000 gallons water
420 gallons foam
550 pounds PKP
Waterous 2000 GPM
  
625/1250 GPM roof turret
625/1250 GPM low-attack (articulated) bumper turret, that includes hydrochem nozzle
19 GPM under-truck nozzles (four)
 
150 GPM cross lays
125 GPM booster reel
   
Standard extension and roof ladders, attic ladder, and Lil' Giant ladder
 
Rear-steering
No generator
Fast start switch outside cab 
Unit History

What's the history of CFR 2 at RDU airport, you ask? Here's that montage. Left to right, top to bottom:
1946 International/Bean, likely Army Class 125, 50-60 GPM high-pressure, 300 water, 20 foam. Named CT-2, originally painted red. Renamed CT-5 in 1973. Retired TBD. News & Observer photo (left), RDU Communications photo (right)
1969 International/Marion/Ansul Magnum 480, 1350#/200LW. Named CT-2, originally painted yellow. Delivered 1969. Renamed CFR 2 in 1982. Renamed CFR 12 in 1989. Retired 1996. Joel Woods photo.
1989 CRES/197_ Walter, delivered 1989. Retired 2000. Sid Bragg photo.
2000 Oshkosh T-1500, 1500/1500/210/450#. Delivered 2000. Renamed CFR 5 and moved to reserve status in 2023. Mike Legeros photo.
2022 Oshkosh 3000 Global Striker 3.0, 2000/300/420/500#. Delivered 2023. Mike Legeros photo.