On Monday, October 23, Engine 2 relocated to their newly renovated Raleigh fire station. The 1969 engine house underwent a $1.5 million overhaul that stripped the station down to its exterior walls. It's the second in a series of planned major renovations that started with Station 5 in 2016. 
The Pecan Road fire station also housed the fire department maintenance shop until 2004. The oversized vehicle bay then housed the station's haz-mat trucks. The renovations converted the old shop space into a drive-through apparatus bay, along with additional rooms, including an exercise room and sleeping areas.
Added as part of the renovation was this plaque, created with hysterical historical help from the Raleigh Fire Museum. It recounts the three earlier locations of Station 2 on Fayetteville Street, on Salisbury Street, and at Memorial Auditorium.
Read more history of Station 2 on this page of mine. Click to enlarge: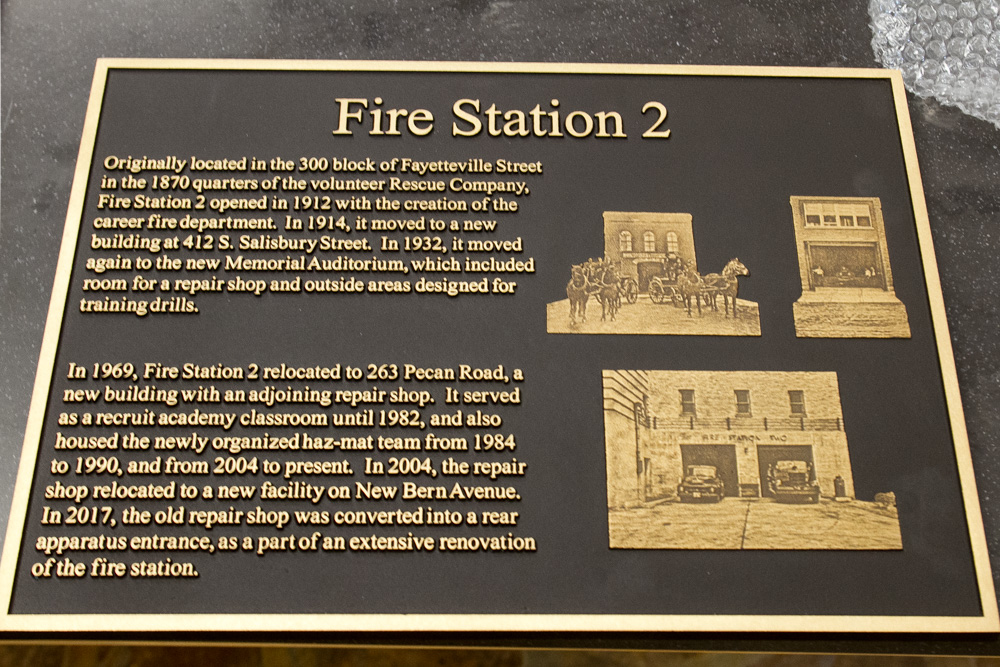 New Folding Doors
One feature of the newly renovated fire station is a first for the Raleigh Fire Department: "accordion style" folding front doors on the apparatus bay. 
They were chosen over the standard overhead door for their quick opening speed (nine versus about 20 seconds), long-term resiliency, and to maximize interior vertical and horizontal clearances. 
Next Up, For Renovations?
Station 15 on Spring Forest Road will resume renovation in the spring. The first phase was completed earlier this year, with an installation of a fire sprinkler system.
The renovation of Station 11 on Glen Eden Drive has also been long-planned and with the core purpose of expanding the apparatus bay to accommodate a larger aerial apparatus. The scope of that project has changed and a new round of design work is underway.