The Wake County EMS System has a new numbering system for their ambulances. Now based on geographic district and shift configuration.
Among the notable changes:
Two-digit numbers for all ambulances.
Single digits reserved for special event units.
_7, _8, _9 reserved for peak-load units.
The transition started around 9:00 p.m. on Sunday and finished around 10:00 a.m. on Monday, July 1. 
Map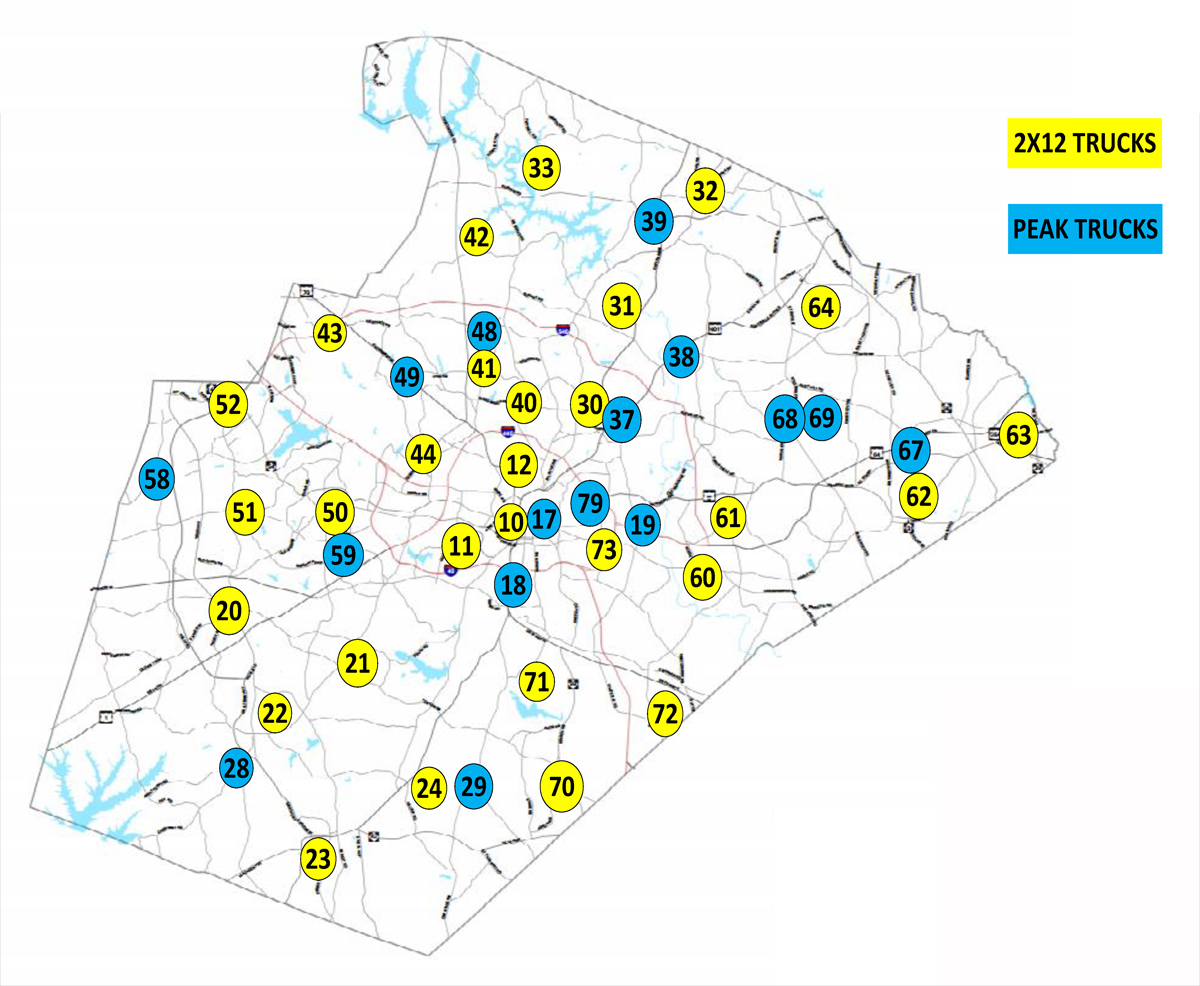 Numbering Old and New
Note: SE = Special Event
District / Geo
Station
Old
New
1 – Downtown
DWN
District 1
DWN
EMS 1
EMS 10
 
GLS
EMS 11
EMS 17
(day)
CRL
EMS 13
EMS 18
(peak)
WML
EMS 2
EMS 12
 
NCS
EMS 8
EMS 11
 
NCS
EMS 39
EMS 19
(peak)
2 – SW
FRV
District 2
FRV
EMS 21
EMS 21
 
HLT
EMS 14
EMS 24
 
HLT
EMS 37
EMS 29
(day)
FUQ
EMS 9
EMS 23
 
HSP
EMS 17
EMS 22
 
HSW
EMS 32
EMS 28
(peak)
APM
EMS 20
EMS 20
 
3 – NE
DRN
District 3
DRN
EMS 15
EMS 31
 
MNC
EMS 5
EMS 30
 
MNC
EMS 36
EMS 37
(day)
NHP
EMS30
EMS 38
(day)
SHL
EMS 12
EMS 33
 
WFM
EMS 10
EMS 32
 
WFS
EMS 33
EMS 39
(peak)
4 – NW
SFM
District 4
SFM
EMS 6
EMS 41
 
SFM
EMS 38
EMS 48
(peak)
NHL
EMS 3
EMS 40
 
FRG
EMS 4
EMS 44
 
FRG
EMS 25
EMS 1
(SE)
RDU
EMS 34
EMS 43
 
PLV
EMS 35
EMS 49
(peak)
SFN
EMS 22
EMS 42
 

5- West

CRM
District 5
CRM
EMS 51
EMS 50
 
CRM
EMS 55
EMS 59
(peak)
CRM
EMS 56 (SE)
EMS 5
(SE)
CRM
EMS 57 (SE)
EMS 7
(SE)
CRN
EMS 53
EMS 58
(peak)
CRW
EMS 52
EMS 51
 
MRV
EMS 54
EMS 52
 
6 – East
WEN
District 6
WEN
EMS 61
EMS 62
 
WEN
EMS 66
EMS 69
(peak)
WEN
EMS 67
EMS 67
(day)
ZEB
EMS 65
EMS 63
 
RVM
EMS 64
EMS 64
 
RVM
EMS 69 (SE)
EMS 6
(SE)
KDS
EMS 62
EMS 60
 
KDM
EMS 63
EMS 61
 
BTC
EMS 68
EMS 68
(peak)
7 – South
 
GRE
District 7
GRE
EMS 19
EMS 72
 
GRM
EMS 18
EMS 71
 
GRS
EMS 16
EMS 70
 
ERL
EMS 7
EMS 73
 
ERL
EMS 28
EMS 2
(SE)
ERL
EMS 29
EMS 3
(SE)
SAG 
EMS 31
EMS 79
 
9 – APP Units
ESEC
DIST 9
HSP
Medic 91
KDM
Medic 92
SHL
Medic 93
WML
Medic 94
SFM
Medic 95
ESEC
Medic 96