This is a blog version of a Facebook posting, about details and units at a four-alarm explosion and fire in Charlotte. The narrative has been updated a bit, from the original posting.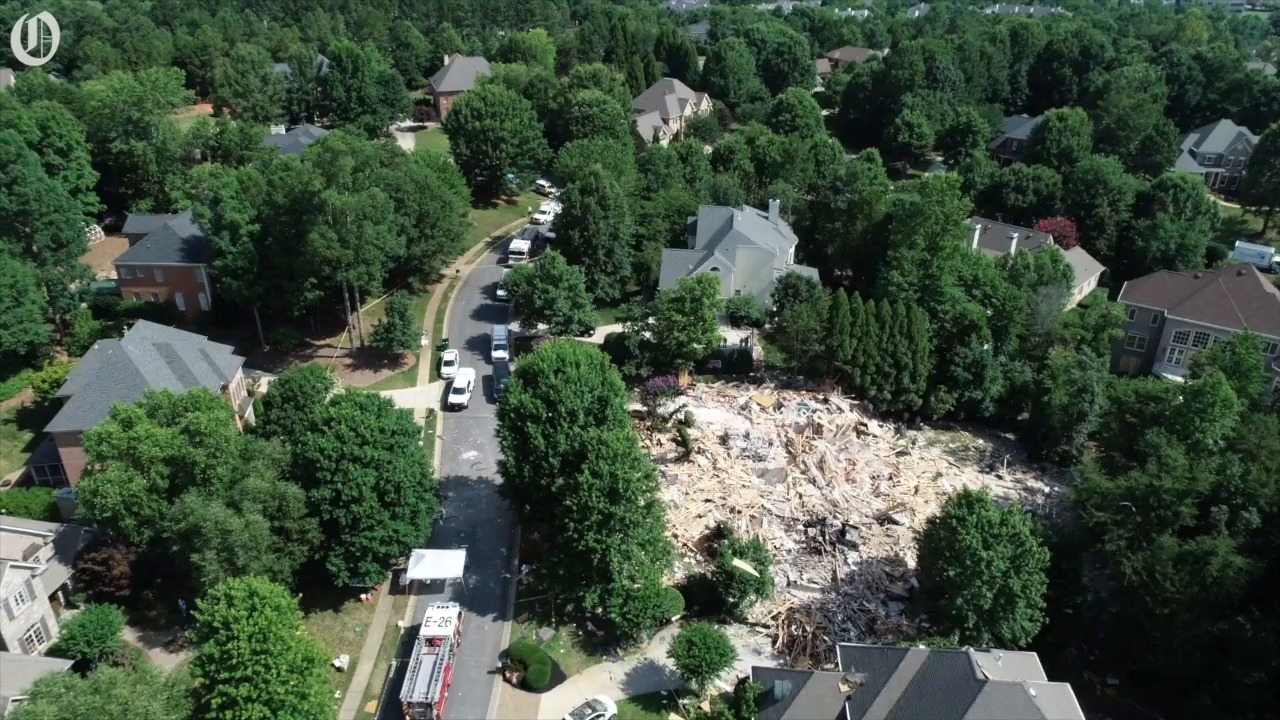 Charlotte Observer photo
Four alarms were struck at a house explosion on Charlotte on Tuesday, July 3.
The incident was dispatched just before 2:00 p.m. as a reported explosion with fire at 11812 James Jack Lane. Tax records list the location as a two-story, single-family residential structure with 8,830 square-feet.
First arriving Ladder 32 found the structure destroyed, with a large debris field and a section of fire. Second alarm was requested, as were additional alarms for manpower and technical rescue assistance. 
Two occupants were inside the structure at the time of the explosion: one deceased on scene, one with serious injuries. The latter was extricated after two and a half hours, and airlifted to the hospital. The deceased victim was located about seven hours after the explosion, by USAR personnel.
A number of firefighters were also treated for dehydration: seven treated on scene with IVs, and one transported to local hospital. Crews were working in 100+ degree heat.
Two people treated for minor injuries in neighboring homes. The adjoining homes also sustained damage. The primary cause of the explosion was identified as interior natural gas leak. 
Google for news stories, photos/videos.
Run Card
Engines 1, 2, 3, 10, 12, 16, 19, 20, 23, 24, 26, 32, 33, 39, 42
Engines 71, 71, 74, 75, 76 [tankers activated as engines with callback personnel, for fire watch overnight]
Carolina E2, E3, Pineville E2
Ladders 2, 16, 24, 26, 29, 32
Rescues 3, 10
Rescue 89 [reserve rescue activated with callback personnel, to assist with USAR]
Battalions 3, 5, 7
Cars 1 [Chief], 2 [Ops Deputy Chief], 7 [Div Chief], 14 [PIO], 15 [PIO], 30 [Chief FM], 200 [Training Div Chief], 205 [Training Captain], 506 [EM Logistics], 601 [Comms Op Mgr], 900 [Special Ops Div Chief], 901 [BC Haz-Mat]
Haz-Mat 1, 2
USAR 1, 4
Rehab 1
Safety 1
Fire Investigation Task Force units
Alarm Levels
Alarm 1: L32, E39, L24, E16, E24, E32, BC5, BC7, USAR1, USAR2, C30, FITF 2, C14, R3, C15, FITF 3, Rehab 1, Carolina E2
Alarm 2: C901, E20, C206, C7, E19, E26, BC3, Safety 1, L26, C205, L29
Alarm 3: L29, E23, BC4, C2, E42, C601, E33
Alarm 4 + Special Called: E13, E1, C200, C14, E2, E29, E30, C902, Carolina E3, C207, C1, E71, E72, C900, E74, E75, E76, C506, HM1, HM 2, L2, L13, L16, L24, E3, E10, E12
Additional
City coverage from Harrisburg FD, Concord FD, Matthews FD, and Pleasant Valley FD (SC).
Plus MEDIC response that included several ambulances, supervisors, and a mass casualty bus.
Readers can add, edit, expand as desired.