On February 21, 2017, the City Council selected Davis Kane Architects to provide professional services for the fire department's new Headquarters and Fire Station 1.
Note the recently published minutes (PDF), they'll provide "architectural; engineering and other design services; environmental and surveying services; cost estimating and construction related services in anticipation of relocating Fire Station One and potential to establish a headquarters facility for the Fire Department."
We have blogged before the Headquarters/Station 1 project, when the FY17 budget was approved in May 2016. Let's take a longer look at the project, and the two facilities themselves.
New Downtown Fire Department Facility
This project will combine Headquarters (administrative offices) and Central Fire Station (Station 1). These have been long-simmering projects, identified as facility needs for a few years now. 
The office space component was attempted earlier as part of the Lightner Public Safety Center, developed in the 2000s. That was a seventeen-story structure (!)  proposed for the northwest corner of Hargett and McDowell streets. The project was aborted in 2010.1
Headquarters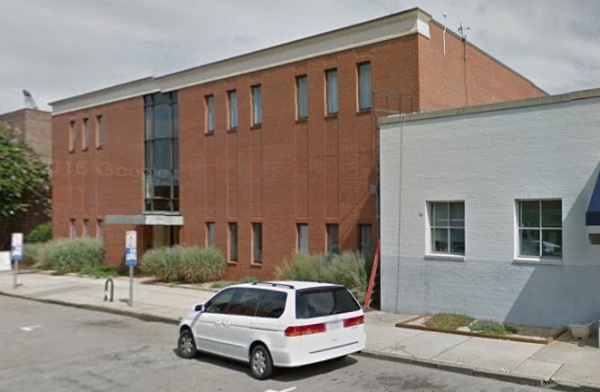 Dillon Building – Google Maps
The administrative offices of the Raleigh Fire Department are currently housed in the Dillon Building at 310 W. Martin Street. That's just around the corner from Station 1. They've occupied the space since 1994.
Prior locations of fire department offices included:
1993 to 1997 – Career Department Center, housed in old Station 4 – 2913 Wake Forest Road
1991 to 1994 – Professional Building – 127 W. Hargett Street
1984 to 1991 – Municipal Building – 222 W. Hargett Street
1982 to 1984 – Keeter Training Center – 105 Keeter Center Drive
1953 to 1991 (plus later periods) – Station 1.
Headquarters, as the letters read on the second-floor door, includes workspaces for:
Office of the Fire Chief
Office of the Fire Marshal
Information Technology
Assistant Chief of Operations and staff
Assistant Chief of Services
Assistant Chief of Training
Currently that's some forty-five or fifty people who occupy or share offices on the second floor and the mezzanine.
Central Fire Station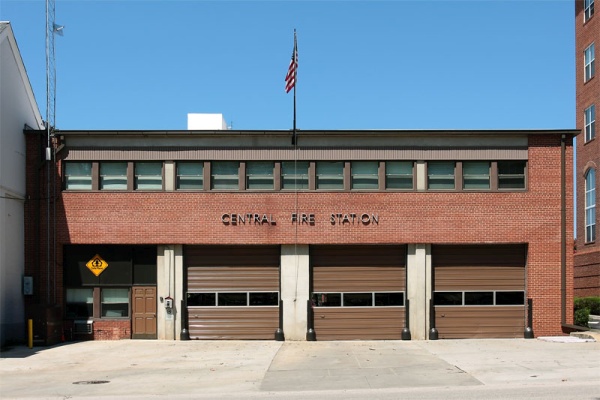 The city's largest engine house sits on a prime piece of downtown real estate at 220 S. Dawson Street. It also faces Nash Square, home to the North Carolina Fallen Firefighters Memorial.
The fire station site is a valuable one, and just as choice as the adjoining Dillon Building. The corner lot proper at Dawson and Martin, meanwhile, is occupied by old Union Station.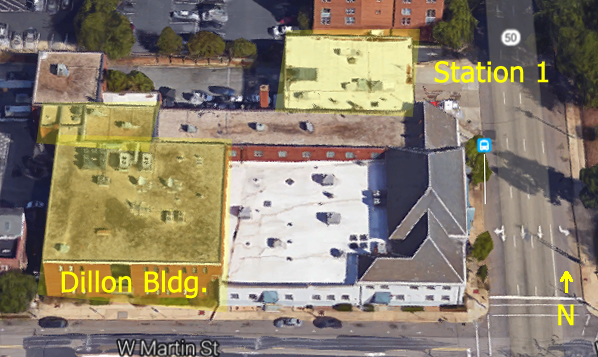 Earlier Fire Stations
Central Fire Station opened in 1953, and on a site that was purchased over a decade earlier, when Station 1 on West Morgan Street was closed. The 1896 structure had been condemned for years, and the fire department re-opened old Station 2 on South Salisbury Street.
It was intended as a short-term solution. That was August 1941. Then Pearl Harbor was attacked in December, and the resources for (and priorities for) such projects were wiped off the table.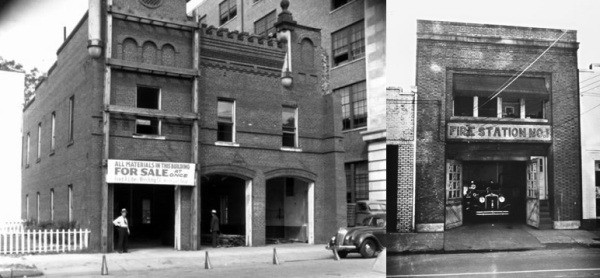 Station 1 after closure in 1941, left. Station 1 at old Station 2, right. Courtesy North Carolina State Archives
Station 1 on South Salisbury Street operated from 1941 to 1953, and housed Engine 1 and Engine 2. See, the two ladder trucks–the 1939/1916 American LaFrance tiller and the 1922 American LaFrance service truck–were moved to Fire Station 2 at Memorial Auditorium. They were too big for the Salisbury Street fire station.
They displaced Engine 2, which was housed at Station 1 until 1949. That year, a permanent Station 6 opened, and the service truck was moved there, and Engine 2 returned to its quarters at the auditorium. Got it?
The Dawson Street Fire Station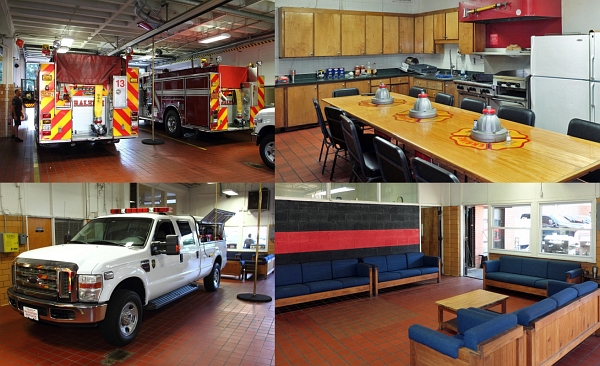 Station 1 is solid, squat structure of bricks and blocks. Two stories with 11,200 square-feet of heated square feet, which was palatial when it opened, but is way too small for current needs. Planned is 21,000 square-feet for its replacement., nearly double the current size.
Upstairs are bedrooms, bathrooms, and a small day room. Downstairs is a radio room (or watch room), two offices, two bathrooms, and a small kitchen slash dining room. The rear apparatus bay also serves as the downstairs day room, with a quartet of chairs and couches in the back corner, by the kitchen and rear door.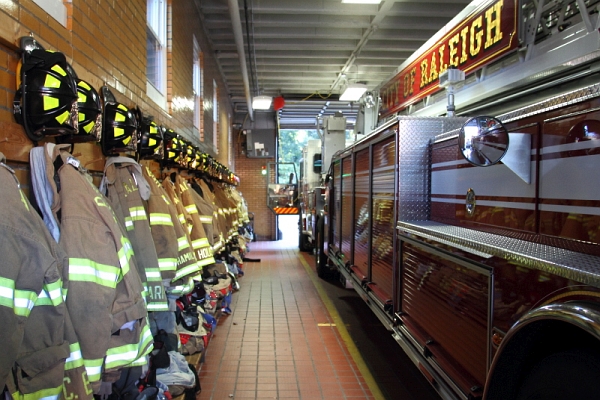 Five vehicles are parked on the tile apparatus floor: Engine 1, Engine 13, Ladder 4 (one of the city's two "tiller" trucks), Car 401 (the investigator's unit), and Car 402 (the investigator's back-up unit).
There's also a long wooden rack along the north wall, where all the firefighter's coats and helmets hang. Below, on a long ledge, are their bunker pants and boots.
And two fire poles. Station 1 has them, along with Station 3 and the soon-to-be-rebuilt Station 6. Which, at last report, won't have a fire pole.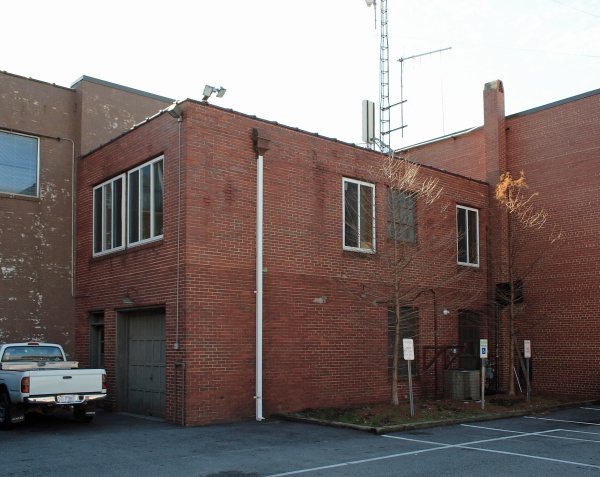 The alarm house behind Station 1.
Exercise equipment is stored in a unique outbuilding, in the rear of the parking lot: the two-story, 1942 alarm house.2
Also, fun fact, the cars at the fire station must be reshuffled each day, to make room for the next day's incoming firefighters! The parking lot simply isn't large enough.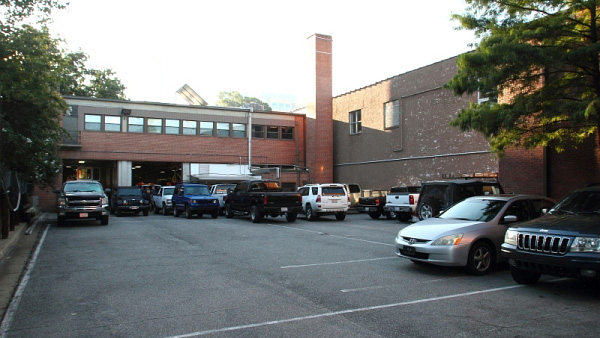 See this web page of mine for earlier history of Station 1, both the present building and earlier locations.
New Headquarters/Fire Station
For years, these facility needs have been percolating. In their five-year strategic plan (PDF) published in 2015, the fire department identified a strategic objective to relocate both Station 1 and Headquarters.
Earlier this year, the project was moved to the forefront and initial funding was approved in the FY17 budget for $23,855 over four years.
Here's the program description, from the FY17 budget document:
To meet the Fire Department's operational and administrative needs, and to facilitate economic development efforts in the downtown Warehouse district, the CIP funds a replacement for Fire Station 1 and a replacement administrative space for Fire Department management staff. Staff tentatively expects to construct a new station up to 21,000 square feet, an administration space up to 13,000 square feet. The project budget also funds land acquisition and a parking deck. Depending on the site selected for the station, additional land and a parking deck may not be necessary in this case, the project budget will be decreased.
Next Steps
Site selection is underway, with a location in the area of the Convention Center. Programming has also started, as fire department officials and other stakeholders determine the scope and functions of the facility.
From conversations we've heard, it sounds like a multi-story building with a fire station on the ground level and couple stories of office space. Plus parking, perhaps a parking deck. 
Watch this space for future updates. We'll update this posting, versus creating new ones. This'll be our single source for reporting project news. 
More to come!
Footnotes
1 Here's a city council presentation (PDF) about the Lightner Public Safety project from 2008. It was planned to house both fire and police headquarters, the city/county emergency communications center, and other agencies, as well as a 600-seat assembly hall, cafe, and credit union. 
2The alarm house was erected in 1942, to house the equipment of the electric-telegraph fire alarm system. Its construction included using materials recycled from the 1896 fire station. The two-story structure served many purposes over the decades, from a dispatch center to office space to a records room. Read a history of the building.