July 17
Our friends at North Myrtle Beach Fire Rescue have provided extensive additional details about their new truck, as well as photos and a historical perspective.
The new Truck 714 is a 2016 Pierce Arrow XT mid-mount platform, 95-foot. It features a 2000 GPM Hale pump, a 300 gallon poly tank, a 500HP Detroit (DD13) motor with Allison transmission, and Tac-4 independent suspension.
Features include an Onan 10Kw generator with two 150 cord reels, LED warning lights and head lights, David Clarke headsets and seating for six, and the Pierce Command Zone Multiplex System with monitors inside the cab, at the turntable, and in the basket of the aerial. It also has four cameras (three front, one rear) and a DVR system to provide video recording of fire scenes for training purposes.
It carries 206 feet of ground ladders: two 35′, two 28′, two 16′, one 18′, and one 10′ attic ladder. There s also a custom storage box above the pump panel for a Little Giant ladder, to save on compartment space.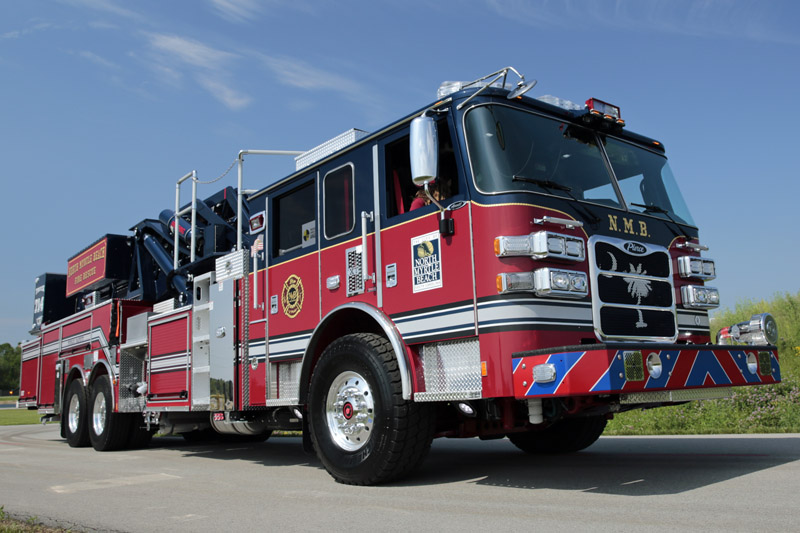 North Myrtle Beach Fire Department photo
Blue Over Red
North Myrtle Beach is a public safety department, where police and fire personnel are cross-trained. This had a lot influence on the look of the truck and some of its features. In particular, the apparatus committee wanted to different themselves from other departments around.
The big craze has been back over red on rigs, but they didn t want that, as they knew neighboring departments going with that or a similar scheme. They wanted a color scheme that was as unique as their status as a public safety department.
After weeks of scouring the Internet for ideas, they found pictures of recently delivered Pierce pumpers in Texas. The trucks had a blue over red scheme and they knew those were the colors for them.
The idea was proposed and immediately accepted. During their first pre-build conference at the Pierce factory, they went through five different shades of blue, until find that a dark metallic blue was what they wanted. The color looked great at night and really popped during the day.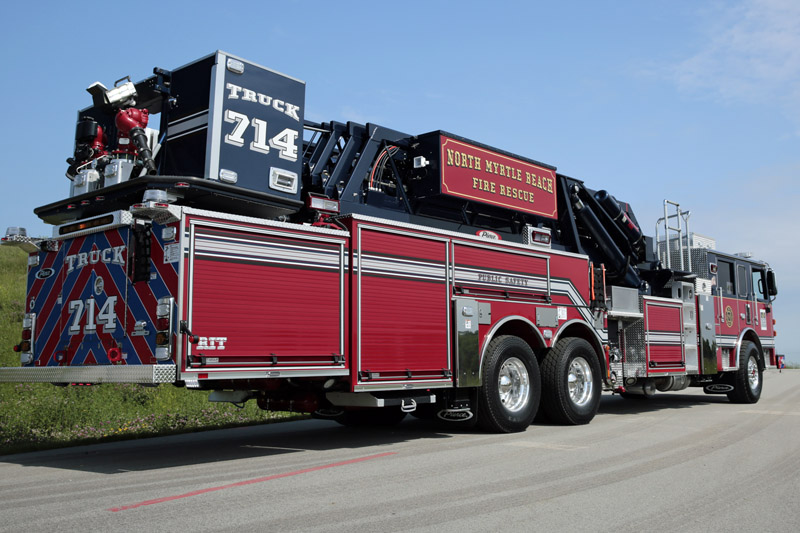 North Myrtle Beach Fire Department photo
And Blue Emergency Lights
The new truck also features a few blue emergency lights, a first for their region and perhaps the entire state of South of Carolina. Blue is a highly effective color for emergency lights and can be seen from much farther away than other colors. We kept red as the primary emergency light color, and used blue for some of the secondary lights.
We chose Whelen for the lighting. The primary light bar configuration uses three Whelen Freedom Mini Light Bars, as they need a lot of side angle lighting because of the city s grid-type of street system.
The rest of the lights are Whelen M6 lights heads, along with Whelen ION light heads mounted in the rub rails around the truck. They also used Whelen scene lights around the truck. Most are powered by 12 volts, independent from the generator. The latter are the lights in the bucket and two removable tripod lights mounted on the body of the truck.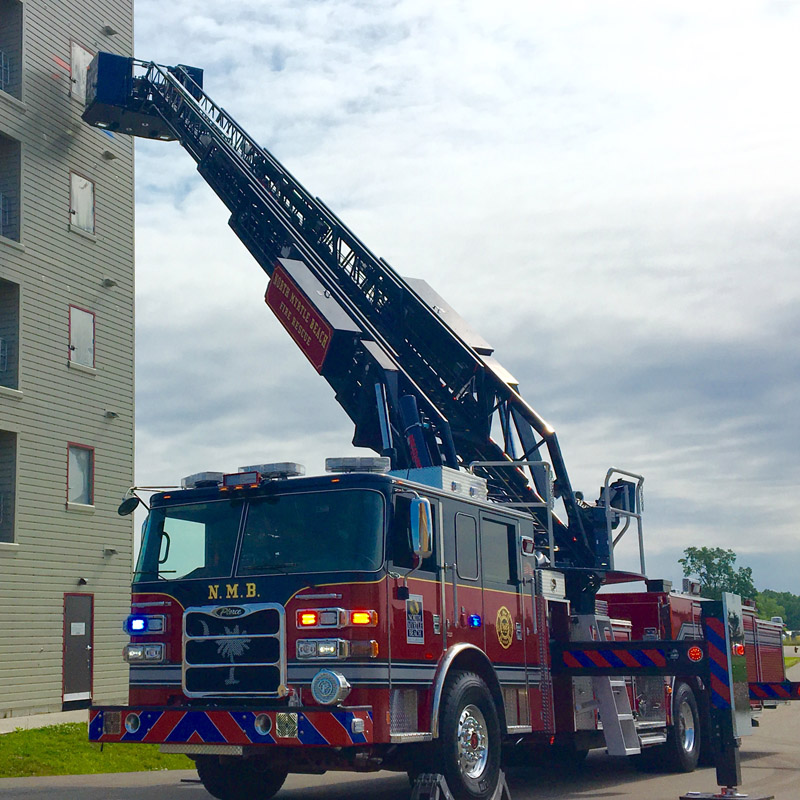 North Myrtle Beach Fire Department photo
The Older Platform
The new Pierce replaces a 1996 KME AerialCat rear-mounted platform (102-foot), equipped with a 2000 GPM Hale pump and a Cummins 450HP motor. It will be moved to an outlying station and become a reserve apparatus designated Truck 744.
The KME was originally purchased off an old US Navy spec and served the city well for twenty years. It was replaced due to age and condition. The limitations of the truck also influenced the change from rear- to mid-mount platform.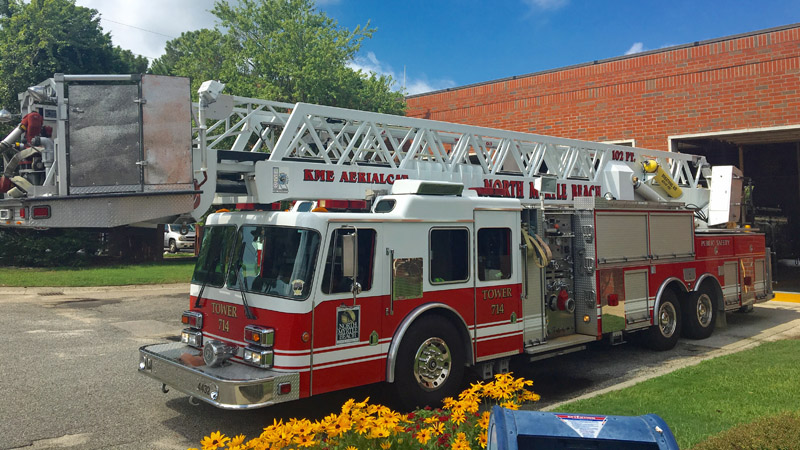 North Myrtle Beach Fire Department photo
Originally, the apparatus committee considered another rear-mounted rig. Members had experience working with mid-mounts and a change was considered for improved positioning and better scrub area.
For example, with the KME s three-section ladder, they couldn't lower the retracted bucket to the ground without hitting a building on many streets in the city. With the Pierce s five-section ladder, the retracted length is much shorter. This allows for such operational uses as a store-front blitz attack, instead of just access to the roof.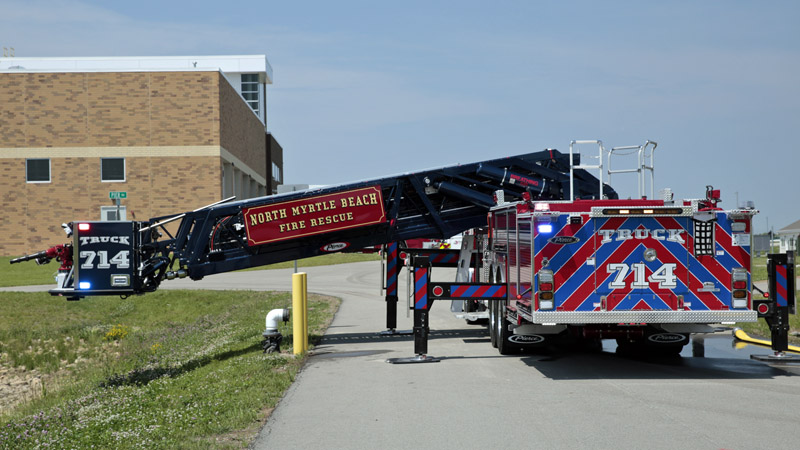 North Myrtle Beach Fire Department photo
Newer and Older Ladders
With the addition of the Pierce platform, NMBFD adds a third operational aerial ladder to the roster. It joins a 2009 Spartan/Smeal aerial ladder, 2000/400/75-foot at Station 3, and the 1996 KME. The Smeal was a demo truck purchased in 2010.
Two earlier ladders served the city. From Leonia, NJ, came a 1977 Seagrave rear-mounted ladder (100-foot) with 1000 GPM and 300 gallon tank. Acquisition date to be determined, likely late 1980s or early 1990s. It was disposed in 2011 and donated to Midway Fire Rescue on Pawley s Island/Litchfield Beach, SC, for exclusive use as a training rig.
The Seagrave was photographed below by Jeff Hawkins in March 2007. See uncropped version of Jeff s photo.
The city s first aerial ladder was a 1974 Pirsch convertible with a 100-foot rear-mounted ladder. It was purchased new and was a stick only with no pump or tank. It was the first ladder truck in Horry County.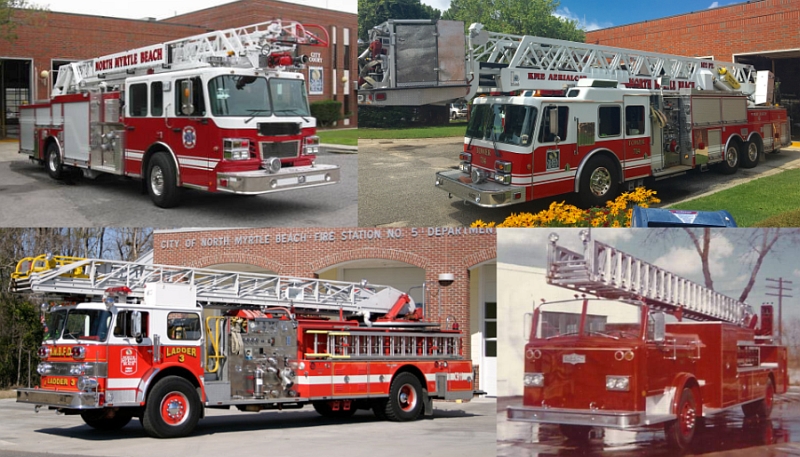 Left to right, top to bottom, credits: Anchor-Richey, NMBFD, Jeff Hawkins, NMBFD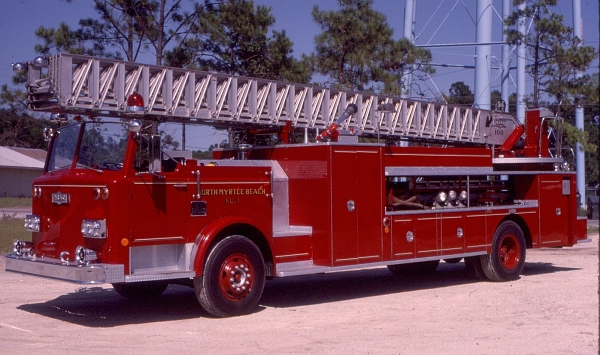 Scott Mattson collection
July 8
North Myrtle Beach, SC, recently took delivery of this sharp-looking Pierce Arrow XT mid-mount 95-foot platform. (Pump and tank specs, anyone?) Designated Truck 714, it'll be assigned to Station 1 on Ocean Drive. It replaces a KME rear-mount platform. (Model year? Specs? Earlier aerials that served the city?)
The new truck is painted in the department's new blue-over-red color scheme to compliment their status as a public safety department. It even has blue 'n' red emergency lights! See larger versions of this factory photo. Or watch their Facebook page for more news on the truck.