Chapel Hill's new Fire Station 2 was dedicated on Saturday. The two-story, 11,246 square-foot engine house was opened in May. See photos.
It's the ten-years-in-the-making result of a public and private partnership between the town, the county, and a private developer. 
Built on the site of the original 1959 fire station on Hamilton Road, it houses an engine and ladder company, along with a county EMS unit. 
Here's a look back at the original building's history. It's pulled from recent research by Mike Legeros, who's been diving deep this spring (and summer) into Chapel Hill's fire history.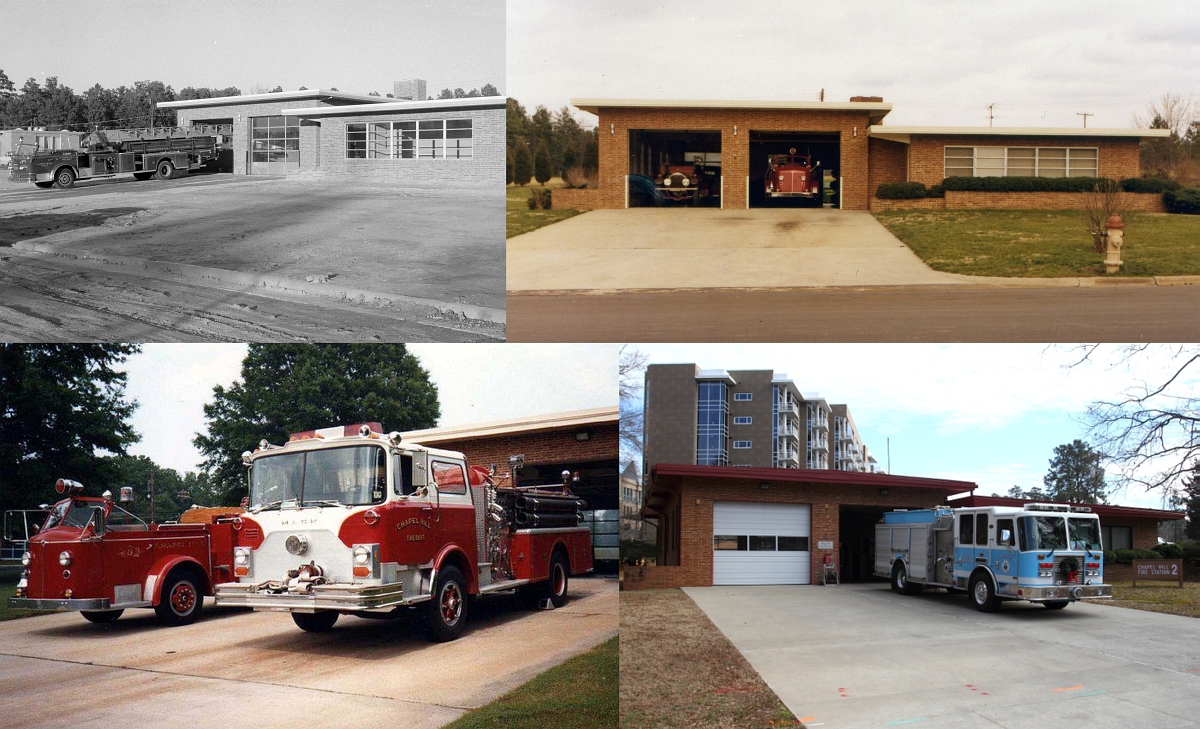 Photo credits, left to right, top to bottom: Roland Giduz/UNC Collection, Chapel Hill Fire Department, Lee Wilson, Mike Legeros
Pre-History – 1950 to 1956
1950 – Glen Lennox Apartments open, a planned residential community on the east side of town, with 314 units. It's were located outside the corporate limits and is protected by a community-created (or developer-provided?) volunteer fire department. Source: Legeros blog.
1952 – Glen Lennox shopping center opens, the first for the town and believed to be the second in the state. Source: Glen Lennox history. 
1953, April 11 – New pumper delivered to town, 1953 American LaFrance 700 Series, 750/110. The $16,180 apparatus is bought with joint funds from the town and the University. It's later the original Engine 2, when Station 2 opens in 1959.
1954, January – Town determines that it cannot provide fire protection to "suburban" residents living outside of the town, without involving the "uncompensated cost" of adding firemen and equipment. Otherwise, fire insurance rates would be raised for property owners inside the town. [TM, 1/13/54]
1954, August – Petition started for a suburban fire district. For months, a committee has been trying to "secure fire protection" for those living outside the town. They asked CHFD to answer calls on a "subscription basis," which was deemed not workable (see able). Over 500 property owners sign the petition, which passes the state's 15 percent requirement for a county-called election. The county approves the petition in December, and sets dates in the spring for voter registration and the voting. [CHNW, 8/9/54, and later articles]
1955, April 12 – Suburban fire district approved by voters. Named Greater Chapel Hill Fire District. Total of 272 eligible voters register. Total 197 participate. Results are 188 to nine in favor. In August, County Commissioners establish a suburban fire tax rate of ten cents per $100 of property valuation. In September, the commissioners appointed a three-person governing board. In October, the board is ordered to meet and begin organizing.  [CHNL, 4/14/55, and other articles.]
1956, May 23 – Pumper delivered for Greater Chapel Hill Fire District, 1956 Ford/American LaFrance 500/500. The $12,000 apparatus is operated by CHFD members, initially off-duty members as well as "call men". It's housed at CHFD and is authorized to also answer calls to newly annexed areas of town without hydrants. Costs of "handling" the calls will be divided between the town and the fire district. The first call is answered on June 19, for a house fire on church Street. [CHNL, 5/28/56, and other sources]
1956, June 2 – Glen Lennox and other neighborhood on the east side of town are annexed, after voter approval on May 26. Votes are 299 to 117. Ordnance approved on July 9. Retroactively applied on June 2. [CHNL, 7/11/56]
Second Station Planned – 1956 to 1958
1956, June – Tentative plans for new fire station "disclosed at Board of Aldermen meeting". Construction to cost about $40,000, with funds from a completed bond issue of $300,000. [CHW, 6/15/56]
1956, June – Fire insurance rate reduction expected for residents of newly annexed area. Town is hoping for a Class 6 rating, and presently has a Class 7 rating. Additional requirements need to be met, the main one being a "new 500-gallon pumper truck." If the town buys the Greater Chapel Hill Fire District truck, this requirement will be met. [CHNL, 6/28/56]
1956, Sep 10 – Town accepts contract with county, to provide fire protection for suburban district. Town takes over the district's pumper, and its cash assets and liabilities. The county will collect the tax, and transfer to the town. The contract period is two years to start and with automatic renewal. The district is now smaller, having been reduced in July, when County Commissioners subtracted the properties newly annexed by the town. [CHW, 9/7/56, and other sources.]
1956, Oct 15 – Two more firemen hired, Gerald Cheek and Paul Cook. [Presumably to operate the suburban fire truck.] They're funded through monies available through the suburban fire district. CHFD now has eight career members, 15 call men, and six volunteers. The town hall fire station is reportedly cramped, with the 1953 ALF and 1921 ALF in one bay, and the 1956 Ford/ALF and 1944 Ford/ALF in the second bay. "There is little room to get between the trucks, and little room on the sides" reports the Daily Tar Heel in November. [CHNL, 10/15/56, and other sources]
1956, November – Site selected for new fire station on Country Club Road, "almost opposite of the Gimghoul Road corner." Property belongs to University, and approval by Board of Trustees is pending. [CHNL, 11/19/56]
1957, January 15 – Fire insurance rates drop for suburban fire district, with state requirements met with district-purchased pumper. Announced in May and made retroactive to January 15. [CHNL, 5/9/57]
1957, July – New station site considered by Alderman. The fire station will not be located on Country Club Road, as earlier planned. Board members now inspecting sites in the Raleigh Road and Glen Lennox area. [CHNL, 7/18/57]
1957, July – Preliminary plans for the station prepared by architect Archie R. Davis. Final plans and adoption by town awaiting [final] selection of site. One-story with "colonial brick architecture", about 3,300 square feet. In addition to the "fire truck garage, it would include a classroom, lounge, dormitory, kitchen, furnace room, back porch and upstairs storage area." Planned for six men to staff, three on duty on alternating days. [CHNL, 7/25/57]
1957, November – Plans are being finished on the new fire station. Construction bidding to open in about ten days, says Fire Chief. [Takes a bit longer, see below.] [DTH, 11/21/58]
1958, May 26 – Purchase of fire station site authorized by town board, for $1,500. [TM, 5/26/58]
Construction Begins – 1959
1959, February 27 – Construction expected to start in a week or ten days, says town Manager. Bids were accepted on February 23, and despite that the lowest bid was $10,627 over the amount authorized for the project. Total cost will be $50,627, with $42,627 for the building, $5,000 for the land [including site preparation, hence the discrepancy from $1,500 cited above?], and $3,000 for architect's fee. [DTH, 3/1/59]
1959, September 27 – Daily Tar Heel reports that the 1914 Ford hose truck, the town's first fire engine, is being "toned up" by firemen, so it can be stored at the new fire station and used for "running errands and light hauling" between Station 1 and Station 2. [DTH, 9/27/59]
1959, October 6 – Town's first aerial ladder delivered, a 1959 American LaFrance 900 series, 100-foot and equipped with a 200 GPM high-pressure booster pump and a 200 gallon tank. The $39,917 apparatus is housed at Station 2 for a few years, until the town's new central fire station is built. The new Station 1 opened on November 8, 1963. [Nov 23, 1959; CHW, Oct 8, 1959; CHW, Nov 6, 1963]  
1959, November 2 – Four firefighters hired, including two later assigned to the new fire station: Mebane Durham, Clyde Whitt Jr., Calvin Beck, and Grover Brinkley. They'll undergo about two weeks of training. CHFD now has thirteen full-time members. [CHW, 10/15/59]
1959, November 16 – New station opens "without fanfare."  Two "750-gallon pumper trucks" are moved into the new station, while the town's new ladder truck "was transferred to the main station." It had been stored at the "Glen Lennox building." [The ladder truck is soon moved back to Station 2, as it barely fits in the fire station bays.] The new station is "under the direction" of Capt. Eric Crabtree, on duty with fireman Grovery Brinkley. The other shift is manned by C. W. Williams and Calvin Beck. "Communication between the Glen Lennox fire station and the main fire house will be maintained both by telephone and radio." [CHW, 11/16/59]
1959, November 17 – Informal inauguration and dedication ceremony held, with visitors including the Mayor and the Board of Aldermen. [CHW, 11/30/59]
Later Years – 1970 to 1999
1969 – Station 3 opens on September 15, 1969. Also after the station is opened, all apparatus is renumbered. Engine 2 becomes Engine 23. The others are named E16, E14, L15 at Station 1 and E31 at Station 3. [OH]
1976 – Police department moves into Station 2, shares space with fire department. Major portion of Patrol Division is relocated, due to CHPD space needs. By this time, the Public Safety Program had started, effective January 1, 1976. Fifteen Public Safety Officers (PSOs) were added, with one assigned to each fire station, each day. They performed as police officers, but also responded to fire calls. CHFD work hours were changed, reduced from 60 to 42 hours per week, and from 24-hour to eight-hour days. Sleeping quarters in fire stations were converted to training and office spaces, for both CHFD and CHPD. The PSO program continued until 1993, ending on October 13. PSO response to fire calls ended February 1, 1994. [DTH, 10/26/76, and other sources]
1980, September 8 – Bid awarded to Seagrave for new pumper. One year later, Seagrave files for bankruptcy and the pumper is rebid, and awarded to Central Mack Sales of Raleigh. This will be new Engine 2. [TM, 9/8/80]
1981, April or abouts – Police department vacates space at Station 2, with new CHPD headquarters open on Airport Road.  [DTH, 4/8/81]
1981, December 14 – Bid awarded for new Engine 2, 1980 Mack CF pumper, 1250 GPM, 500 [?] gallons. Demonstrator unit. Vendor is Central Mack Sales in Raleigh, with 20 working day delivery time. [TM, 12/14/81]
1996, December 1 – First Carolina blue-colored apparatus placed in service as Engine 32 at Station 2. Nicknamed "Blue 32," the 1996 Ferrara/Spartan pumper, 1500/500, was purchased jointly by the town, the University, and UNC Hospital. It was unveiled to the public at Kenan Stadium at a ball game on September 21, 1996. CHFD took delivery of the truck during the week ending November 3.
1997 – Facility improvements included addition of a woman's bath/shower (June) and an emergency generator (November).
1998 – Facility improvements included installation of an exhaust removal system (September).
1999 – Facility improvements included renovations of the living area: kitchen renovated, day room roomed, drop ceilings added, new windows, and month. The renovations take a number of months to complete.
2009, June 16 – New Engine 32 delivered, 2009 KME Predator pumper, 1500/500/20. Placed in service on August 1.
2017, January 9 (or abouts) – Station 2 closes on Hamilton Road. Engine 32 relocates to temporary facility at 204 Finley Golf Course Road. Demolition of the 1959 fire station begins that month.
[ History of the new building and its ten-year development goes here. To be continued! ]
Sources
AR – Annual Report, CHFD
CHNL – Chapel Hill News Leader
CHNW – Chapel Hill News Weekly
CHW – Chapel Hill Weekly
DTH – Daily Tar Heel
OH – Oral Histories
TM – Town Minutes