On January 6, 2018, the Raleigh Fire Department activated a fifth haz-mat station. On that date, personnel and equipment were transferred to Station 18 at 8200 Morgan's Way.
Haz-Mat 5 and the foam trailer were moved there. They are a 2002 International/SVI medium-duty rescue truck re-purposed as a spill control unit, and a 2012 Combat Support dual-axle trailer with a high-capacity deluge gun and foam concentrate cells.
They join Engine 18, which operates a 2000 Spartan MetroStar/Quality pumper, 1250/500.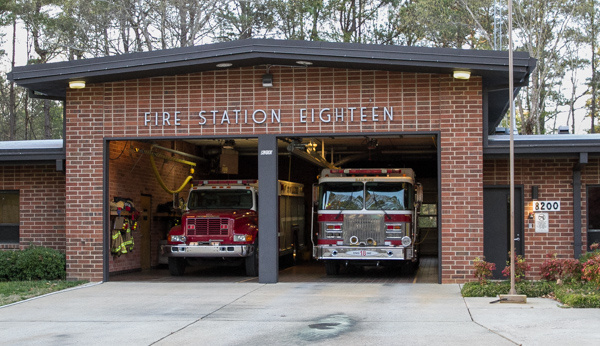 Four Air Monitoring Groups
Haz-Mat 5 has also been upgraded as an air monitoring group. This adds a fourth air-monitoring group, along with Haz-Mat 1 (Station 2), Haz-Mat 2 (Station 27), and Haz-Mat 3 (Station 8). See map below. 
Station 18 has also been assigned the responsibility of air monitoring equipment maintenance. 
Also in the pool of resources is Haz-Mat 4 at Station 22, the decontamination unit. However, they're not part of an air monitoring group.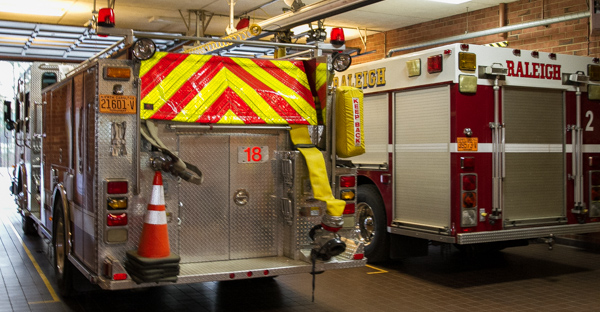 Engine 18 and Haz-Mat 5.
Backstory
Why the change? Though the number of technicians per platoon hasn't change—total of 20—it provides an additional officer, and additional coverage when the Regional Response Team (RRT) has responded somewhere.
See, when a regional response is requested, HM2, HM3, and HM4 leave the city. Before, only HM1 remained available for city and county coverage. Now, both HM1 and HM5 are available for calls.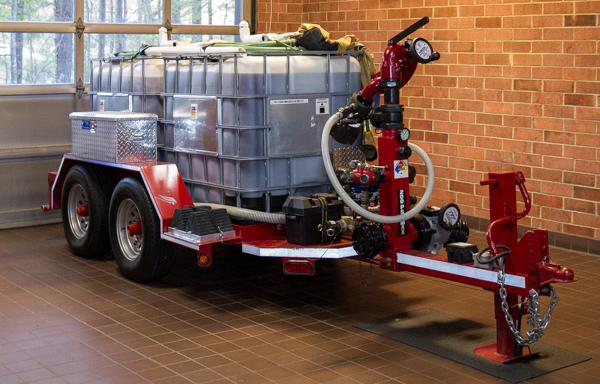 Foam trailer at Station 18
Fleet Listing
Here's the complete listing of fire department haz-mat units:
HM1 –  Engine 2 – 2006 Freightliner/Hackney, tractor-drawn haz-mat unit
HM2 – Engine 27 –  2014 Freightliner/1995 Hackney, tractor-drawn haz-mat unit, NC RRT4
HM3 –  Engine 8 – 2010 Ford F-350 Super Duty/Knapheide utility truck with climb-in body
HM4 –  Ladder 5 – 2004 Ford F-550 Super Duty prime mover + 200_ decontamination trailer
HM5 –  Engine 18 – 2002 International 4900/SVI medium-duty rescue spill control unit
Foam Trailer (Station 18) – 2012 Combat Support, 1000 GPM monitor, 500 gallons Class B foam concentrate.
Car 55 – 2007 Ford F-350 light truck with camper shell. Haz-Mat Coordinator.
Note: Upon delivery of Raleigh's new Pierce rescue this summer, Haz-Mat 5 will receive the reserve rescue, a 2007 Pierce Enforcer. The current Rescue 1 is an identical 2007 Pierce Enforcer.
Map of Air Monitoring Groups
This map shows the response areas of the four air monitor groups, located at Stations 2, 8, 18, and 27. Click to enlarge: