Chapel Hill's new platform ladder was delivered last week. Tower 72 arrived on Thursday, March 29. Photographer Lee Wilson was there, and took these photos. See that album.
'Tis a 2018 Sutphen Monarch, 1500/300/100′, with a one-off grey-over-Carolina-blue color scheme. (Grey to blend with the boom color.) It'll be placed in service at Station 3, and replace Tower 73, a 2006 KME 1500/250/100'. (Maybe as early as this week?) The older truck will be sold. 
Then some weeks later, it'll be moved to Station 2, which is being rebuilt on South Hamilton Road. That project is nearing completion. When it opens, Tower 72 will be moved there. Here's a prior blog posting about the project.
Engine 32 is currently operating from a temporary station, just around the corner on Finley Golf Course Road. Here are some photos of their temporary quarters.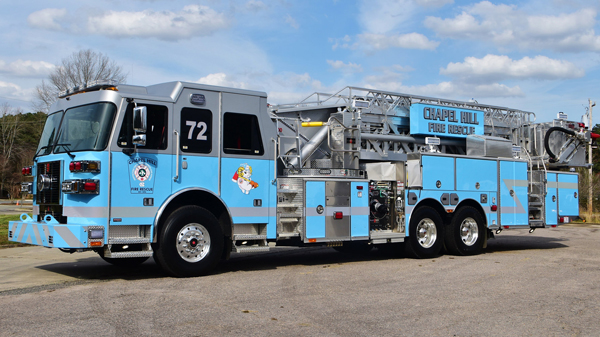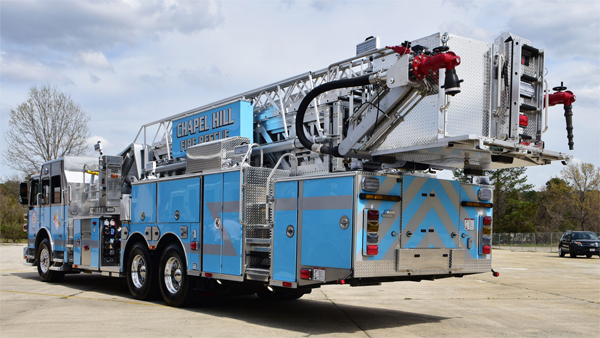 Lee Wilson photos
Built in Ohio
The $1.3 million apparatus was constructed in Dublin, Ohio. It took ten months to build. The replacement was needed as the older ladder has been plagued with mechanical problems, as this town news release notes.
Funding for the truck was paid for by two-thirds general obligation bond funds that the Town Council approved on January 18, 2017. That issuance of bond funds also completed payment for new radios.
That completed a four-year project adding APX three-band radios for the entire Operations division. Crews previously carried three different radios on their apparatus, for communicating with mutual aid units. 
Second Ladder Company
Chapel Hill is also adding a second ladder company. Around the time that Station 2 opens, Ladder 74 will be placed in service as Station 4.
It will operate the current Engine 35, a 2014 Sutphen Monarch 1500/500/75′ mid-mount aerial ladder. With existing personnel. No new firefighters have been hired. (If staffing drops below a set level on a given day, Engine 34 will go out of service.)
Here's the run-down on station assignments, after Station 2 opens and the moves are completed:
Station 1 – Engine 31 (2017 Pierce) and Battalion Chief
Station 2 – Engine 32, Tower 72 (2018 Sutphen), and Orange County EMS ambulance.
Station 3 – Engine 33 (2012 Pierce)
Station 4 – Engine 34 (2003 KME, former reserve), and Ladder 74 (2014 Sutphen)
Station 5 – Engine 35 (2002 KME, current E34)
Watch this space for updates.
Station Map
Here's a map of the town's five fire stations and their primary response areas. Click to enlarge: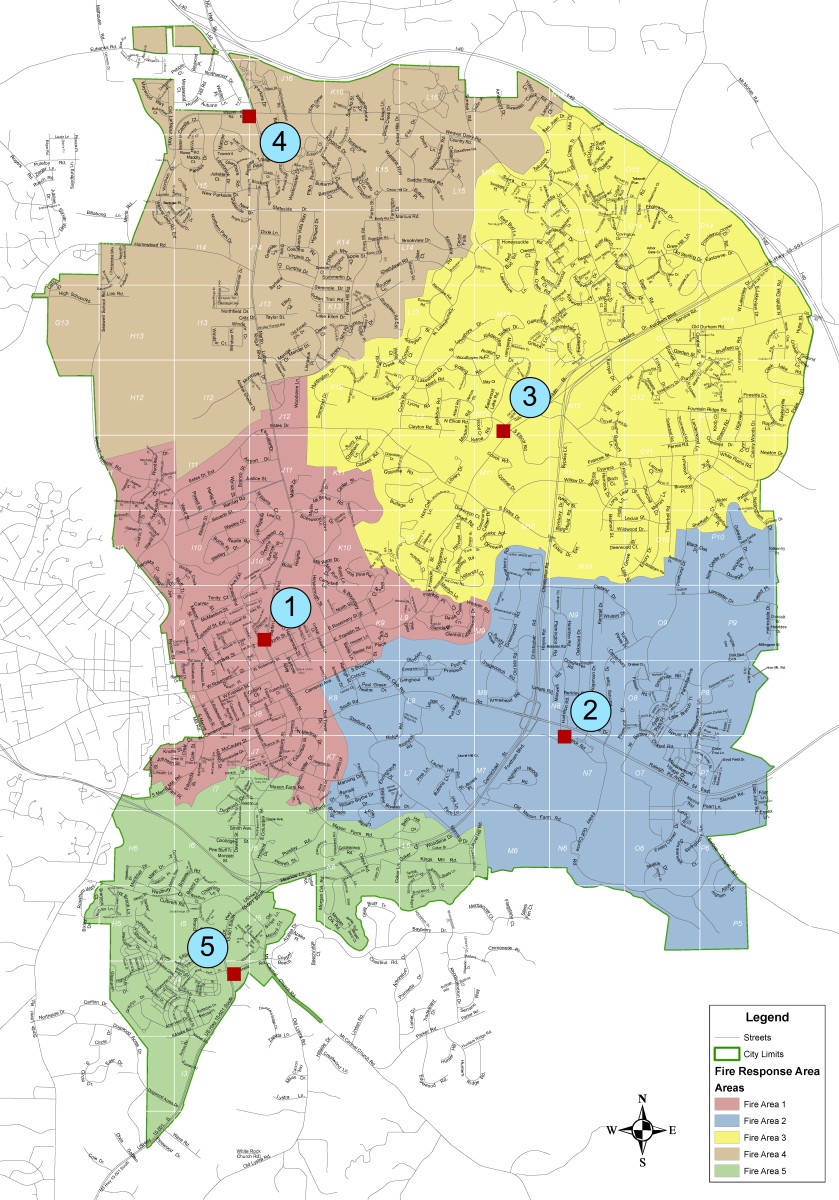 History Notes
The town's first ladder truck was a 1959 American LaFrance 900 Series mid-mount aerial ladder, 100-foot. The $90,000 cost was split with the university. And it may have been purchased as late as 1961. (Source: Daily Tar Heel, July 6, 1961.)
It was originally housed at Station 1, though it wasn't staffed as a ladder company. One person was assigned to the truck, to drive to calls if needed. 
(Sidebar: In 1975 [not 1971], the town merged the fire and police departments into a public safety department. Thus *all* apparatus may have operated with less than full staffing. Need to check. Fire and police were separated in 1993, and by that time, full fire companies were staffed.)
Chapel Hill's next aerial apparatus was a 1972 Ford C/American LaFrance 55-foot telesqurt that operated at Station 3. It was bought for Station 1, but couldn't fit in the doors, as the story goes. Only Station 3 could accommodate its size. The truck was nicknamed "Myrtle the Turtle" and was considered a hybrid engine/truck.  when moved to Station 5, upon its opening in 2001. [ Truck didn't serve as Station 5.] (Source: Oral histories.)
The first ladder company was activated after delivery of the town's first aerial platform, a 1992 Simon-Duplex/LTI aerial platform, 1500/300/100-foot, rear-mount. It operated as Tower 71, starting at Station 4 and then moved to Station 3. It replaced the 1959 American LaFrance ladder.
Next was a 2001 HME quint, 1250/500/65-foot. And the first ladder truck with their signature Carolina blue colors. Operated as Engine 35. Then the three rigs, listed above: 2006 KME, 2014 Sutphen, 2018 Sutphen.
Here's a full fleet listing (PDF) from a couple years ago. See also this virtual exhibit[1] from the Chapel Hill Museum.
[1] Link now broken, http://chapelhillmuseum.org/aperry/chfd/
Click to enlarge these photos: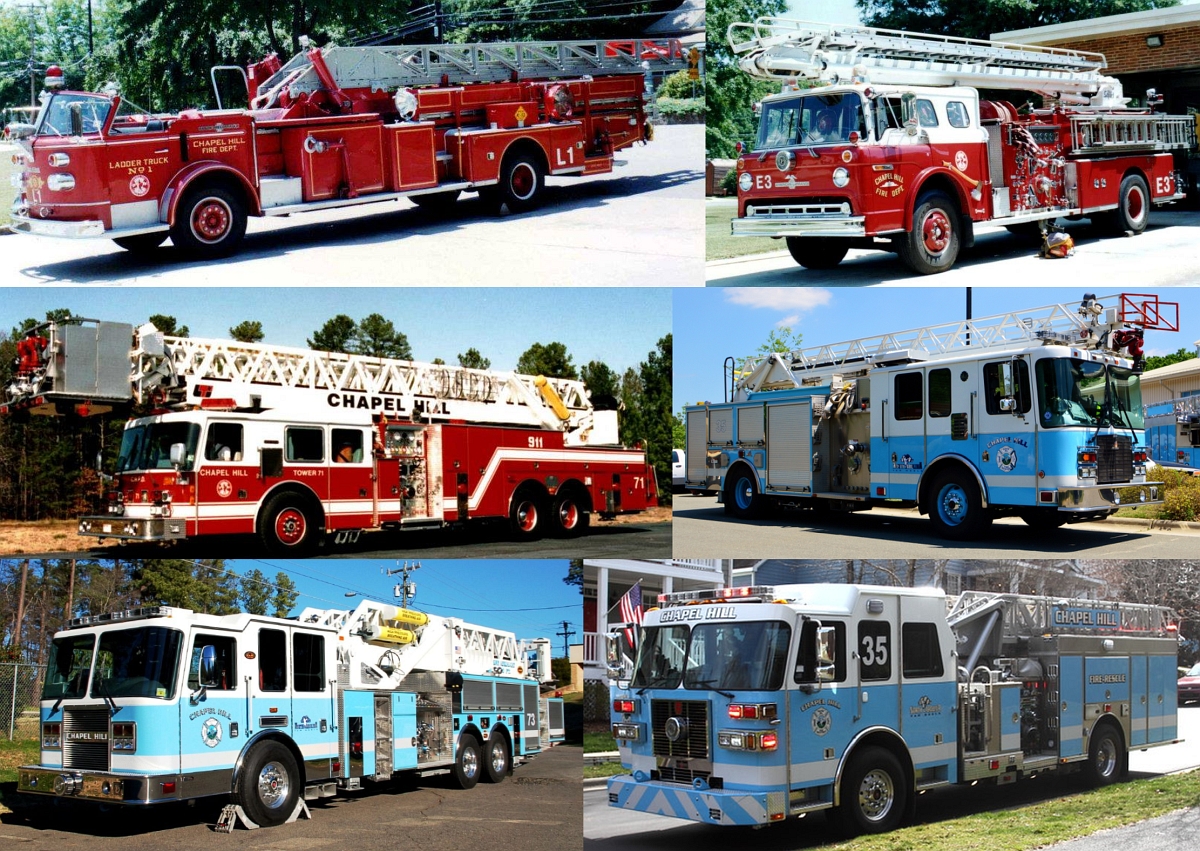 Photo credits: Chapel Hill Fire Department, Lee Wilson, Mike Legeros