May 18
Chapelboro.com posted this story yesterday with a project update and a drawing. Town council will vote in June whether to approve the joint project, which will erect a fire station and four-story office building on South Hamilton Road.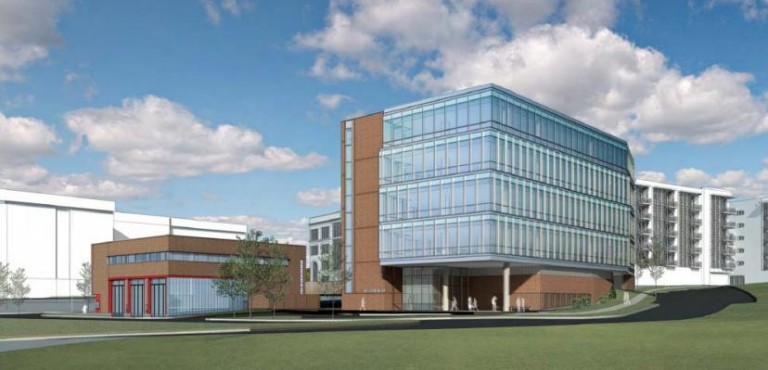 February 11
News out of Chapel Hill. Town Council on Monday approved the sale of Fire Station 2 to a developer, who will replace the facility with a four-story office building that includes a fire station on the ground level. And a two-story parking deck. Here are some details as gleaned from stories in the News & Observer[*] and ChapelBoro.com.
[*] Link now broken, http://www.newsobserver.com/news/local/community/chapel-hill-news/article59320608.html
The fire station is located at 1003 S. Hamilton Road, just south of Highway 54. The one-story, two-bay building opened in 1959. It has 3,710 square-feet and sits on a 1.17 acre lot. The lot is presently valued at $665,000.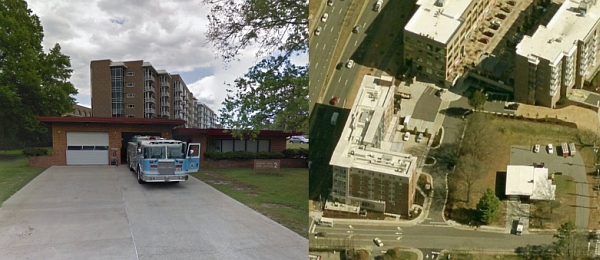 Google Maps (left), Bing Maps (right)
East-West Partners is planning to purchase the primo property for $1.75 million, then lease the site back to the town. (With a 500-year lease!) The town will pay that back to the developer, to build the fire station. (They'll add a bit of additional funding to the kitty as well. As may the county, if co-locating an EMS unit is desired.)
New Station 2 will be larger, and designed as a two-company station. Plus room for said Orange County EMS unit, which is presently housed on the UNC campus. The fire department will move their ladder truck (Tower 73) from Station 3 to Station 2, when the new station opens, notes the interim Fire Chief.
Where will Engine 2 reside during construction? The college has agreed to house the crew at an old fraternity house (!) near Finley Golf Course. Readers might have more details there.
Station Requirements
This project has been cooking for a couple years. Town Council debated the project in September 2015, as reported in this Chapel Hill Watch posting. They revised the Memorandum of Understanding (PDF) between the town and the developer, first drafted in 2014.
That document includes a list of the station requirement, such as:
Three apparatus bays, two 55 feet deep, one 65 feet deep.
Front ramps with flood lights, allowing exterior work on apparatus.
Day space and nearby parking for twelve firefighters.
Living space for ten firefighters, including dual gender bathroom/showers.
Classroom for no less than fifteen firefighters.
Office, public restroom, and safe refuge space, and public parking for up to three vehicles.
Exercise room for minimum of six simultaneous participants.
Decontamination and cleaning room.
Workshop area, optionally co-located in apparatus bay.
Separate exterior access from other occupancies on property.
See also this Developer's Program Document, dated October 2015.
Next Up: Station 3 and Station 4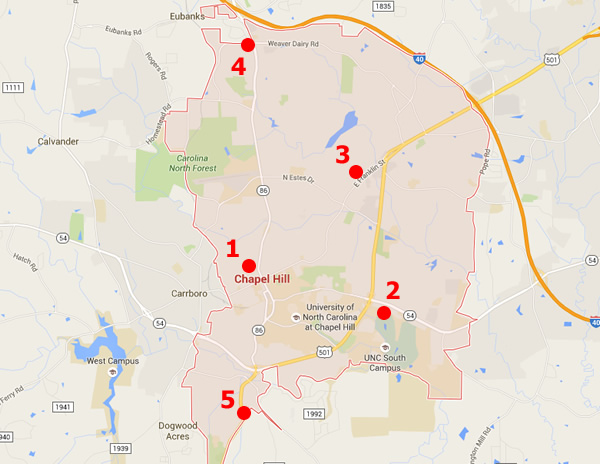 The project is the first of three planned station replacements. Station 3 (Elliott Road and E. Franklin Street) and Station 4 (Weaver Dairy Road and Martin Luthur King Jr. Blvd) are also in the queue for similar swaps.
On November 11, 2013, the town council passed a resolution recognizing that they needed three replacement fire stations, that they don't have sufficient resources to replace them outright, and that they're located on parcels that are highly desirable for likely commercial development. Thus they strategy of public/private partnerships, the first of which is the Station 2 project. (See that resolution, PDF.)
The Town Manager has noted that they've received proposals to buy the lots of Station 3 and Station 4, but they're starting with Station 2 project before doing anything else.
Here's a News & Observer story from October 2014, with a earlier project details, including noting that the town is planning (or was planning) to purchase a new ladder truck in coming years.
They currently operate a 2014 Sutphen Monarch mid-mount aerial ladder, 1500/500/75′ as Engine 35 at Station 5, and a 2006 KME mid-mount aerial platform, 1500/250/100′ as Tower 73 at Station 3. Search Lee Wilson's photos on Flickr for pics of both rigs.