The Raleigh Fire Department has taken delivery of their third tiller, a 2017 Pierce Arrow XT tractor-drawn aerial ladder, 1500/200/100-foot. Job #30630. Delivered July 10. 
It was part of a three-truck order funded in FY17, that included a pair of 2017 Pierce Enforcer pumpers, 1500/500/200. Jobs #30631-1 and #30631-2. Those were delivered last month. See prior posting.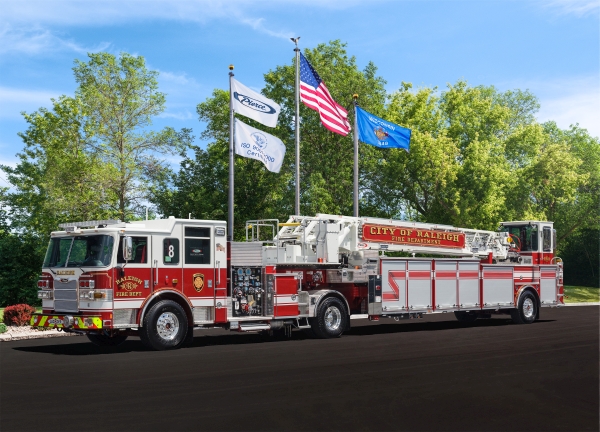 Note: This factory photo was taken when the truck was lettered for Ladder 8, prior to being changed before delivery. See larger versions of the picture. 
City's Third Tiller
This is the third tiller for the city, joining a 2010 Pierce Arrow XT (Ladder 4) and 2015 Pierce Arrow XT (Ladder 9). Changes since 2015 tiller include lower-seated ladder tip, sliding doors and window bubbles on the tiller cab, and unpainted roll-up doors on the trailer.
It'll be assigned to Ladder 4 at Station 1. The current Ladder 4 will be moved to Station 26, and operate as Ladder 8. (The new ladder is longer, due to the sliding doors on the tiller cab, and cannot fit inside Station 26.)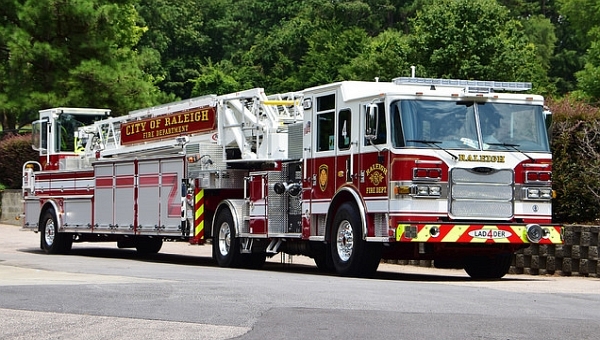 Lee Wilson photos
More Photos
Lee Wilson has been tracking the new truck's progress since it arrived at Atlantic Emergency Solutions in Fayetteville last week. See his photos. 
See also these close views from Mr. Blogger, as well as a fly-by drone video.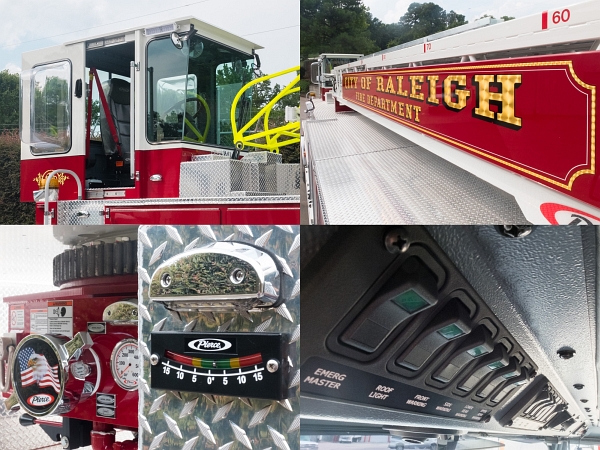 Mike Legeros photos