This is an ongoing blog posting about the rebuilding of Fire Station 6. 
See Legeros updates below. See also ongoing Legeros photos. And here's the official project site from the city.
March 30, 2021
Now Open
The City of Raleigh's newest fire station was placed in service at 1:30 p.m. on Monday, March 29, 2021. Earlier that morning, Engine 6 relocated from their temporary quarters shared with Engine 5 at Station 5 on Oberlin Road. They were later joined by Ladder 6, relocated from Station 23 on Pinecrest Road. 
Located on Fairview Road, the new fire station replaced a 1949 engine house that was located on the same site, and that was demolished in 2017.
Station 6 is located in the Hayes Barton community and first opened in 1943, in a rented building on the opposite side of Oberlin Road. 
Prior Postings
3/30/21 – Now Open
12/31/20 – Opening Soon
5/10/20 – Projected Completion
9/27/19 – Ready for a Roof!
7/25/19 – Then & Now
6/25/19 – June Update
1/1/19 – Construction Underway, Project Timeline
6/30/18 – Delays Nearly Done
12/28/17 – Site Preparation
08/12/17 – Now Gone
08/02/17 – Demolition started
07/17/17 – Demolition starting soon
05/30/17 – Now closed
05/27/17 – Moving day is nigh!
04/20/17 – Construction bid awarded, other updates
03/11/16 – Comparing current and future station
03/10/16 – 3D renderings
03/04/16 – Another public meeting scheduled
10/07/15 – Public meeting recap
10/07/15 – Historical correction 
December 31, 2020
Opening Soon
Construction has completed. Some site work is being finished, such as final paving of the parking lot. The building will be occupied within the next couple of weeks. Engine 6 will relocate from its temporary quarters at Station 5, and a ladder company will relocate from Station 23, a tractor-drawn ladder that will be renamed Ladder 6. Below are pictures from November 15.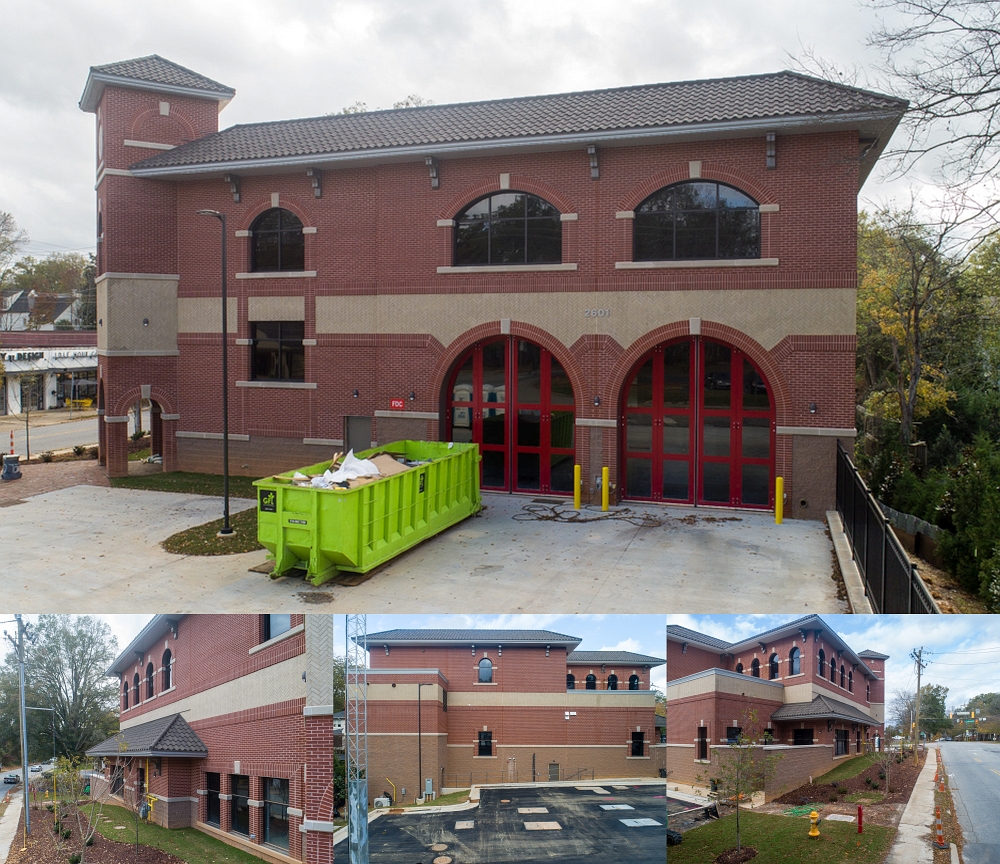 August 10, 2020
Projected Completion
September is the projected project completion date, pushed out from June 2020.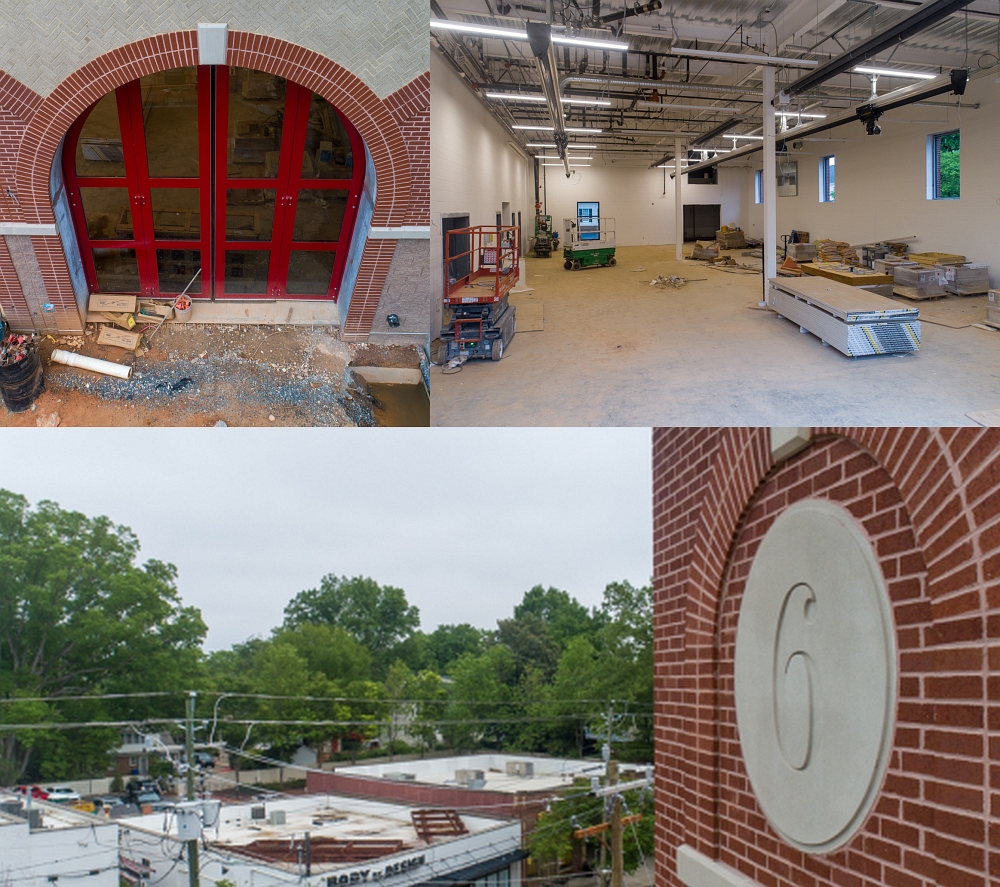 September 27, 2019
Ready for a roof!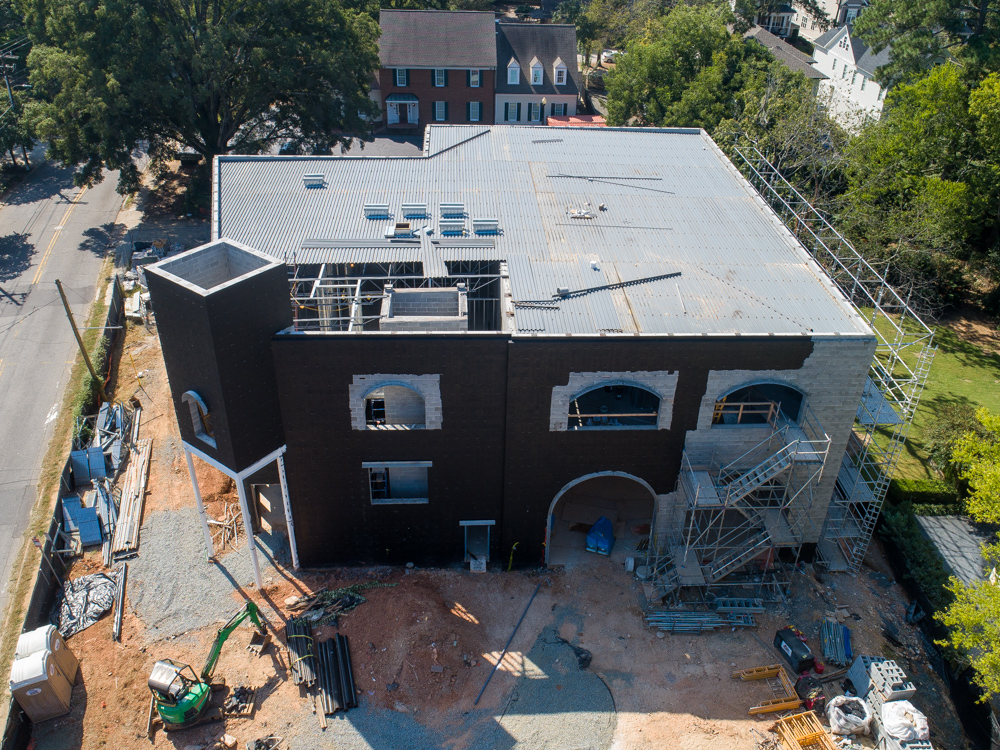 July 14, 2019
Then & Now
June 25, 2019
June Update
Construction continues on rebuilding Station 6 on Fairview Road. Concrete masonry unit walls are finished on the first story, and construction continues upward with the second-floor slab placed. Planned completion January 2020.
The 1949 engine house was closed in May 2017, and Engine 6 was relocated to Station 5. Project progress has been slower in all phases, alas. During site prep, there was fuel contamination from an underground storage tank, as well as unsuitable soils for compaction and structure.
And as the walls have started going up, the pace is slower due to the very small site size, which adds a limit to on-site materials and activities at any time.
January 1, 2019
Construction Underway, Project Timeline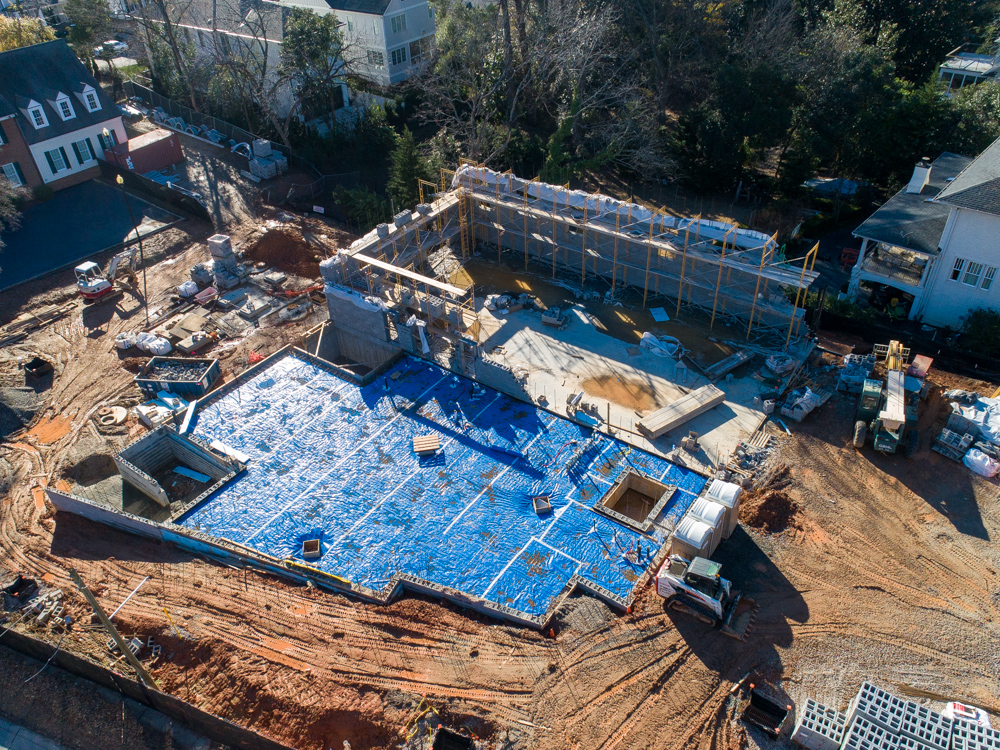 Project timeline:
2013, Sep – Structural condition assessment conducted.
2013, Dec – Business case and CIP request submitted.
2014, Jul – Project funded in FY15 CIP.
2014, Aug – RFQ design proposal submissions received.
2015, Mar – Design contract executed, Stewart-Cooper-Newell, $439,960.
2015, May – RFQ CMT/SI submissions received. 
2015, Sep – Site/soil assessment contract executed, $15,700.
2016, Sep – BOA approval design variance for Oberlin Road frontage.
2017, May – Construction contract executed, Pro Construction, $5,057,200
2017, May – Station 6 closes, Engine 6 relocated to Station 5.
2017, Aug – NTP schedule construction start, with existing station demolished.
2018, Jul – Construction contract amendment, change order unsuitable soils, etc., $471,898.
Drawings of each floor, plus the site plan:
June 30, 2018
Delays Nearly Done 
Structural work will begin in July (yea!), with footers and foundation, import fill, and existing retaining wall demolition. Look for the first layer of parking lot asphalt laid soon. That will serve as a material lay down area.
Site work is nearly finished, with water and sewer connections completed in the right of way (Oberlin Road). This was done some weeks ago, and required closing of the road for a number of days. Click to enlarge: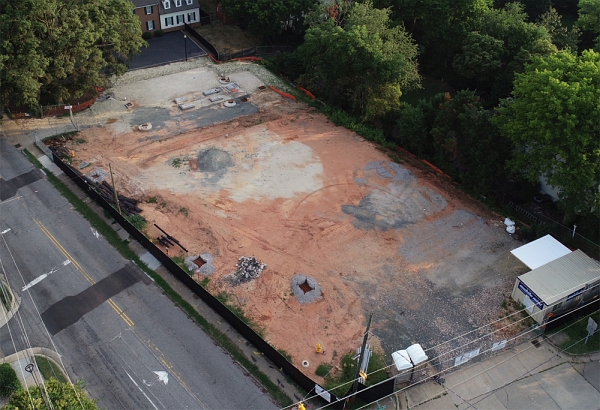 Alas, a couple of project delays have presented, since the demolition was completed in early August 2017.
As part of site preparation, two underground fuel tanks were removed. Soil contamination was discovered and halted the project for several weeks, while the contaminated soil was removed and further testing conducted. 
In November, a precast concrete sand filter assembly was installed, under where the parking lot will be located. It will help with storm water run-off. Scroll down to see a picture, or check out Mike's photo album.
Additional site delays were subsequently encountered as a change of work was negotiated to address unsuitable solids (soil compaction issues), as well as negotiating a right of entry with the residential neighbor. That's for performing work on or in close proximity to the property line.
Station 6 is now targeted for completion in the fall of 2019. The 1949 engine house was shuttered at 10:29 a.m. on Monday, May 29, 2017. Engine 6 relocated to nearby Station 5 and continues to share their quarters. After they return to their new quarters, they'll share their digs with the planned Ladder 10.
December 28, 2017
Site Preparation
Site work is underway. Recent work included a sand filter installed in November, under where the parking lot will be located. Will help with storm water run-off. Work was delayed for a number of weeks, after the excavation of two underground fuel tanks, and the resulting soil testing. See more photos on Mike's new SmugMug site.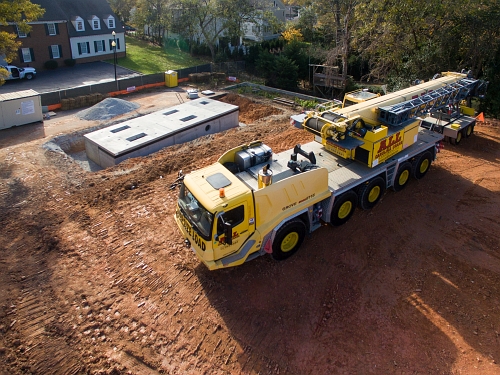 August 12, 2017
Now Gone
The building has been removed. Remaining materials to be removed, along with the foundation and other ground features. Next is site preparation. See photos and watch videos.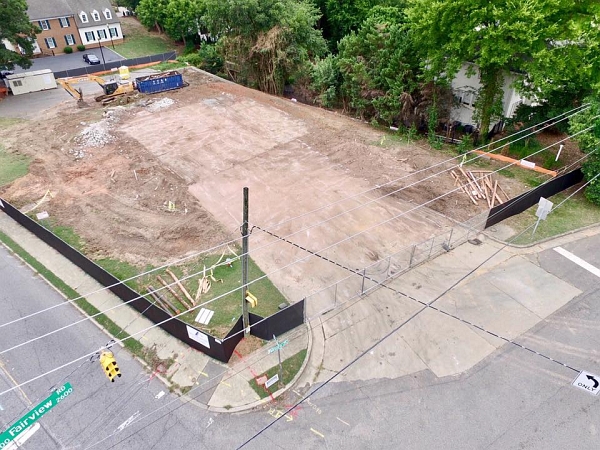 August 2, 2017
Demolition Started
Heavy equipment arrived on the site today, and crews began removing some of the trees from the property. Fencing will be added in another day or so. We're told the walls will be down, within a day or two after that. See photos and watch videos.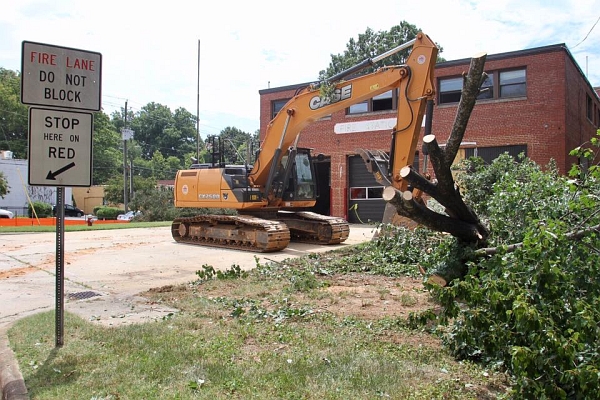 July 17, 2017
Demolition Starting Soon
Permits have been completed, and abatement and then salvage starts this week. Demolition should start by the end of the month.
May 31, 2017
Now Closed
Fire Station 6 on Oberlin Road has closed. Engine 6 on "B" platoon shuttered the fire station at 10:29 a.m. on Monday, May 29. They have relocated to nearby Fire Station 5 in Cameron Village, where they'll share quarters with Engine 5 during the fourteen-month project. Demolition starts in July. See photos from moving day, from inside the fire station, design drawings, and some historical photos.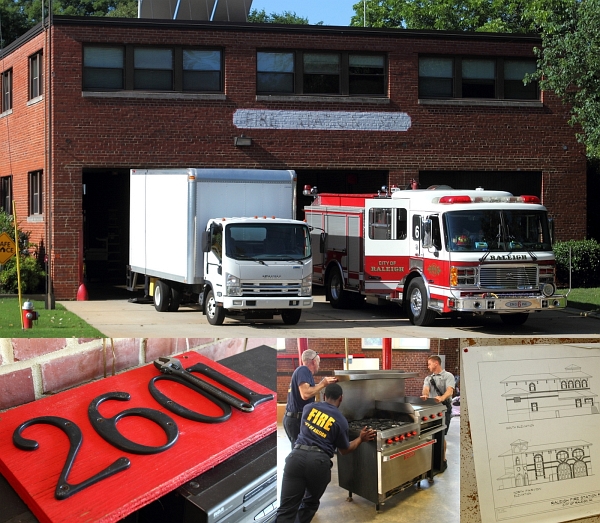 May 27, 2017
Moving Day is Nigh!
Engine 6 relocates to Station 5 on Monday, May 29. The oldest active engine house in the city will be closed, and a new fire station will be erected on the site. Watch this space for updates, as construction gets underway.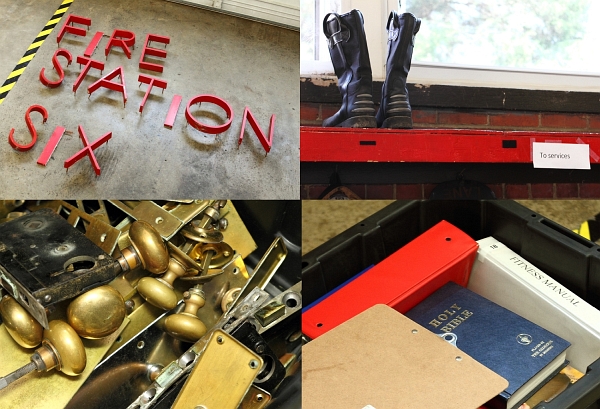 April 20, 2017
Construction Bid Awarded
Last month, the construction bid was awarded for the Station 6 project. See below. Construction is planned to begin in May, and Engine 6 will be relocated to Station 5 while the new engine house is being built. 
From the City Council meeting minutes of March 7, 2017, published this week:
FIRE STATION #6 – BID AWARDED TO PRO CONSTRUCTION, INC.
On March 7, 2017, six formal bids were opened for the Fire Station Number Six New Construction project. KMD Construction submitted the low bid of $5,002,803. After reviewing its bid, KMD Construction requested the bid be withdrawn due to a significant arithmetic error. The next lowest responsible bid was submitted by Pro Construction, Inc. with a bid of $5,057,200. Minority and Women Owned Business Enterprise (MWBE) participation is 16.6 percent. Funding is appropriated in the capital budget.
Name of Project: Fire Station Number Six New Construction
Managing Division: Engineering Services – Construction Management
Reason for Council Review: Formal Bid Award Amount >$500,000
Original CIP Budget: $6,395,000
Vendor: Pro Construction, Inc.
Prior Contract Activity: None
Budget Transfer: NA
Encumbered with this approval: $5,057,200

April 4, 2017
Recommendation: Award the contract to Pro Construction, Inc. in an amount not to exceed $5,057,200 and authorize the City Manager to execute the contract. Upheld on Consent Agenda. Branch/Thompson – 7 ayes (McFarlane absent and excused).
Other Updates
For the last several weeks, Rescue 1 has been housed at Station 6, while sprinklers were being installed at Station 15. The engine was not relocated, however. They should be moving back any day now.
On April 11, 2016, Engine 5 relocated to Station 6, as temporary quarters while renovations of Station 5 started. They returned to their updated engine house on November 10.


Lee Wilson photo (left), Mike Legeros photo (right)
March 11, 2016
And here's a comparison of the current and future stations. Took these photos at lunch. Tried to match the perspective as closely as possible. Click to enlarge: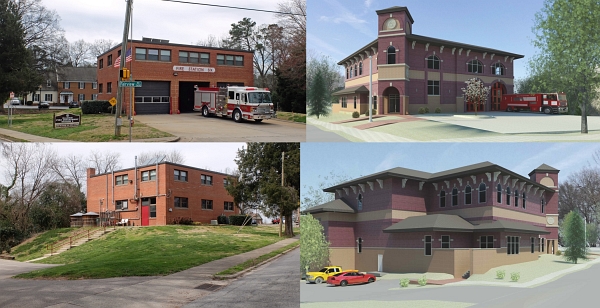 March 10, 2016
These 3D renderings were displayed at Tuesday's meeting. The site plan and floor plan are completed, but the design of the exterior elements is still being finalized. It may change a bit in the finished product. The bird s eye view displays the south and east building elevations. And the neighboring buildings are shown as simple shapes, to present spatial relationships. Click to enlarge: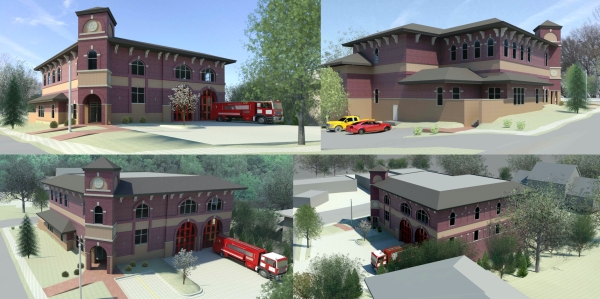 March 4, 2016
Press release. A community design meeting for the City of Raleigh s Fire Station 6 rebuild project is scheduled for Tuesday, March 8, at 7:00 p.m., in the apparatus bay at the station, which is located at 2601 Fairview Road. See original announcement, with contact information.
Architects Stewart-Cooper-Newell will present a final site plan, building elevations, and computer model 3D perspectives that show the project s relationship with adjacent buildings. The City is seeking public feedback at the design meeting. Construction is expected to begin in 2017.
Two prior public meetings have been held. Below is a blog posting with a detailed summary of information presented the October meeting. Short summary of everything:
Station 6 opened in 1943, in nearby rented building on Fairview Road.
Dedicated Station 6 opened in 1949, in current location on Fairview Road.
Oldest operating engine house in city. But needs replacing due to age, condition, small size, etc.
Site remains best location for Engine 6 as well as a planned ladder company (with tiller) at location.
Replacement facility planned as two-story structure with nearly 13,000 square-feet.
Design to blend/harmonize/respond to surrounding buildings and neighborhood.
Community input sought at all stages of project.
Here's a preview of the computer modeling. How cool is that?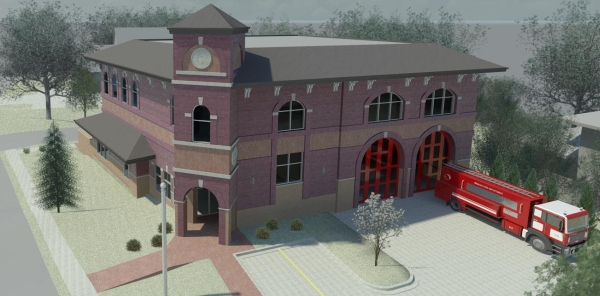 Public Meeting on October 7
[ From a blog archives posting on October 15, 2015. ]
On Wednesday, October 7, the Raleigh Fire Department held a public meeting at Fire Station 6, to present plans for rebuilding the building. Fire Chief John McGrath opened the presentation with an overview of the project, followed by Architect Ken Newell, from Stewart-Cooper-Newell, who spoke about design considerations.
Questions were posed by the attendees, and answers were provided by city staff and other members of firm. Plus one correction on a historical note from Yours Truly. (See footnote below.) The meeting started about 7:15 p.m. and ended about 8:30 p.m. Less than a dozen citizens attended.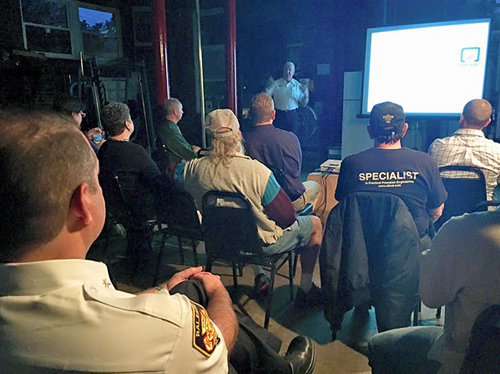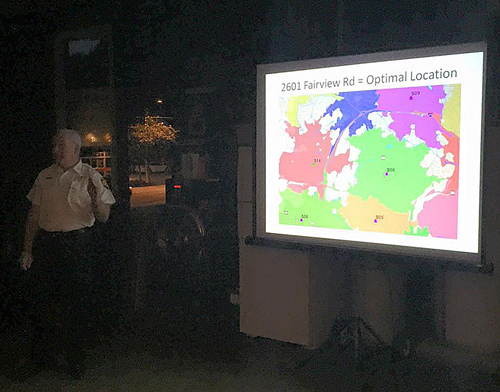 Here's what was shown on sign boards… Click to enlarge:
Here s what was talked about…
Fire Station 6
Built in 1949.
Located at 2601 Fairview Road.
Oldest operating engine house in the city. (Read history.)
Based on analysis of current response times and requirements, the station site remains the ideal location.
New station is needed to accommodate second company, a ladder company, Ladder 10, which is planned. (Among other reasons, including station age, condition, systems age, etc.)
Project is limited by small site size.
Project requirements have been determined, and prospective floor plan created.
Design is pending, based on inputs from community.
Meeting is first of several planned with public, to collect inputs and concerns about the new building.
Background of Stewart-Cooper-Newell Architects.
Founded in 1971 (and based in Gastonia).
Designed, studied, and/or assessed over 300 public safety projects for municipalities across the nation.
Raleigh-area fire (and EMS) station projects have included facilities in Apex, Bahama, Carrboro, Clayton, Garner, Morrisville, Raleigh, and Wake County.
Currently involved in four fire station projects in Raleigh.
Station 6 replacement (design).
Station 11 additions, renovations (design).
Station 12 new construction (design).
Station 14 new construction (design).
Reviewed recent community input projects and historic context.
Carrboro Fire Station 2

Very small lot.
Community had concerns that were incorporated into design.

West Bend Station 13 in Lewisville

Designed to align with agricultural and equestrian aesthetic.

Danville, VA, Headquarters/911/EOC

Designed to align with tobacco district architecture.
Included front, glass-sided section showcasing historic steamer.

Maplewood, MO, new station/dispatch center

Designed on a sloping lot, with lower story below higher grade.
Reviewed the current Fire Station 6 and surrounding community.
Showed elements of the facility, including proximity to intersection, sloping rear grade, slopping side grades, rear water garden that s part of water collection system, pair of old trees on property (that will be preserved if possible), architectural styles of surrounding properties, notably appealing elements on corner dry cleaner building (former gas station?).
Noted that their design will be designed to respond to the architecture of the surrounding buildings and community.
Design process began with a list of requirements, including:
Apparatus:

Bay 1 with capacity for 35-foot engine and 35-foot reserve engine.
Bay 2 with capacity for 63-foot tiller. With inclusions for doors and walking space, 80-foot length.
PPE storage room with thirty lockers.
Decon/laundry room.
EMS storage closet, with controlled climate.
Tool shop and outside equipment storage.
Total 4,504 vehicle bay square footage.

Public:

Lobby with seats for visitors and display space.
Public restroom.
Watch room.
Captain s office.
Total 594 square-feet public space.

Private:

Day room with seating for ten people, open to kitchen and dining.
Kitchen and dining area, with exterior door to patio. Commercial food preparation/storage equipment.
Partially covered outside patio with gas grill connections.
Sleeping rooms, toilet/shower rooms for personnel.
Exercise room.

Total 4,818 private space square footage.
Total 12,874 net square feet, adding space for HVAC, etc.
Showed current site plan with elevations, property boundaries, setbacks, etc.
Showed site layout with new building.
Building footprint will be larger.
Apparatus bays shifted a bit west on property.
Two parking spaces beside apron.
Two entrances for public, on front and side of building.
Two new trees planted.
Two existing trees preserved, if possible.
Outside parking, using existing grade.
Showed prospective floor plan.
First floor:

Apparatus bays
Decon room
EMS room
Tool shop
Lobby
Public toilet
Radio room
Captain s office
Day room
Day room toilet
Kitchen/dining
Elevator equipment room

Second floor:

Two-bed bunk room
Three-bed bunk room
Four-bed bunk room
Toilet/showers, four
Captain s bunk room, two
Captain s toilet/shower, shared
Exercise room
Storage/fire pole access
Mechanical room
Both floors:
Stairs, two
Elevator
Discussion notes:
Architects will respond to community architecture, in their designs.

Such goals of multi-color, multi-color brick treatments, masonry details, maybe pre-cast, etc.
May include historic elements both inside and outside structure.
Though noting that the building itself, basically a box, doesn t have significant architectural significance.

Design will have considerations for next-door neighbor.

Vegetation planned on west side of lot, for visual and noise abatement.
Design elements also planned, so there s more than just a wall for neighbor s view.

Basement under consideration in rear of structure.

Thus with a three-story rear section.

Will have sprinklers.

All new Raleigh fire stations have them (required to have them?), as well as renovation projects.

One attendee suggested they survey properties further down Fairview Road, at Five Points.

For additional comparable examples of commercial and community architecture.

One attendee inquired about accordion-style doors for apparatus bay, as a better fit for neighborhood.

Architect agreed, though notes they are expensive up front.
Legeros: Cost about three times as much, but are typically less maintenance. Open nearly instantly, in seconds. Very hard to hit.
Historical Correction
In his book Raleigh and Wake County Firefighting, published in 2003 by Arcadia Publishing, author and burgeoning historian Mike Legeros wrote about the original Station 6, which opened in a rented building on Fairview Road in 1943. He presented a pair of significant errors: wrong street address and wrong building pictures.
The original Station 6 was a single-story structure at 2519 Fairview Road. It was NOT located at 2513 Fairview Road and was NOT housed in a two-story structure. The latter resides beside the former. Both buildings are still standing. In fact, the numbskull author even had a newspaper photo of the original Station 6. The clipping clearly showed a single-story building. But his imagination took over and he saw the structure next door (the two-story restaurant) as a seemingly obvious former fire station. Wrong!