This is an ongoing blog posting about the relocating of Fire Station 14. 
See Legeros updates below. See also ongoing Legeros photos. And here's the official project site from the city.
Contents
7/8/21 – Now in Service
4/16/21 – Construction Nearly Completion
8/10/19 – Walls Going Up
6/25/19 – Site Work Nearly Finished
3/23/19 – Site Work Finishing
7/25/18 – Site Work Started
1/17/17 – Construction Bid Awarded
12/28/17 – Site Cleared
11/9/16 – Second Public Meeting
8/15/16 – Drawings and Floor Plan
8/6/16 – Public Meeting
July 8, 2021
New Station 14 opened on July 7, 2021. It was activated at 6:17 p.m. 
Squad 14, Ladder 14 from Station 17, and Battalion 3 moved into their new quarters that day. Units and personnel moved their PPE and work equipment, along with personal belongings. IT staff relocated computers and communications equipment. Some other things, such as exercise equipment, would be transferred later. 
In addition to Squad 14, Ladder 14, and Battalion 3, the new station also houses Mini 14 and three trailers, for boats, ATV, and technical trainer. The boat trailer is parked inside the station, with the other two parked outside.
Station 14 will also house a new shift Safety Officer, who will be placed in service in the coming days.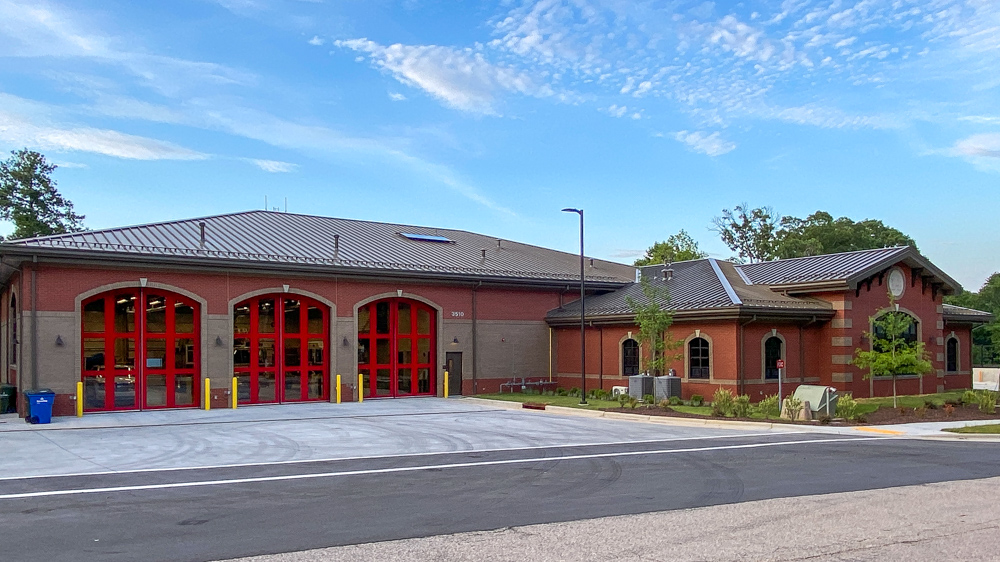 April 16, 2021
Construction nearing completion. Here's a photo from last month: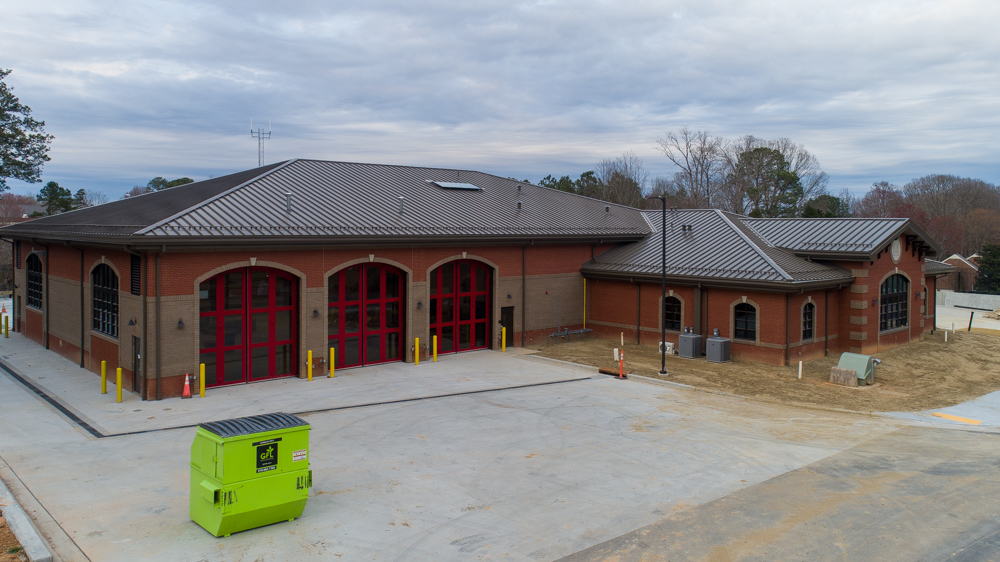 August 10, 2019
Walls are going up!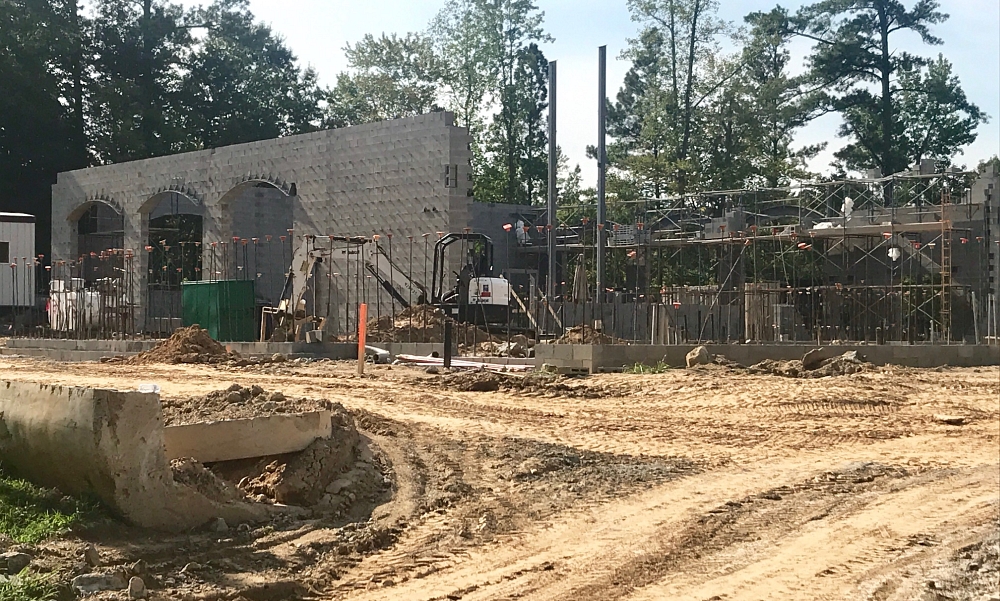 June 25, 2019
Site work is nearly finished on new Station 14 on Harden Road. Sediment monitoring is nearing completion for the back fill of the retaining wall and footers and under-slab utilities should begin in July 2019.
March 23
Added link above to official project site. What's happening at the construction site? Site work is finishing. Should see construction starting soon.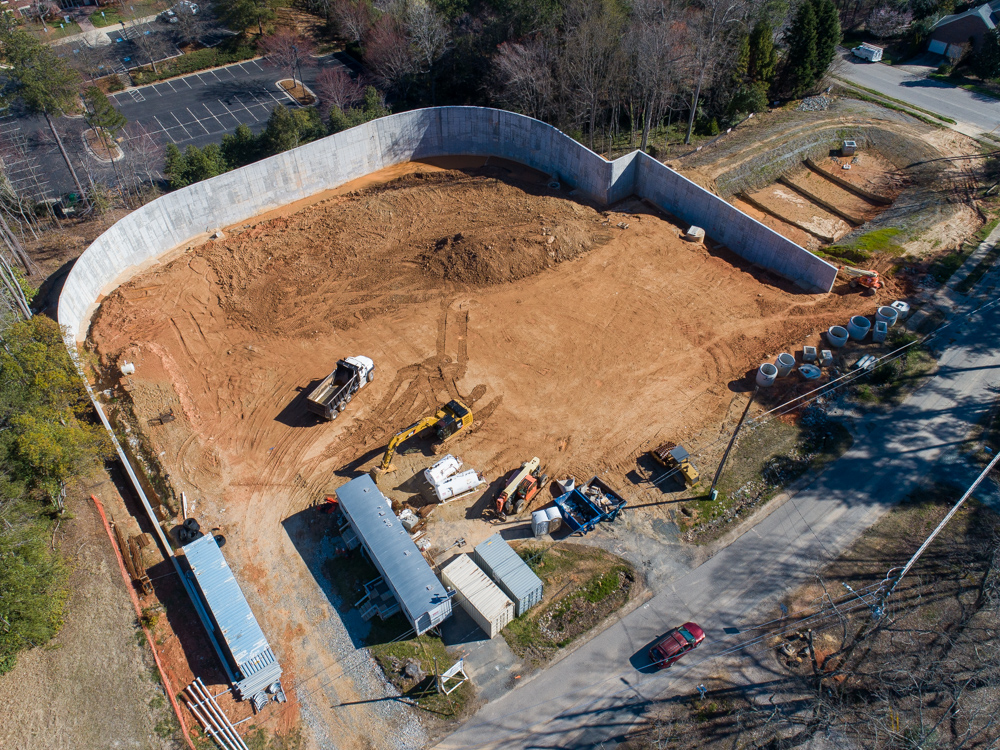 July 25, 2018
Site work started this month. Crews have been digging a retention pond, among other activities. See more photos.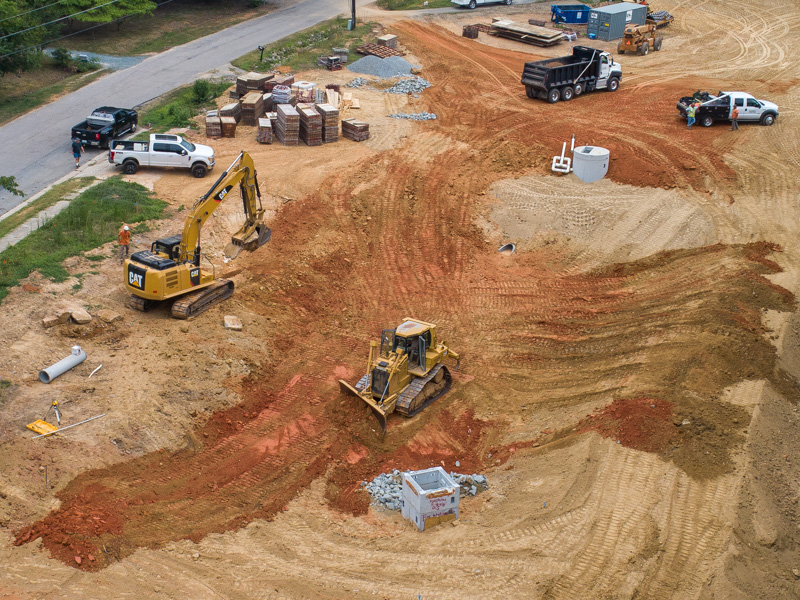 January 17, 2017
Construction Bid Awarded

At yesterday's City Council meeting, the agenda included awarding the construction bid for Fire Station 14.  Bid amount $6,845,670. Award to Pro Construction, Inc. Work to start within 60 days. The details of the consent agenda item are below. Seems a safe presumption that it was approved.
Also, the parcels on the site have been combined, and the property is addressed 3510 Harden Road:

Construction Bid
From the agenda for the January 16, 2018, regular meeting of the Raleigh City Council (see source):
Funding for construction for the replacement of Raleigh Fire Station 14 was included in the capital improvement program.  The project site is located at 3510 Harden Road.  The project includes construction of a new 18,100 [square-foot] fire station, including three apparatus bays.  While the building construction is standard, the location of the building requires considerable site work consisting of grading, filling and backfilling, retaining wall, utilities, concrete parking and fire truck aprons, and concrete sidewalk.
On December 19, 2017, eight formal bids were opened for the Fire Station 14 construction project. Upon review of the submitted bids, three bids were rejected as non-responsive:
Focus Design Build, LLC (Contractor was not prequalified, which was a requirement for bidding. G.S. 134-135.8(d))
W.C. Construction Company, LLC (Contractors omitted required parts of the bid package)
Harrod and Associates Constructors, Inc. (Contractors omitted required parts of the bid package.)
The lowest responsible bid was submitted by Pro Construction, Inc. in the amount with a bid of $6,845,670.
Minority and Women Owned Business Enterprise (MWBE) participation is anticipated to be 29%.  MWBE documentation has been reviewed by MWBE staff.
Funding is appropriated and the contract amount is within existing budgetary appropriations.
In accordance with North Carolina General Statute 160A-499.4. – Notice Prior to Construction, the City is hereby providing public notice of the construction of the Fire Station 14 project, which is planned to begin construction within the next 60 days.
December 28, 2017
After several months of unexpected project delays, the site was cleared in November. Groundbreaking is expected in January.
See more photos on Mike's new SmugMug site.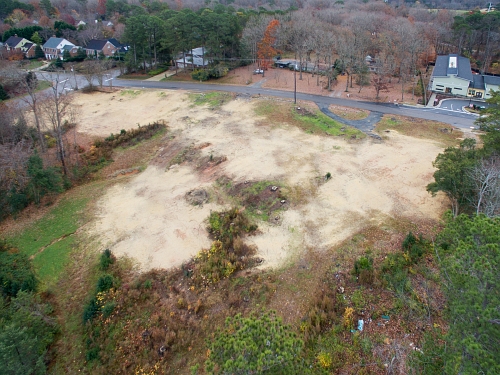 November 9, 2016
On Monday, November 7, another public meeting was held, to present the current plans for and receive feedback on the new Fire Station 14.
Their presentation include included a site plan and more renderings. Construction is planned to start in June, and with a thirteen-month build time. Click to enlarge:
The trees on the site–or sites, as the parcels haven't been combined yet–were cleared in recent weeks. Four empty houses are still standing. The fire department has used them for some training. They'll be demolished in the near future, likely around the holidays. Click to enlarge: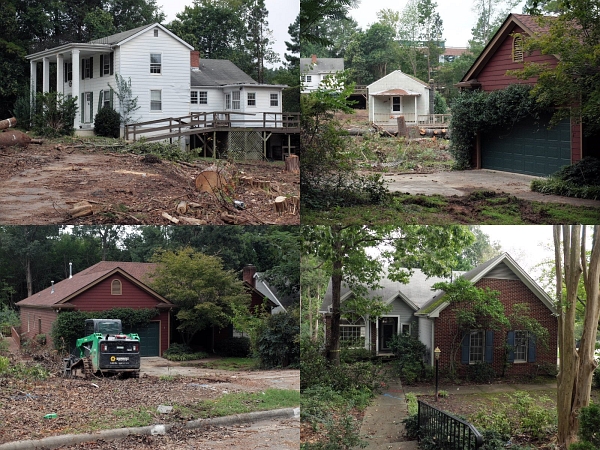 August 15, 2016
Here are pictures of the drawings displayed at the public meeting, including a simplified floor plan sketch from myself. Notice that the exterior materials are different/different color than the Station 12 drawings seen in our prior post. Click to enlarge, or see more photos: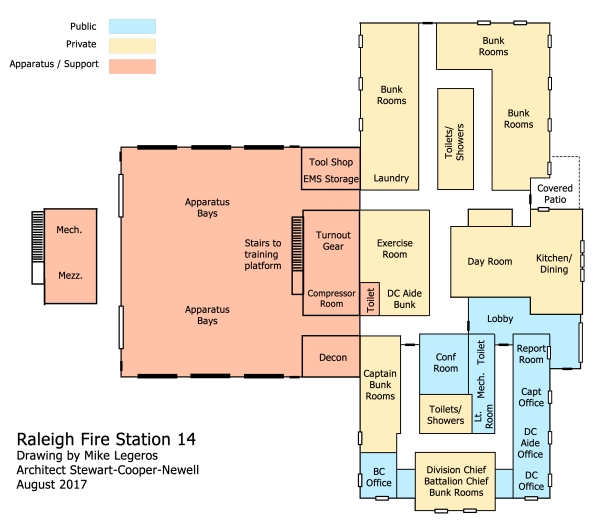 August 6, 2016
The Raleigh Fire Department will hold a public meeting about rebuilding and relocating Fire Station 14 at 7:00 p.m. on Tuesday, August 9, at the Jaycee Park Community Center, 2405 Wade Avenue. The meeting, hosted by the Office of the Fire Chief and Stewart-Cooper-Newell Architects, will present a project overview, share current designs, and field citizen discussion and feedback. Read the entire press release.
Station 14 is located at 4220 Lake Boone Trail, on a wee parcel beside Rex Hospital. It's being relocated to the corner of Harding Road and Nancy Anne Drive, to a trio of parcels that'll be combined into a 2.22 acre site. Read more about the fire station and its history.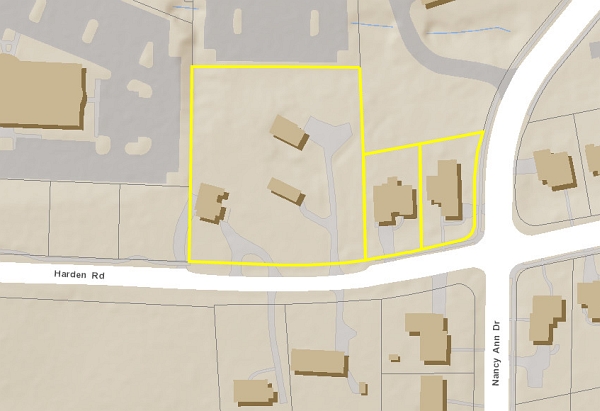 The new Station 14 will be nearly identical to new Station 12, and located at the corner of Bus Way and Poole Road. Both are designed to house an engine and ladder company, a Battalion Chief, and Division Chief. Construction on Station 12 starts in September. Construction on Station 14 will start in 2017.
See this blog post from earlier this week, with details and drawings of the new Station 12. See also this blog archives posting from 2014, about the first parcel purchased for Station 14.
Watch this space for more information, after we attend the meeting on Tuesday.