This is an ongoing blog posting about the renovation of Fire Station 11. 
See Legeros updates below. See also ongoing Legeros photos. And here's the official project site from the city.
Contents
12/17/19 – Moving Day
11/24/19 – Nearly Finished
9/27/19 – Doors Have Been Added
6/25/19 – Interior Work Has Started
5/29/19 – New Bays Nearly Complete
3/23/19 – Construction Has Started
12/7/18 – Rendering Added
12/6/18 – Companies Moved
10/12/18 – Site Plans, Floor Plans
December 17, 2019
Crews completed two days of moving today into their new old home. Station 11 was reactivated early this afternoon, with Engine 11 and Ladder 2 relocating from their temporary quarters at Station 7 and Station 15, respectively. Here are a some pictures: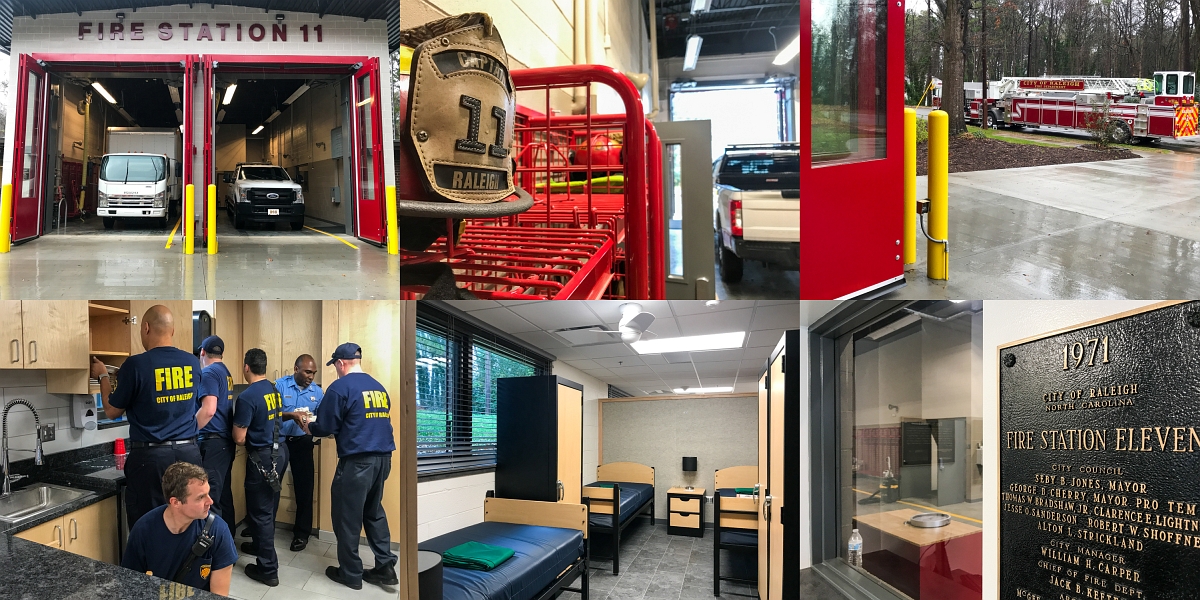 November 24, 2019
Nearly finished. And a good-looking plaque seen through the windows…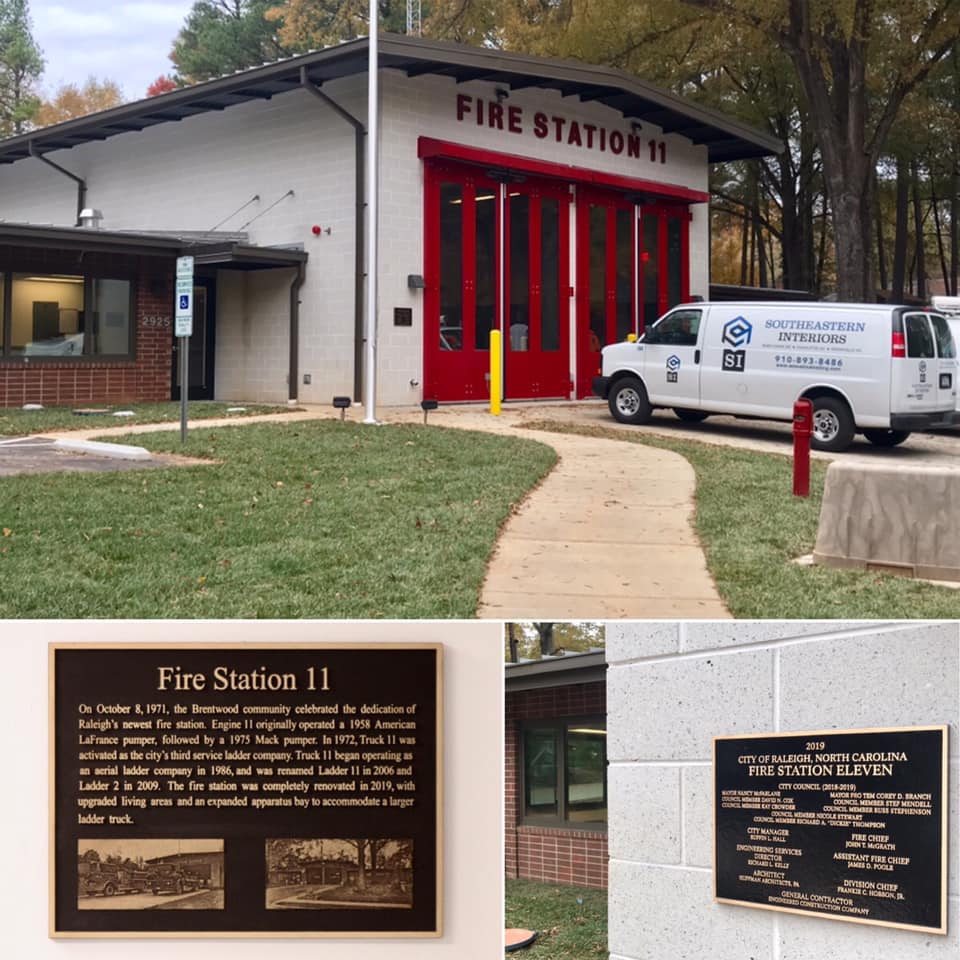 September 27, 2019
Doors have been added!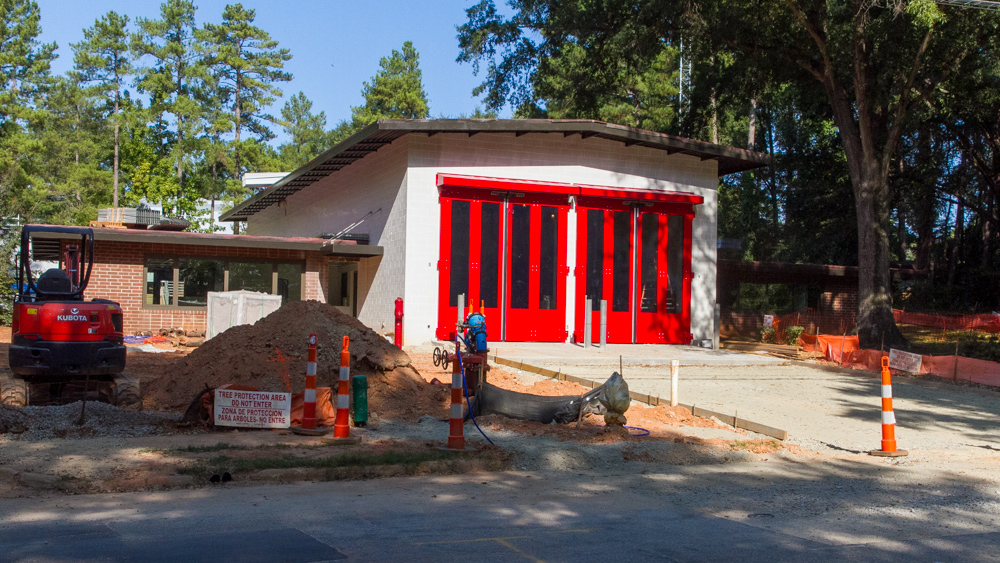 June 25, 2019
The new, expanded bay structure has been completed, and interior work has started. Planned completion November 2019.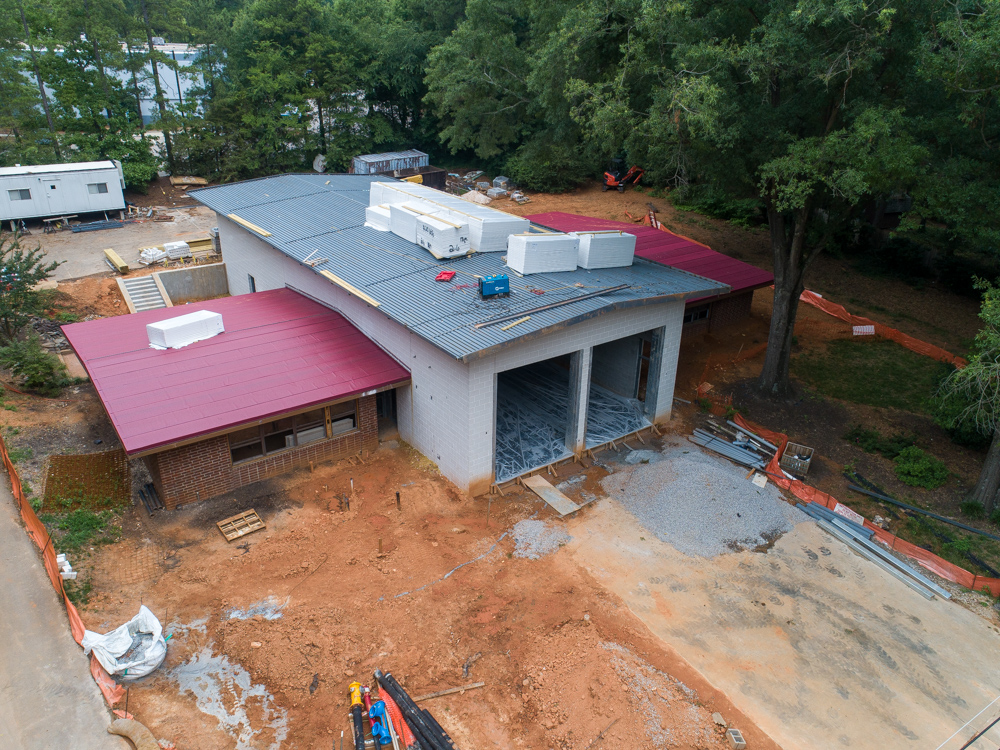 May 29
Construction of the new apparatus bays is nearly complete. That is, the structural components. The existing sections of the building were gutted and will be rebuilt with new walls, ceilings, electrical and plumbing systems, etc. The larger apparatus area is needed to accommodate the larger aerial apparatus now operated by Ladder 2.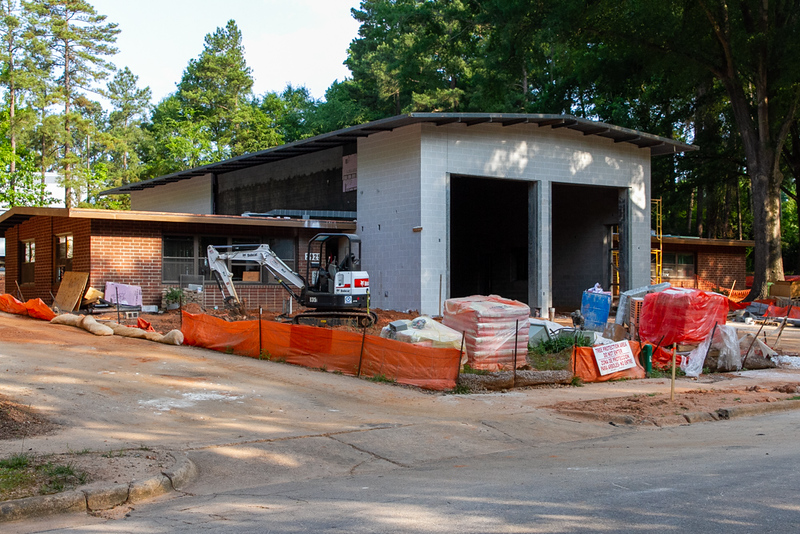 March 23
Construction has started. Building has been gutted, with construction of new rear exterior walls started. Also added link above to the city's official project site.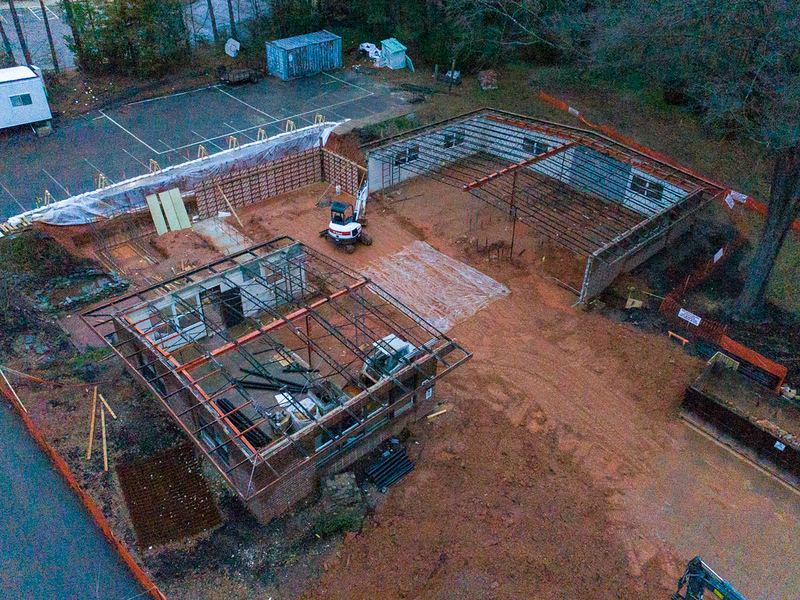 December 7
Rendering Added
The city has posted a rendering of the renovated station, along with a project page.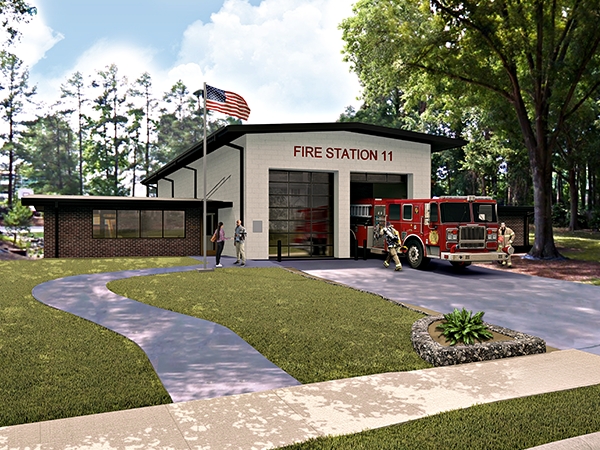 Here's the rendering side-by-side with the current incarnation, via Google Street view. The new bays will be taller, and include a mezzanine. The site will be brighter, as well, with one of the trees replaced with a path to the front door.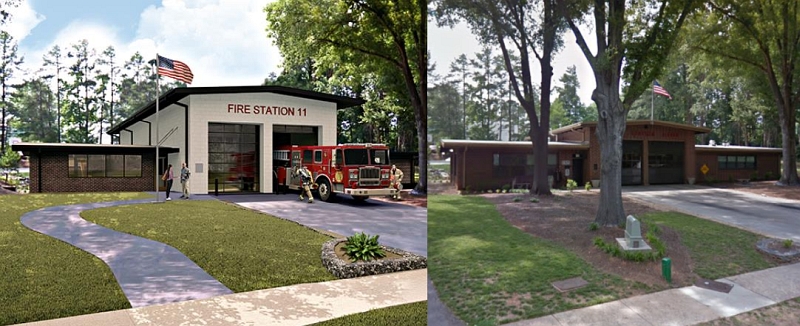 December 6
Companies Moved
Station 11 was vacated on Wednesday, December 5, with Engine 11 relocating to Station 7. Renovations will start soon to the 1971 fire station. See below for project details. See also this new Legeros photo album, created for the project. 
Ladder 2 relocated to Station 15 on October 27. They're operating a new aerial apparatus as well, former Ladder 9, a 2015 Pierce Arrow XT tiller, 1500/200/100-foot.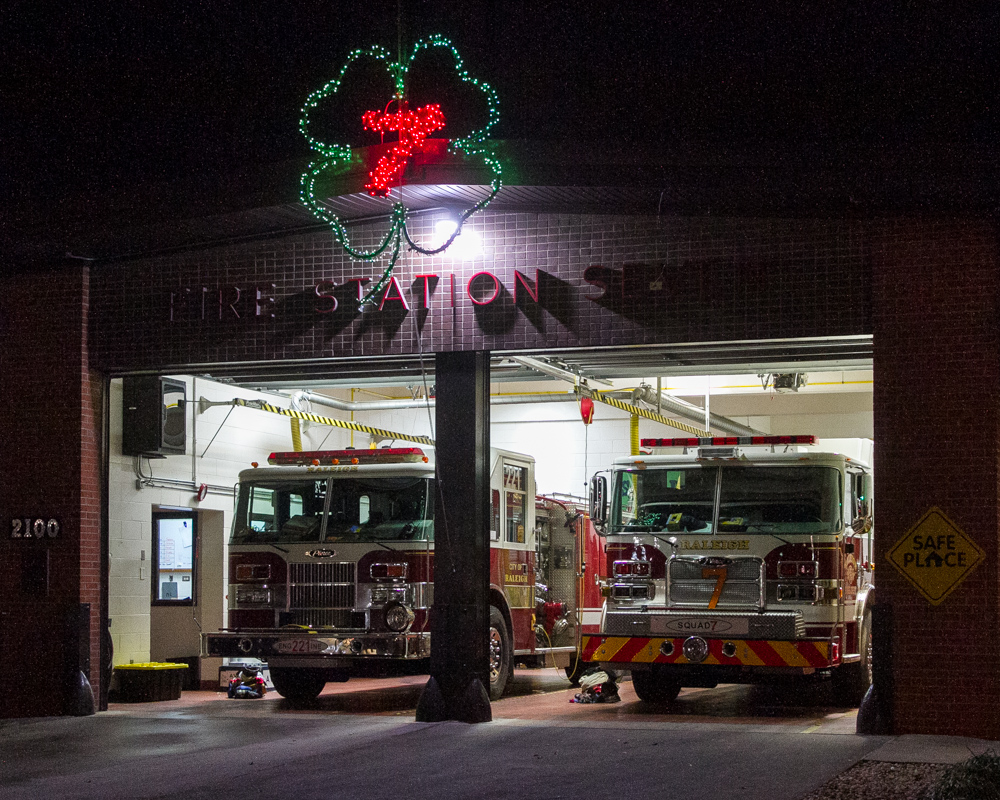 October 12
Site Plan, Floor Plans
Here are floor plans and site plan for the renovations of Raleigh Fire Station 11 at 2925 Glenridge Road. The long-planned project will update the 1971 building and its systems. This is another "down to the walls" project, like Station 2 and Station 5. The project will also expand the apparatus area, to accommodate a larger ladder truck. 
The project was planned as early as 2011 and was funded in the FY2014 budget. Here's a newsletter story from 2014 (PDF). See page six. Some things have changed since that time, including a revised project scope (and resulting design) and the future ladder truck to be assigned to Station 11.

Legeros photo from 2012
Notable additions include an enclosed laundry room and fitness room, accessed from the enlarged apparatus area. That space will also include an mechanical mezzanine, above the laundry and fitness rooms. (It's not shown in plans excerpt below.)
Also the sleeping areas will be reconfigured, expanding that space and adding an officer for the company officers. 
Work will be starting soon. Ladder 2 will move to Station 15 at the end of the month. They're receiving old Ladder 4, a 2017 Pierce Arrow XT tiller, 1500/300/100-foot. Later, Engine 11 will relocate to Station 7.
Click to enlarge these plans, which were colorized by Legeros, for easier viewing:
Current Floor Plan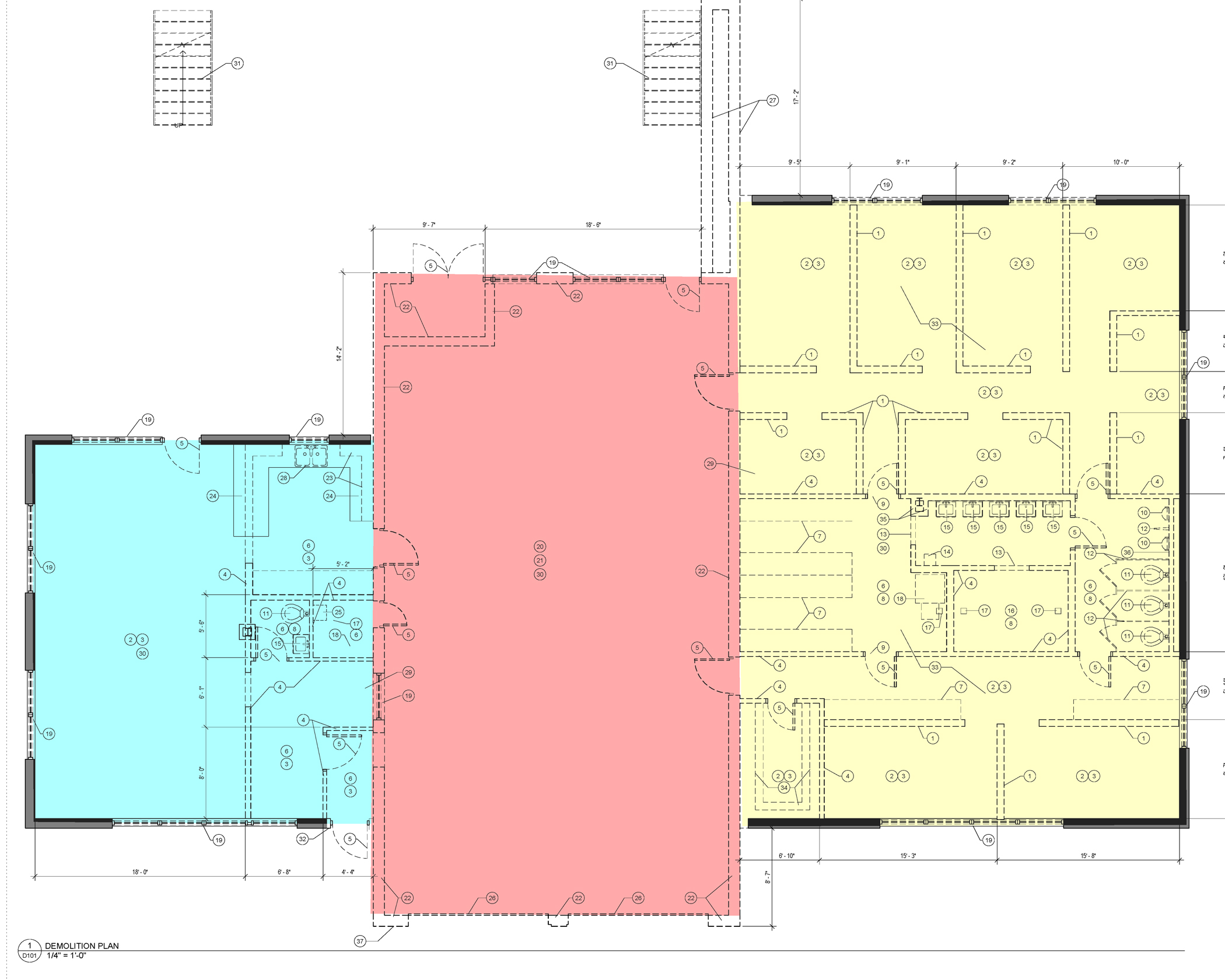 Future Floor Plan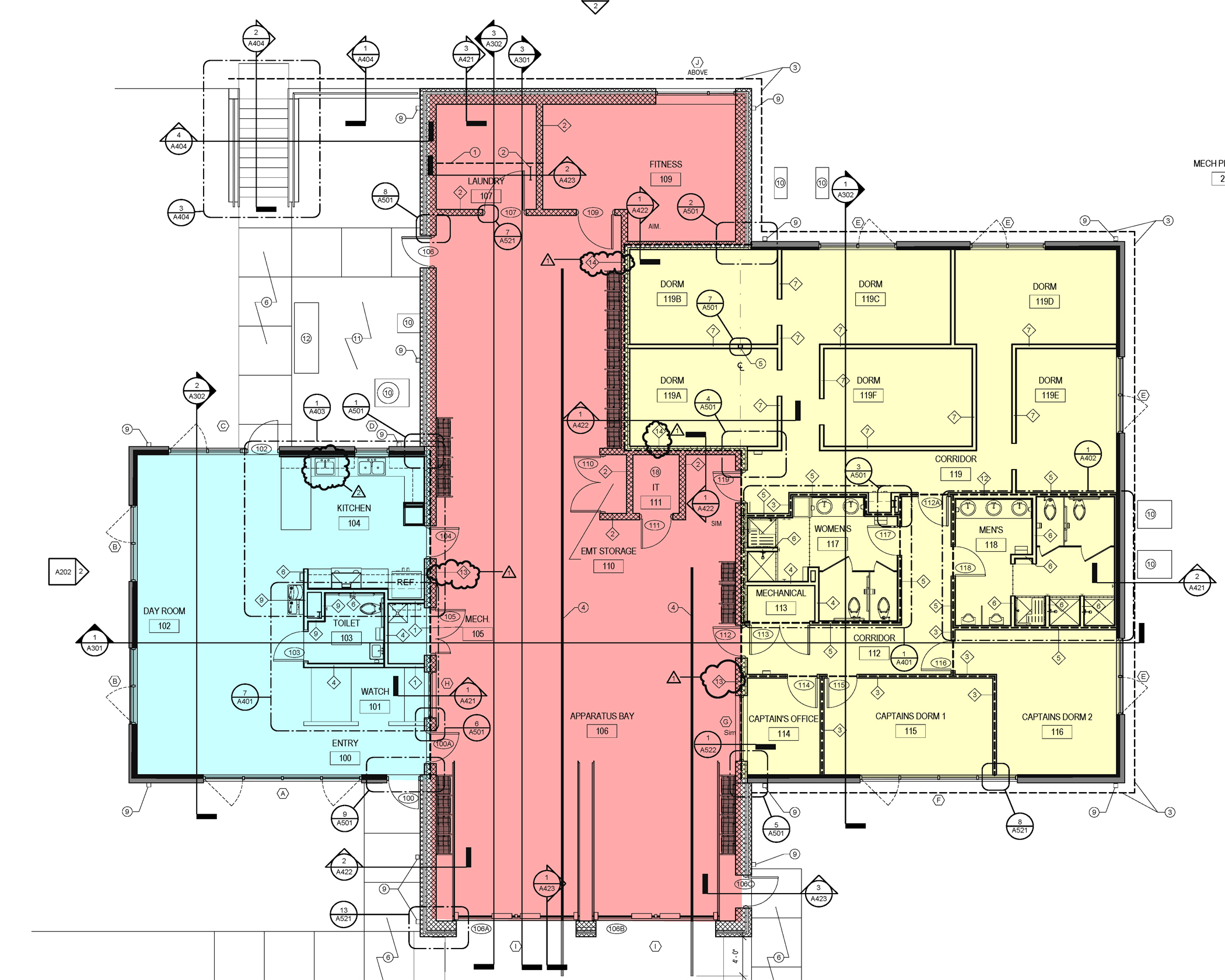 Site Plan